---
published: 7 / 4 / 2005
---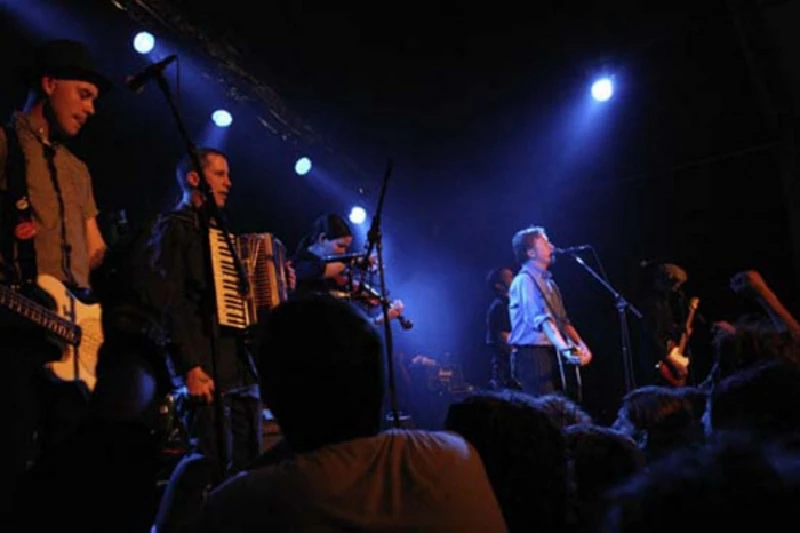 intro
Irish-Americans Flogging Molly recently roured Britain. Aaron Brown speaks to now LA-based frontman Dave King about his Dublin upbringing, touring and Irish Literature
Manchester, a city built of immigrants. For years, Manchester was at the forefront of the industrialised world. The Irish, escaping famine, unemployment and the troubles, came in there thousands to make a new life for themselves, leaving an indelible mark on the city's culture and music. Manchester recently faced another Irish invasion in the form of seven piece Irish American folk/punk band, Flogging Molly. Formed in Los Angeles in 1997 by Dublin born singer and sadly self-confessed Manchester United fan, Dave King, Flogging Molly have built a considerable cult following world-wide on a diet of Guinness, hard work and doing what they want to do. Pennyblackmusic met a relaxed and philosophical Dave King before a sold out show at the Manchester Academy 3. PB : Can you give a brief history of the band ? Where are you all from originally ? DK : We're based...God knows where we're based now. I'm originally from Dublin. I moved to LA 15 years ago and I was there for quite a long time. We met in a pub in LA. But we're spread all over the place. . PB : How would you describe your music. It's sort of hard to pin point where your roots lie? DK : We just look at ourselves as just being a band. I mean we've so many influences. It would be hard. Our influences range from Bob Marley to the fucking Pogues, the Sex Pistols and the Clash. The list just goes on. PB : You must be tired of hearing yourselves being compared to the Pogues? DK : Not really. We've tons of influences and to me are they are a major influence, absolutely. One of the greatest compliments ever paid to us was from the Pogues themselves. Spider Stacy said we've now taken what they were doing to a whole new level. If you're a band you shouldn't be afraid to show your influences. It is just basically taking the music and making it your own. PB : Your lyrics remind me of WB Yeats and James Joyce's work, especially when you're singing about Dublin? DK : I'm definitely inspired by the way they wrote about the city. I like writing in a way that is more metaphorical than straightforward and in black and white. To me it has to have colour, it has to have imagination and, coming from a place were it was so grey, I think I had to bring colour into my life somehow. PBM: The song, 'Too Youth, My Sweet Roisin Dubh', what's it all about because there's a pub in Galway called Roisin Dubh? DK : Galway, really. I've never been to that pub though. I haven't been to Galway in years. It is about leaving home, travelling and seeing the beauty in the world. There's a lot of begrudgery, I find sometimes, from people back home in Dublin. They are pissed off at the fact that you are doing what you want to do. I get this from people all the time back home, I don't know what it's like for you living in England. PB : If I hear one more Irish joke I am going to fucking crack up. Three men walk into a pub, you know the answer is the third one is stupid, he's called Paddy and he's Irish. DK : We know we're not stupid. PB : Yeah, I just pretend to be sometimes.Is your song, 'Screaming at the Wailing Wall,' about the genocide in the Middle East? DK : It's about everything in general. You're from Northern Ireland, I'm from Southern Ireland. We've seen what war can do, what hatred can do. And when you think of Palestine and Israel and what Bush is doing right now, it's like, will we ever learn ? I feel like screaming and screaming and nothing is being done. PB : What is the inspiration behind the lyrics to 'Tobacco Island' ? It reminds me of the old folk Irish songs. DK : I based it on what Oliver Cromwell did in 1659. He sent over 100,000 Irish people to Barbados and they were basically made slaves. The Dublin that I come from is not the Dublin that is it is now. The Dublin now is great. It's a cosmopolitan city. I don't want people to forget the past. Technology has taken over the world and sometimes lyrically history is forgotten. I want everyone to have a great time. We should all celebrate life. I don't know whether it is because I moved to Los Angeles and was away from Ireland. Sometimes when I'm back I feel like a tourist. But I still keep a candle burning to a great country. It's history has been ravaged and still all this good comes from it. I remember reading something of Roddy Doyle about a group of modern day Irish writers getting together and discussing 'Ulysses' and saying that it wouldn't even get published today. 'Ulysses' is about a day in the life in Dublin and it is the day in the life of that period of time. PB : You guys have been touring constantly. What keeps you going? Dave: I'm surprised. We met in LA and when we started playing together we had no idea that it would ever take us around the world. I had a huge green card problem. I couldn't leave America for 10 years, and coming to the UK and Ireland and Europe since the it has been amazing. I'm not quite understanding it. We're very fucking lucky because we just do what we do. People like it because we're just being honest with ourselves. PB : You guys played the Vans Warped tour last year. That must have interesting? DK : It's traditionally a punk tour. We were playing first and the idea of playing in the daylight was weird for us. But it was an amazing experience. We started off playing to 20 people and then 20,000 people. It's weird. We just do what we do and are not trying to impress anybody. We're just here celebrating life and enjoying it. PB : I came across a hair metal band you used to be in called Fastway. You guys did the soundtrack for a cheesy rock horror film from the late 80's called 'Trick or Treat', starring Ozzy Osbourne and Gene Simmons. DK : That's when I left the band. PB : I've got it at home. It's horrible. Ozzy is king but he just can't act. DK : I was 18 or 19 years old of age and still in Dublin. I got the opportunity to be in this band in England. I enjoyed the first couple of years of it. Eddie Clarke (former Motorhead guitarist-Ed) was doing the music he wanted to do and it was cool. Then when we decided to do stuff like 'Trick or Treat', I said if this is what you wanted to do count me out. It is just plain fodder, an experience I never enjoyed. That's when I decided I was going to write music for myself. I don't care if it gets me anywhere. PB : What can we expect from Flogging Molly live? DK : What to expect from the show ? We'll be celebrating the good and the bad. PB: Finally, Guinness or Murphy's DK : There's no question. Guinness. PB : Thank you.
Band Links:-
https://www.floggingmolly.com/
https://www.facebook.com/floggingmolly
https://twitter.com/floggingmolly
Picture Gallery:-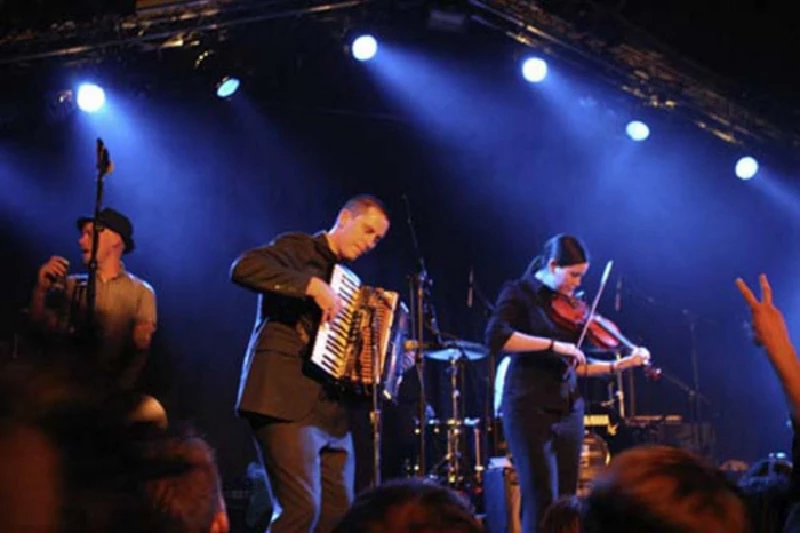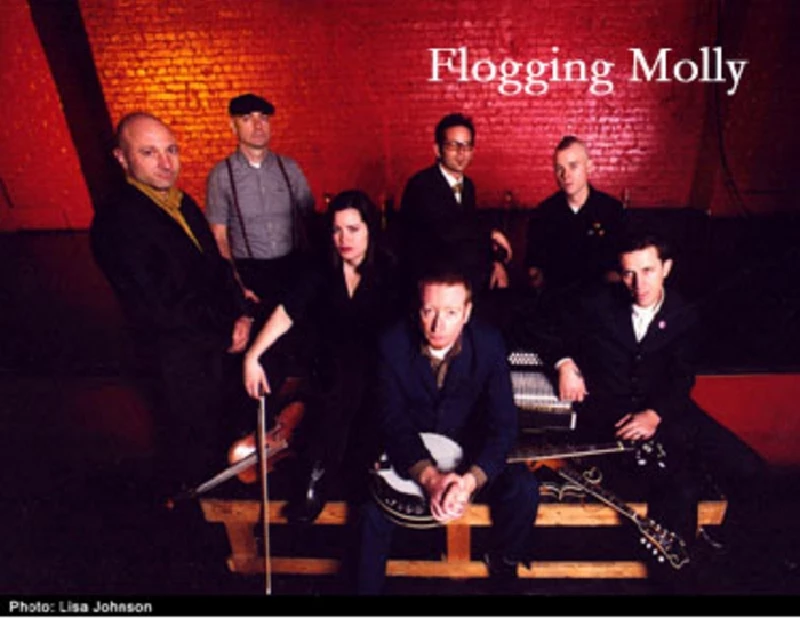 Visitor Comments:-
136

Posted By: Aviva, Jerusalem, Israel on 31 Aug 2008
the genocide in the Middle East, you mean, the one the Arabs are trying to do to the Jews though we give them almost everything they want, right? bet you weren't even ever there, fool.
---
features
---
Flogging Molly (2006)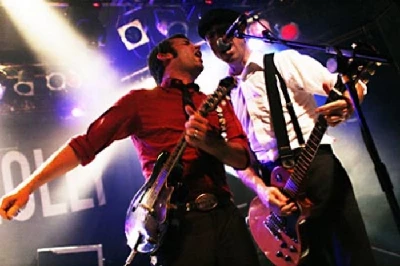 American-born Celtic folk/punks Flogging Molly recently toured Britain to promote their new DVD 'Whiskey on a Sunday'. Anna Gudaniec photographs them exclusively for Pennyblackmusic at the Mean Fiddler in London
Whiskey on a Sunday (2006)
reviews
---
Within A Mile Of Home (2004)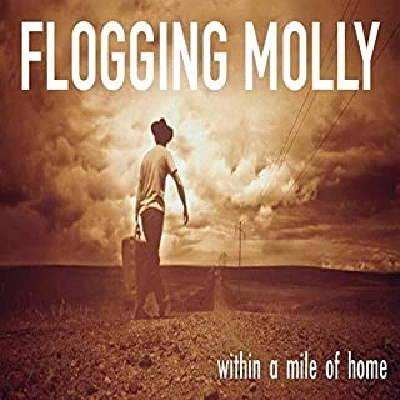 Enjoyable but thought-provoking third album from sprawling Dublin septet, Flogging Molly, which finds them contininuing to blend punk rock with traditional Irish music
Pennyblackmusic Regular Contributors
---