---
Various

-

Lights On A Darkening Shore
published: 17 / 12 / 2001
---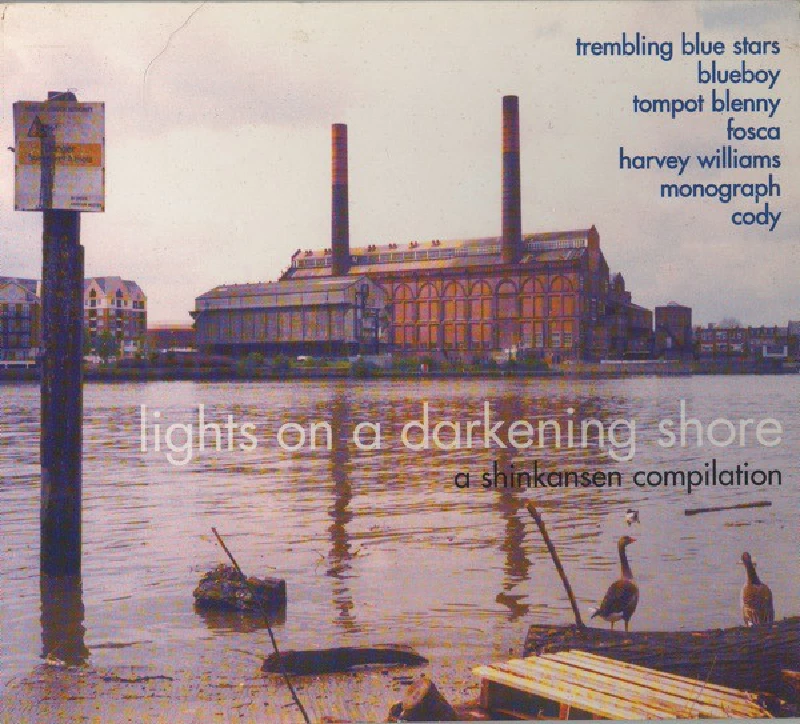 intro
When the legendary Sarah Records decided to call it a day some years ago, Shinkansen started out almost immediately, as a fresh start for Sarah. Among the first signings was a band that had some conne
When the legendary Sarah Records decided to call it a day some years ago, Shinkansen started out almost immediately, as a fresh start for Sarah. Among the first signings was a band that had some connections to the aforementioned label, namely The Trembling Blue Stars, which included members from the good old Field Mice. As if that wasn't enough, they also signed Harvey Williams, who had released records on Sarah as a solo artist, as Another Sunny Day and who had again also been part of The Field Mice. This was all some years ago now, and Shinkansen have now done what Sarah also used to do regularly. They have released a label compilation with rare singles and unreleased tracks by their signings. And on this, their first, we get 19 tracks from seven acts: The Trembling Blue Stars, Blueboy (an old Sarah-band as well), Tompot Blenny, Fosca, Harvey Williams, Monograph and Cody. The only contribution here that I have heard before is The Trembling Blue Star's quite excellent 'Doo-Wop Music', which isn't doo-wop music at all, but a trip-hoppy track with an infectious guitarhook. The remaining 18 tracks are all new to me, and I think they serve as a great introduction to the Shinkansen sound. Monograph opens the CD with their "A Story Time Has Told Us", and this song (and the other three by Monograph on this album) gives me the idea that this group is the noisiest one on the label. But that isn't to say that they are very noisy. No, not at all. They're just a little bit faster than the other contributers here and use distorted guitars. I may be wrong, however. Anyway, their songs are all great, and I would love to hear more from them. Next is Cody, a band who don't make much of an impression with me. I'm not a huge fan of trip-hop, and Cody trip-hop a bit too much, I get a bit annoyed and almost immediately want to skip to the next song. But I stay tuned and listen a bit more. It doesn't get much better, so I give up. Luckily, Cody only have two songs here. Blueboy is, as I said before, another band that I remember from the Sarah days, and their first song here, 'Melancholia', is what it sounds like, a melancholic song with basically just an acoustic guitar as anaccompaniment. A very nice song indeed, and Blueboy's other contributions here ('Bradford, Texas' and 'Joined-Up Writing') are also good. Not brilliant, but good. That's good enough. Then we come to The Trembling Blue Stars, a band that I recently saw playing at the Emmaboda Festival in Sweden. On stage they were just three people, Bob Wratten (of course), a bass player that I don't know the name of and Harvey Williams. Yup, it was almost as if The Field Mice had reunited. But they haven't, and there was no point in shouting about them playing "Emma's House". They did however play "Letter Never Sent", one of the four TBS songs featured here, and in my opinion the best of them. The other three songs are their debut single "ABBA On The Jukebox", the aforementioned "Doo-Wop Music" and "Farewell To Forever". Good songs all of them, but the standouts are without doubt "Letter Never Sent" and "Doo-Wop Music". Tompot Blenny then. I don't know a thing about this band, and they don't impress me much. Don't get me wrong here, it's not bad. It's just that it's boring and sounds like a lot of other bands in this genre. Anyway, they have three songs here: "Thinking of Ways of Keeping You Warm", "Smile Again" and "Green Is the Best Colour". Of these tracks, "Smile Again" is the best in my opinion. Harvey Williams is something of the Godfather of Twee. As I mentioned earlier on, he was a member of The Field Mice for a while. He had his one-man band Another Sunny Day and nowadays he releases records under his real name. And often it's just him and a piano (occasionally with a guitar as well), which can be nice if you get it in small doses. After a while, it gets a bit too much, so hearing these two songs are great, because it doesn't get boring. "Cindy's Been And Gone" and "Her Boychart" are both songs he plays live even to this day, and they are both great. OK, the ending of "Her Boychart" is quite tedious, but the lyrics are nice, and the songs are good as well. The last band to participate on this compilation is Fosca, which is the new band formed by Dickon Edwards from Shelley, Orlando and Spearmint. Their song here is called "File Under Forsaken", and it's not a great song. I like their latest release, "Agony Without The Ecstasy" better. But, once again, it's not bad. Just a bit bland. So, that completes our journey through the Shinkansen label, and their compilation "Lights On A Darkening Shore". To finish it off, I can add it all up and say that it's a very good, sometimes brilliant, CD, but I recommend that you program your CD player when you listen to it. That way, you get the most out of it.
Track Listing:-
1
Monograph : A Story Time Has Told Us
2
Cody : Anticyclone
3
Blueboy : Melancholia
4
Trembling Blue Stars : Abba On The Jukebox
5
Monograph : New League Of Nations
6
Tompot Blenny : Thinking Of Ways Of Keeping You Wa
7
Blueboy : Bradford, Texas
8
Harvey Williams : Cindy's Been And Gone
9
Trembling Blue Stars : Doo Wop Music
10
Cody : Rounder
11
Tompot Blenny : Smile Again
12
Monograph : Finding New Rest For The Ghost
13
Trembling Blue Stars : Farewell To Forever
14
Blueboy : Joined Up Writing
15
Fosca : File Under Forsaken
16
Trembling Blue Stars : Letter Never Sent
17
Harvey Williams : Her Boychart
18
Tompot Blenny : Green Is The Best Colour
19
Monograph : Paper Museum
Band Links:-
https://generationblitz.bandcamp.com/
https://stateofbassuk.com/
Visitor Comments:-
43

Posted By: Stephanie, Manchester on 01 Jan 1900
This is an amazing compilation! I have most of Shinkansen's releases but somehow this CD put everything into context. It made me realise that there is beauty out there, and those of us who have been lucky enough to discover it should really cherish it. Indiepop variety at its very best!
---
23

Posted By: Operateur1@yahoo.fr, London, England on 01 Jan 1900
There is nothing to add to Stephanie's review! Ths compil is excellent! wonderful and yes! The indie pop does still exist!!! Thanks T
---
Pennyblackmusic Regular Contributors
---