---
Poco
-

Interview
published: 6 / 11 / 2013
---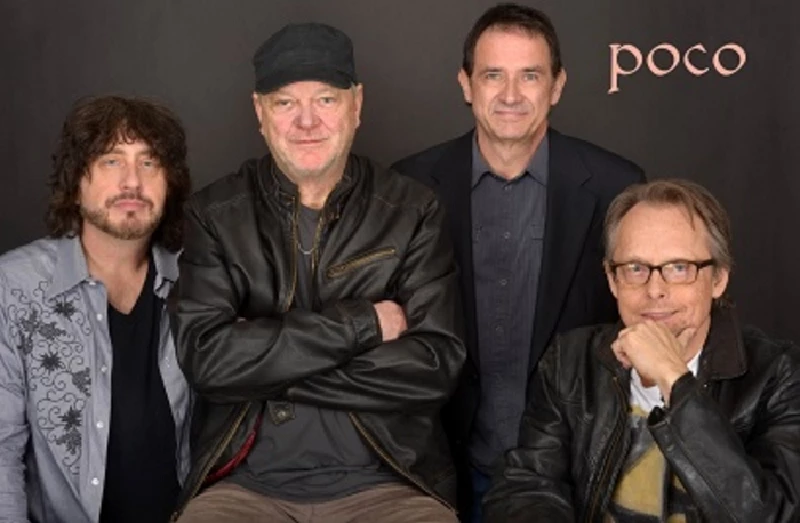 intro
Lisa Torem speaks to Rusty Young from pioneering country rock outfit Poco about his band, and his recent announcement of his retirement after a final tour
When Richie Furay of Buffalo Springfield (Neil Young, Stephen Stills, Jim Messina, Richie Furay, Dewey Martin and Bruce Palmer) needed a talented steel guitarist to complete Furay's original for Springfield, 'Kind Woman,' Rusty Young responded and nabbed the gig. When Buffalo Springfield disbanded, Rusty became one of the original members of Poco, which also featured Furay initially, in 1968. Poco have released 25 albums, and because of their novel approach to country rock have been cited as progenitors of the Americana genre. Despite many line-up changes -members moved on to play in the Eagles; Loggins and Messina and Crosby, Stills, Nash and Young - Rusty Young has remained true blue to Poco's vision and musical canon. As Poco underwent their grand finale North American tour, Rusty discussed his longstanding career and the band's new album, "All Fired Up," which includes a fresh batch of originals and styles based on heartfelt themes, beloved local shrines and a pocket full of misgivings. Pennyblackmusic spoke to Rusty from his home in Missouri immediately after the rocker cooked a big breakfast for himself and his wife Mary – sometimes success means knowing when to stop and appreciate all the natural beauty that surrounds you. PB: Hi Rusty. How's it going? RY: It's a beautiful day here. We live in a cabin in the Mark Twain National Forest. The leaves have turned and it rained like crazy, but the skies are really blue now and we're by the fireplace with ham and eggs and biscuits… PB: I was listening to Buddy Emmons playing 'Raisin' the Dickens', and I was wondering if that's the kind of steel guitar that got you playing. RY: Yeah, absolutely. I started playing guitar in 1952 before they had pedals on steel guitars. Buddy wasn't a big deal in 1952 – there was Alvino Rey and guys like that. I liked Buddy, but then Santo and Johnny came along with 'Sleepwalk', which was a big hit in 1958. Playing steel guitar was not something that was really a keen girl-getting kind of instrument. That wasn't high on the list, so when Santo and Johnny had that hit on steel guitar all of a sudden I was playing in the junior high school auditorium, actually getting to play for people other than in church, where I mostly played in the beginning. PB: On a current website for steel guitarists, one student said about practice, "It's harder than wrestling a bear." Did you find it difficult to learn? RY: When I started, no one knew how to play. It wasn't that tough. One album and one guy who had the most impact was – Buddy Emmons is the biggest there is and he is my hero – but in the early 60's Buck Owens put an album out called, 'Buck Owens Sings Harlan Howard', and he had this guy, Ralph Mooney, playing steel and pedals. In Denver, you could order a Fender 1000 or a Fender 400. It was the first time you could buy a steel guitar; that's what Ralph Mooney played, and he played all over the album. It was like a primer on how to play steel guitar, so I learned every note on that record. That was the beginning of me actually playing pedal steel. After that the Beatles hit. I was invited to be in a rock and roll band, and all of that changed. PB: In 1977, after Timothy B. Schmit quit Poco to join the Eagles, you recorded 'Legend'. Did you guys feel you had come up with a unique sound? RY: The label was going to drop us when Tim left, and at the same time George (Grantham, drums - Ed) left to join the Byrds. They weren't sure that Paul Cotton (lead guitar- Ed) and I could carry the weight. So, we invited the management down to our rehearsal hall. We had written some songs. I had written 'Crazy Love' and I played it for a few people, who just flipped. We played 'Crazy Love' and 'Heart of the Night' for them, a couple of songs we wanted to record. They were so blown away by 'Crazy Love' that they said, go make a record. We had never had a gold record, and 'Legend' is several times over platinum. We'd never had a top twenty hit, and 'Crazy Love' was number one on one of the Billboard charts for six weeks. It was very gratifying and very odd because when our band started all I did was play three instruments: banjo, steel guitar/dobro and mandolin. That's what I did in the band. I didn't sing and I didn't write. For all these great singers and songwriters that have been in the band over the years – for the one guy who didn't do that to have the biggest hit Poco ever had and be the most successful as a singer and songwriter, was very, very odd. But it's thanks to David Geffen, really. I'm not sure he knows it, but when Richie (Furay) quit in 1974 we were living in Colorado and playing for a meeting with David Geffen, who was managing us. We had all heard rumours that Richie was going to leave the band, play with JD Souther and Chris Hillman. I said to Richie on an airplane, "If you're leaving the band, let me know because I've got to get my ducks in a row." He said, "I'll be the last one to leave Poco." We walk into David Geffen's office, and immediately he takes Richie into his office, and leaves the four of us on the couch in the waiting room. Geffen comes out and says, "Okay, Richie's quitting the band." (Laughs). He went down the line and said, "Tim, now you sing and you write songs, don't you?" and Tim said, "Yes." David said, "You'll be fine. Don't worry about it." Then he said, "Paul, you write and you sing, don't you?" and Paul said, "Yes", and he said, 'It will be no big deal for you that Richie's leaving the band." He looked at me and said, "You don't sing and you don't write, do you?" At the time I was the number one steel player, and I was on the cover of 'Guitar Player' magazine. I was at the top of the game – the very top of steel guitar that you could get. He said, "You don't write and you don't sing. You're going to be in big trouble," and he was right. As a steel guitar player, the most I could look forward to was playing with Gram Parsons for five hundred dollars a week. There are no rich steel players – except me! So, that was the day that I decided I was going to become a singer-songwriter. It was obvious that you had to be if you really wanted to be successful. I had great teachers, Richie, and being around all of those great guys, Neil Young even; Paul Cotton and Tim and Jim Messina (bass – Ed). It was odd in 1978 when 'Crazy Love' got to number one that the biggest success was on my shoulders. PB: So how did you approach the process after being thrown into it? RY: There's a thing in music, I guess, in bands - it started with Buffalo Springfield and the Byrds, before them the Beatles, too. There's this competition to be a singer-songwriter. When Gene Clark wrote 'Feeling a Whole Lot Better' for the Byrds, he made a whole bunch of money and the other guys didn't. He was driving around in a Ferrari, and they were driving Volkswagens, and this happened in Creedence Clearwater. This happens in 99 % of the bands. America was a really good example. Everybody wants to be the songwriter and have the hit because that's where all the money is, and a lot of times it turns into an ugly situation. The guys who aren't songwriters, who aren't gifted at it, demanding to be songwriters and putting really second rate material on albums, which helps kill careers. This is a competition. Bread was a famous one. I was real self-conscious because I didn't want to be that in our band. I didn't want to be the really bad songwriter who was defeating the idea of being a successful band. When I brought 'Rose of Cimarron' into the band, I'd written that originally for Roy Rogers because a friend, Stuart Margolin, was going to produce the record. Stuart was on 'The Rockford Files', the sidekick. He'd done a lot of production in LA and they'd ask him to produce a Roy Rogers record. He asked if I had any material and so I actually pitched the song to Roy Rogers, but he ended up not making a record, so I ended up playing it for our band, and Timothy and Paul loved the song, so it was the title tune to that album. Right off the bat it was clear that I wasn't just taking up space by writing – I wasn't one of those people that brings the band down. Because of the confidence I got from that and even that particular song, it drove me to try and be a better writer. We were at the same management company as Crosby, Stills and Nash and America. America was the biggest act in the 70s on Warner Brothers Records, top twenty hits. They were huge, and were friends and really inspirational in my learning to write. So that's how it worked. PB: On your new album, 'All Fired Up', which songs were most enjoyable to write? RY: I loved that album, and it had been about ten years since the last one. We had a lot of time to really think about songs and writing. I don't collaborate. I did that when I moved to Nashville in the 80s, at MCA Publishing and some other publishers. In Nashville, they throw two people in a room in a cubicle and say, in thirty days you have to deliver twelve songs. You write a bunch of crap because you have to turn it in. I hated the collaborative process. It dilutes your message as a songwriter. They do it in Nashville all the time, and, of course, every song sounds alike to me. It's all heavy metal with a hillbilly singer. That formula songwriting; I just didn't want to be a part of that. I didn't like playing sessions and I quit that, and I don't like co-writing. I'm kind of an ornery guy, I guess. PB: So they were asking you to write with strangers. Where was the chemistry? That would be a downer. RY: Exactly. They'll put you together with so and so because they had a hit last month with Hank Williams, Jr. or something, but you have absolutely nothing in common. PB: It's not based on real emotions or a historical attachment. RY: Right, a shared history. 'All Fired Up' came fast and easy. I probably wrote that in a week. Writing in the cabin is easier than any place else I've been; in Nashville, or LA. It's just a great environment for being creative. I knew I wanted a song like that for the album. When Michael Webb got in our band, three years ago – he replaced Paul Cotton – it really did fire us up. There was a lot of energy all of a sudden and creativity; things that had been lacking for a number of years. So, I really felt like, boy, we are really all fired up. I think it's a classic Poco song. It could have been on 'Picking up the Pieces' in 1968, it could have been on 'Rose of Cimarron' – it's a classic Poco song and when we cut the first track I sent it to Jimmy Messina and Richie Furay and I said, "Check this out, dude. Doesn't this sound like us forty years ago?", and they all felt the same way. It's like 'Hoe Down' or 'Picking up the Pieces' back in those days. So, I really love that song and it was fun because it was so easy to write. On the other hand, 'Regret' was difficult to write. I'd been working on it about two years, agonizing over the lyric because I had the melody and everything else, but I agonized over the lyric because it's about Paul Cotton. It's my side of the story, I guess, and at first I wanted to disguise it and make it sound like it could be anything. I fought that battle, and we were winding up the album, and it was really time to finish, and I said, "Oh, screw it. I'm going to go ahead and write it exactly what it should be about." PB: What exactly is that regret? RY: All you have to do is look at the lyric. PB: I thought it was about a failed romance. It was inspired by a band member? RY: "Sometimes it hurts to see you fall/Sometimes it doesn't hurt at all/She brings you up/She tears you down/You can tell your version of the truth," and that kind of stuff. It was clearly a song about and to Mr. Cotton. So, that was a really difficult one. One of my very favourites – I have three favourites of the ones I wrote – is 'Rocking Horse Blues' because the band has been "rocking horse" for a long time since Phil Hartman did that cover for 'Legend of the Horse'; the horse thing has been a theme. That one came really fast, and it's really fun to play live, and that's a lot of peoples' favourite, and that one has been getting airplay. PB: It has a really strong Delta blues groove. RY: It's definitely a Joe Bonamassa inspired song, acoustic and goes into heavy metal. That's definitely the direction my writing has been going lately. PB: You wrote 'Neil Young' as well. Do people really confuse you with Neil? RY: I've had that for thirty years. People come to concerts, and they've bet their friend that I was Neil Young's brother. The bass player in Lynyrd Skynyrd came over to me behind stage at a concert, and said that he had dinner with my brother. I didn't have the heart to tell him that he wasn't my brother. He said, "If you see Neil, say hey for me," and I said, "Okay, sure." Somebody just showed me an article last week where some writer had written that Neil and I were brothers. With you writers, what happens is that if you write something somebody else will pick it up and somebody else will pick it up – I've seen this ever since the late 60s, somebody will say something who doesn't know what they're talking about – they'll talk about an astronaut – and another writer will write it down, and another writer will read it somewhere and copy it, and if it gets told enough times I've become an expert on astronauts. That's happened in music, and that happened with the Neil Young thing. He's three months older than I am and mom's awfully good, but she's not that good. I wish I'd written the Neil Young song thirty years ago. PB: 'The Pucky Huddle Stomp' was written in honour of one of the last general stores in Missouri, wasn't it? RY: It's really really sad. Mary was still crying this morning. Pucky Huddle General Store had been there since 1899. It's about a block away from us, down at the bottom of the holler. It was an old post office. The city we're in, Davisville, is named after the first postmaster. It was the local meeting place for all the people. They would get together around this pot bellied stove in the winter and tell stories. The lady who ran it always cooked lunches for everybody. When we were leaving town this last Thursday to Florida, we drove by it and it was in flames. It burned to the ground. It's been an awful thing for our community. We wrote that about Pucky Huddle because it was an important thing here. They had the liar's bench in front where people would sit out there and tell lies. It was a big piece of the local history here, and it's gone. I wrote that song as an anthem for Pucky Huddle. We live on the Red Bluff Park where people come and camp and fish, and that's our backyard. And the store was a big part of that whole vibe, and Mary had been going there ever since she was born. Every summer, her whole family would go to Red Bluff Park and camp. It's a big part of her history and she's very upset. PB: Speaking of historical landmarks, how did you like playing the Grand Ole Opry? Poco has performed there several times… RY: Right. I played the old one with my buddy Vince Gill. I played steel with him for a while when Poco was recording in the late 80s. I've mostly played the new one, which is this monstrous 18,000 seat auditorium that's out in Opryland. It's intimidating because of the history. They've moved the history there really. There are giant crowds and a lot of great music. Last time we played, Vince was the host so we got to tease him a little beat. We did 'All Fired Up' and moved that into 'Little Liza Jane'. I grew up in the 50s and 60s where that was the Holy Grail. PB: But it must have been very different than playing at the Ryman. RY: It's very small. It's a whole different thing. One is big time show biz and the other; the history is pretty overwhelming. PB: On your website journal, you talk about fishing in Wisconsin and having barbecues on your days off when you tour. Does that make the touring more enjoyable? RY: We built this cabin as the place I'm going to wind up when I'm through. Mary is a huge outdoor person. I like to fish. It's so beautiful here. We look out onto the Huzzah River; we're up on a tall bluff. You can see eagles fly by. It's all national park. You can't see a light and you never will. It's always going to be forest. It's beautiful and inspiring, and it's one of the reasons I'm retiring in March. PB: So this is your farewell tour? RY: I have commitments up through February, contracts I've signed, and after that I'm staying home. I've also got a book I've been working on for about ten years. I've discovered I can't finish and tour because I can't divide my thoughts. It takes so much work to write, and to write history. I have a really great memory and I remember a lot of stuff, but I really have to concentrate. Once I get in that zone it takes me so long to get back in that zone. I need to stop and finish the book and then take a look at what I want to do, but I think I'm done. I was just put in the Steel Guitar Hall of Fame, which will be nice. Scotty has been the hub of steel guitar world since the 1960s, and he does this Hall of Fame thing, and they have this big ceremony downtown at a hotel. (The Steel Guitar Hall of Fame was started by DeWitt "Scotty" Scott and since 1978, one or more artists have been inducted each year in St. Louis, Missouri -Ed). It was me and Tommy White, a steel player at the Grand Ole Opry and he's playing with Vince now, I think. It's an honour to be there with him. He's really really awesome. PB: Do you see a future for the steel guitar? RY: I don't see much. It's like at the Hall of Fame thing that we went to. Everybody was old. There was nobody under thirty or forty even. You really had the feeling the instrument is headed the wrong way. PB: That's all the more reason that your work will be remembered. RY: Country music is dead. There is no country music anymore. Like I said before, it's rock and roll with a hillbilly singer. It's kind of sad because that's the only musical format I can think of that has actually died. Dixieland has been around forever; jazz, classical, blues, but there is no more country music. It's kind of sad. With it, the steel guitar goes with it. We'll see. I hope I'm wrong. I'm not wrong about country music; it's gone, but Americana is kind of the closest thing to country music these days. PB: And it's been said that Poco created the genre, Americana. RY: I think the music we were doing and the Flying Burrito Brothers and some of the Byrds stuff was in that vein for sure, even America. It certainly could have been called Americana, even back then instead of country rock; when they start labeling things, it usually ends up a problem. PB: You've played every Poco concert for the last 45 years. RY: It's always been a challenge, and that's the neat thing about our band. We've always had great musicians. That's why the band has survived so long. We've always been able to find the best players. I've always been proud of our band, and that's the one commitment I made to the other guys, that it would always be good and that they would always be proud of it. It's been a really healthy thing – as somebody would leave, it would leave room for someone else to grow. When Jimmy left and Paul came into the band, it grew. When Richie left, it left room for Tim and Paul and me, because before that we didn't need four songwriters in the band. It wouldn't work. So, each time there was a change in the band it left a place for somebody in the band to grow as a musician and artist, and the person leaving the band could grow because they had a new opportunity. So, it's been a really lucky thing for everybody. PB: Have the reunions been inspiring as well? RY: I love the 'Legacy' record that we did. That was the original record that started this whole thing in 1968 with Randy Meisner, Jim Messina, Richie Furay, George Grantham and me. I think it was more important than it got credit for. To me, it was a monumental record in rock music history. On that one album you hear Randy. It's 'Take it to the Limit' and it's the Eagles, and you also hear Jimmy's influence so strongly. It sounds like Loggins and Messina. He's the Buffalo Springfield and I bring the classic Poco feel to it, so you've got Eagles, Loggins and Messina, Buffalo Springfield and Poco and it all came from the same five guys in 1968. Those five guys that got on stage at the Troubadour contributed; their history was going to be that, and there's no other band that can claim that kind of a heritage. That album was so special because we didn't get to record with those five guys in the beginning. Randy left the band during the making of 'Picking Up the Pieces' when he got in a fight with Richie. So, thirty years later, to be able to make a record again with the original five guys who had all of that magic at the time, that was the biggest thrill of all for me. PB: And you guys have preserved your kinship. That doesn't always happen. RY: I feel like we're going out on a high. I feel like we've made a great record. We're going out on top as far as I'm concerned. It's the best record we've made in thirty years. The band is amazing live. Everybody is blown away. No one says it's not as good…everybody says it's the best we've been. I feel like it's really rare to get the opportunity to go out when you're on top. We're not on top of the charts, but it doesn't matter. We're on top of our game. We're not going to fizzle out; we're actually going out, firing like crazy – 'All Fired Up'. PB: Thank you.
Band Links:-
https://www.facebook.com/Poco2013
live reviews
---
Mayne Stage, Chicago, 9/11/3023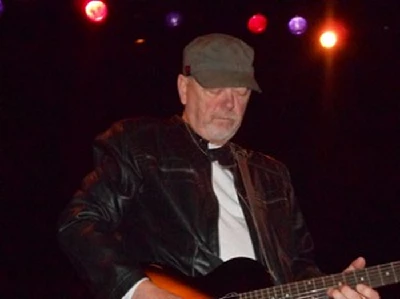 Lisa Torem watches country rock giants Poco play an uplifting set on their farewell tour at the Mayne Stage in Chicago
related articles
---
Timothy B. Schmit and Richie Furay: Live Review (2018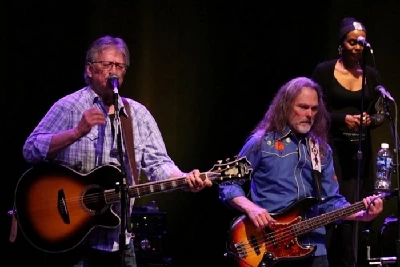 L. Paul Mann enjoys a lengthy classic rock set set from longtime Eagles bassist Timothy B. Schmit in which he is both supported and also joined for some songs by his former band mate in Poco, Richie Furay.
Pennyblackmusic Regular Contributors
---