---
Neil Young
-

Sugar Mountain : Live at Canterbury House
published: 9 / 1 / 2009
---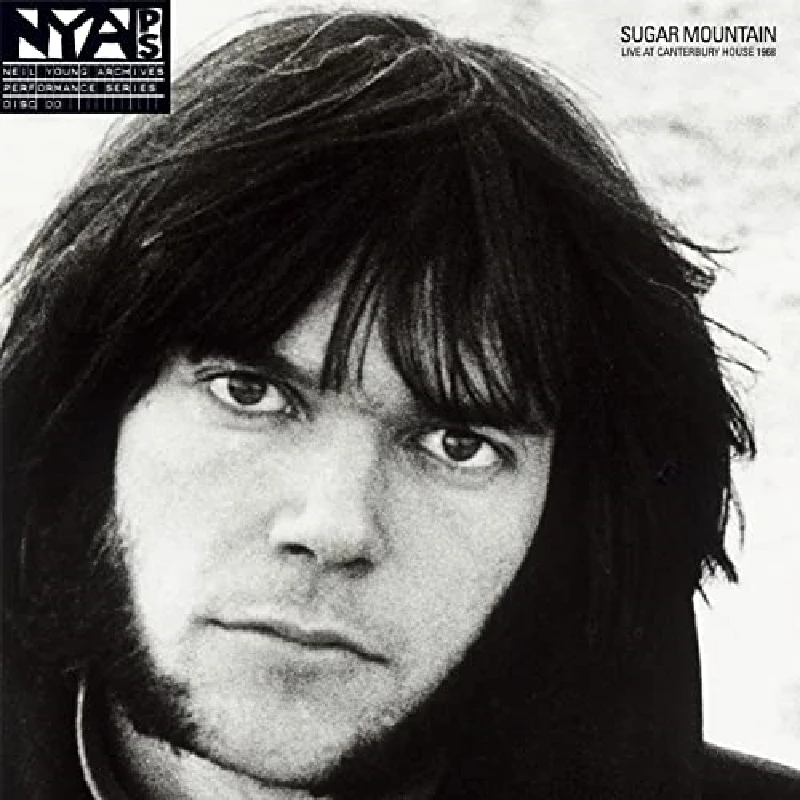 intro
Understated, but perfect introduction to Neil Young, recorded in Ann Arbor, Michiganat one his first gigs after he left Buffalo Springfield in 1968
'Sugar Mountain' is the latest album from the Neil Young Archives. It is "Disc 00" in the series, which makes sense as it is the earliest material in the collection to be released to date. It appears in a gatefold sleeve which has on it a newspaper article about the gigs it was recorded at, which took place on November 9th and 10th 1968 at Canterbury House, Ann Arbor, Michigan. The recording was made by the venue on reel to reel tape, and because of its age as a result does crackle a little bit on the DVD remastered version. The photograph was taken by Linda McCartney , who at that time was still working predominantly as a photographer of the greats from the USA and the UK. The album credits 23 tracks, but the actual songs played are a mere 13, all of which are performed beautifully by Neil who sings them assisted by just acoustic guitar. The other tracks credited are Neil's introductions to the songs and in-between chats with the audience. Being a solo act was a pretty new experience to him. After all, he had just left Buffalo Springfield, a band that had a Beatles-like fan base. The songs on 'Sugar Mountain'consists of eight stripped down-to-the bone versions of Buffalo Springfield tracks, all of which were written by Neil, and five songs from his then still forthcoming self-titled solo album. The sound is so clean and clear that it is like Neil is sitting in your room, a few feet away playing these songs to you and you alone, and the introductions and his conversation in between songs show a very kind human being behind the songwriter. He talks of taking pills, and working in a Toronto Bookstore for two weeks and hating it before he became a songwriter. He chats to the audience too about how long his hair is ("Does anyone have a comb?"), why he does what he does ("It's for the money") and how he writes songs (" This one took just five minutes and it takes five minutes to play"). He also tells them how to tune a guitar, and what playing in Buffalo Springfield was really like for a performer, To me, this is the perfect introduction to Neil Young and how you should listen to him. It is stripped down, intimate and raw, and an album of the year for sure.
Track Listing:-
1
[Emcee Intro.]
2
On The Way Home
3
Songwriting Rap
4
Mr. Soul
5
Recording Rap
6
Expecting To Fly
7
The Last Trip To Tulsa
8
Bookstore Rap
9
The Loner
10
"I Used To..." Rap
11
Birds
12
Winterlong (Excerpt) & Out Of My Mind - Intro.
13
Out Of My Mind
14
If I Could Have Her Tonight
15
Classical Gas Rap
16
Sugar Mountain - Intro.
17
Sugar Mountain
18
I've Been Waiting For You
19
Songs Rap
20
Nowadays Clancy Can't Even Sing
21
Tuning Rap & The Old Laughing Lady - Intro.
22
The Old Laughing Lady
23
Broken Arrow
24
Full Audio Program [High Resolution 24/96]
25
The Neil Young Archives Vol.1 Trailer
Label Links:-
https://en.wikipedia.org/wiki/Reprise_Records
http://www.warnermusicnashville.com/
https://twitter.com/WMNashville
https://www.facebook.com/WarnerMusicNashville
https://plus.google.com/107487477318929817299
https://www.youtube.com/user/warnermusicnashville
features
---
G-Geffen Vs Young (2012)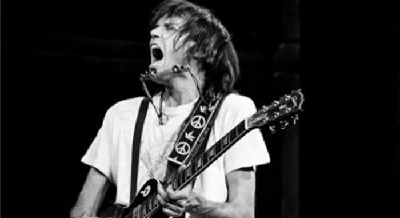 Andy Cassidy, in his 'A-C's A-Z of Music', examines the 80's lawsuit between record company boss David Geffen and Neil Young, which ensued after Young released a set of experimental albums
Greatest Hits (2004)
Pennyblackmusic Regular Contributors
---