---
Status Quo
-

In Search of the Fourth Chord
published: 25 / 10 / 2007
---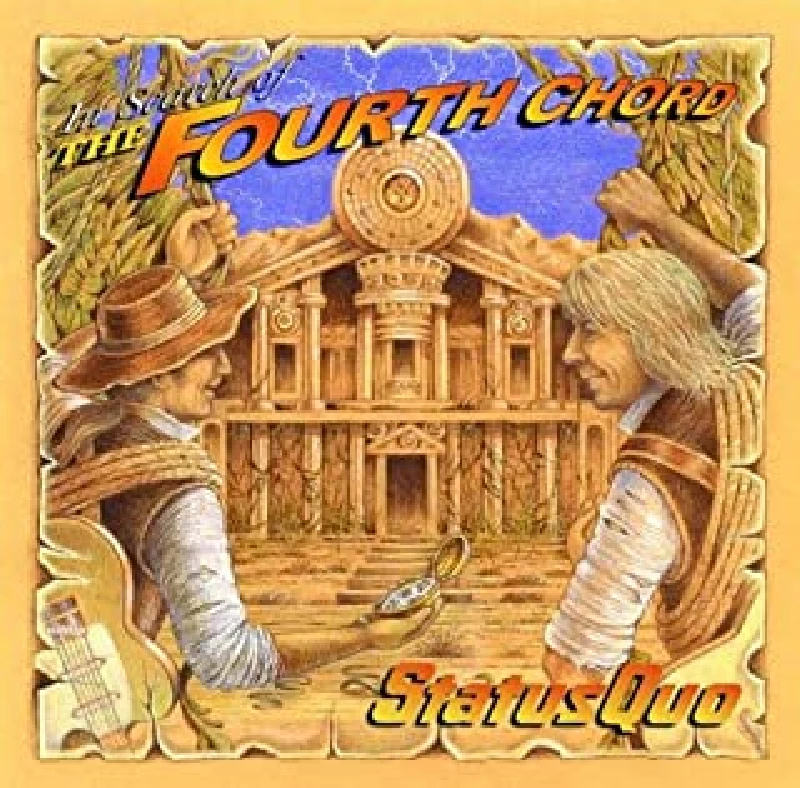 intro
Classic return-to-form with their 33rd album after various half-hearted efforts and misses from the much maligned and still often under-rated Status Quo, who have produced their strongest album in years
Apparently this is Status Quo's 33rd album but I very much doubt if that figure includes the many compilations released over the years. Starting life as the Spectres in 1962 a name change to Traffic Jam still didn't bring those much needed hit singles and it wasn't until another change of name to the Status Quo and the release of 'Pictures Of Matchstick Men' way back in November 1967 that the band finally made the charts. 'Matchstick Men' and the rest of the bands output during the next couple of years has never been fully appreciated. While every band that ever entered a studio during the mid to late 60's now have their recordings available on CD it is rare that those songs actually live up to the hype now surrounding them. There was usually a good reason they didn't make radio play lists back then you know. Quo's output from that era always seems to raise a smile. But as the Bee Gees did with their first couple of albums Quo actually made some excellent forays into psychedelia. The fact that Quo released 'Matchstick Men' twice when they followed it up with 'Black Veils Of Melancholy' which was a virtual re-write of that first taste of fame didn't help them much. But, as they have shown so many times in the last four decades, they just keep bouncing back. Finally gaining some credibility when they donned demins and released 'Ma Kelly's Greasy Spoon' in 1970 it seemed that for the next decade they couldn't put a foot wrong. Then, despite some good albums, the fame diminished somewhat. But even into the latest decade it felt that even the most ardent Quo fan could take no more of the half-hearted covers albums the band were churning out. For whatever reasons they did them it didn't gain them any new fans. By 'Heavy Traffic' in 2002 the band, it seemed, had turned things around yet again by delivering their best collection in years. Only for them to ruin it again by chucking out yet another covers album, 2003's 'Riffs'. Yep, I know that it included some group originals but lacklustre pretty well sums it up. But through all this the one strong point Quo have always had is in their live shows. It's a cliché for sure but they attract everyone from grannies to grandchildren at their gigs, and they all enjoy it. Apart from the hard-core fans who turn up at every venue and follow the band around the world every year sees new and younger faces at the gigs so the band are still doing something right. It's no surprise, however, that 'In Search Of The Fourth Chord' sounds just like we expect it to sound. It's what Quo's fans want and while this album won't win them any new fans on the strength of the songs it will satisfy both the Quo Army and those who saw the band for the first time this year as they toured Europe. With fourteen tracks ( England gets the bonus of 'I Ain't Wasting My Time' while the rest of Europe are treated to 'One By One'…Europe gets the better song) it's a return to form that started with 'Heavy Traffic' and continued through 'The Party Ain't Over Yet'. It's classic Quo. That's all we need to say really. Being reunited with producer Pip Williams who produced 'In The Army Now' and a host of other classic Quo albums no doubt helped the band produce what is their strongest collection of songs for a few years. It also sees the return of Bob Young as a co-writer, something else that will please Quo fanatics. While there is nothing to match the more personal songs that came from Rick Parfitt this time ('This Is Me' and 'Familiar Blues' from the album 'The Party Ain't Over Yet' showed that Francis Rossi might write more than Parfitt but when he puts his mind to it the rhythm guitarist can write a good lyric) it's classic Quo all the way. With all five band members composing there is enough variety to stop the album merging into one long boogie. For a band who have had sold over 118 million albums and had 63 singles in the English charts to still be producing good albums is a major achievement. Long may they run!
Track Listing:-
1
Beginning of the End
2
Alright
3
Pennysylvania Blues Tonight
4
I Don't Wanna Hurt You Anymore
5
Electric Arena
6
Gravy Train
7
Figure of Eight
8
You're the One for Me
9
My Little Heartbreaker
10
Hold Me
11
Saddling Up
12
Bad News
13
Tongue Tied
14
I Ain't Wasting My Time
15
One by One
Band Links:-
https://www.statusquo.co.uk/
https://www.facebook.com/StatusQuoOfficial/
https://twitter.com/status_quo
features
---
The Image That Made Me Weep (2020)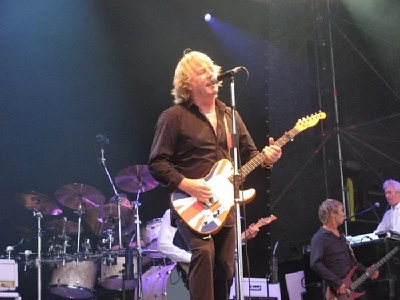 In 'The Image That Made Me Weep' Malcolm Carter reflects upon a photo taken at a Status Quo gig he attended with his son in 2009.
Pennyblackmusic Regular Contributors
---