---
Brighter
-

Singles 1989 - 1992
published: 28 / 3 / 2004
---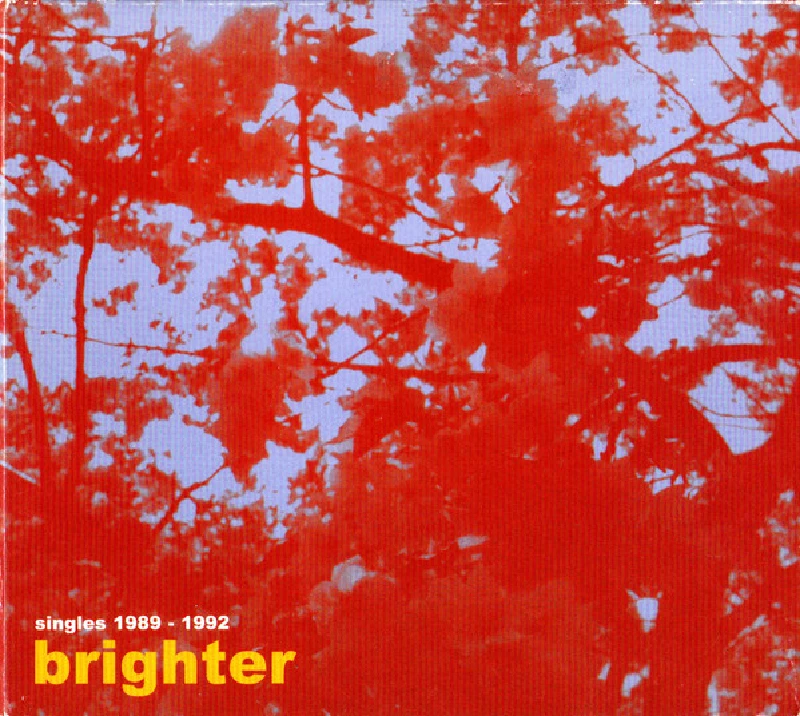 intro
Awe-inspiring retrospective which collects together all of highly regarded Sarah label signing Brighter's singles
Depending on your age or sense of history Brighter could be the band that Keris Howard was in before Harper Lee or Harper Lee could be the continuation of Brighter.  Both viewpoints seem valid to me, but I'm one who sees Harper Lee more as the continuation of Brighter.  I guess I see it that way because what struck me most about Brighter was the lyrics, vocals and guitar, all of which were provided by Keris Howard. And he's now doing all three of those things, and in very much the same style, with Harper Lee. I'll assume that if you're reading this you probably know something of the history of Sarah records (the internet can fill you in, if not) and a rehash is not in order here. Though Sarah records garnered a fair bit of attention thanks to bands such as the Field Mice and Heavenly, Brighter were one of the bands that seemed to slip under the radar.  And while much of the Sarah catalogue could be described as "fey" or "watery", if not down right "kiddie" in the case of Heavenly, Brighter were one of the bands that seemed to break from that style. A more befitting descriptor of the Brighter sound may be "pastoral". They even verge on sounding a bit shoegazerish when they let the guitar go loose. Lyrically, Brighter treaded in familiar indie-pop waters. Subjects such as depression, lost love, and isolation abound in their songs.  For some, these topics may seem far too common in the indie-pop world - "not another person crying their heart out in a wimpy pop song.  Boo hoo."  Yet, the ability to connect with the lyrics of a song is probably what makes most people love the music they love and it seems everyone will have at least a few times in their life when depression, a failed relationship, or feelings of isolation take over their thoughts. Keris Howard had (and still has) a way of singing about these topics in a simple manner without coming off as whiney or pathetic.  His delivery remains calm and clear regardless of how much he may feel his world is falling apart around him.  'Half-hearted' is one of my favourite Brighter songs for this reason and one that to this day brings back certain memories whenever I hear it.  And while those memories aren't filled with joy, remembering those days can still be cathartic. Now, that's not to say there aren't some upbeat moments to be found. 'Things will Get Better' has that sense of subdued optimism to it that tends to come when someone has hit the bottom and begins looking up again.  The guitars, horns, and vocals on 'Poppy Day' are far from sombre sounding and 'Killjoy' has an almost angry feel to it that is quite refreshing in some way. and the classic 'Hope Springs Eternal' has a strange energy to it that can induce fits of spinning in circles despite, or maybe in spite of, the lyrics which are not quite as upbeat as the title may lead one to believe. As with much of the Sarah catalogue, the Brighter releases are relatively hard to find and tend to carry a high price.  Thankfully, former Sarah boss Matt Haynes has softened his stance on not wanting to re-release any of the Sarah albums. The Field Mice compilation (though now also out of print), Heavenly's "Heavenly vs. Satan' album, a Secret Shine compilation, and this Brighter compilation from the fine folks at Matinee records have given a new generation of pop fans the chance to hear some of these influential indie-pop bands from days gone by.  Picking up this CD will get you all of the Brighter songs released on Sarah singles, leaving only the 'Laurel' LP on the albums to find list.
Track Listing:-
1
Inside Out
2
Tinsel Heart
3
Around The World In 80 Days
4
Things Will Get Better
5
Noah's Ark
6
I Don't Think It Matters
7
Does Love Last Forever?
8
Poppy Day
9
Half-hearted
10
So You Said
11
Killjoy
12
British Summertime
13
Hope Sprins Eternal
14
Never Ever
15
End
Label Links:-
http://matineerecordings.com/
https://www.facebook.com/matineerecordings
Pennyblackmusic Regular Contributors
---