---
Various

-

Heroes & Villains – The Sound Of Los Angeles 1965-1968,
published: 21 / 6 / 2022
---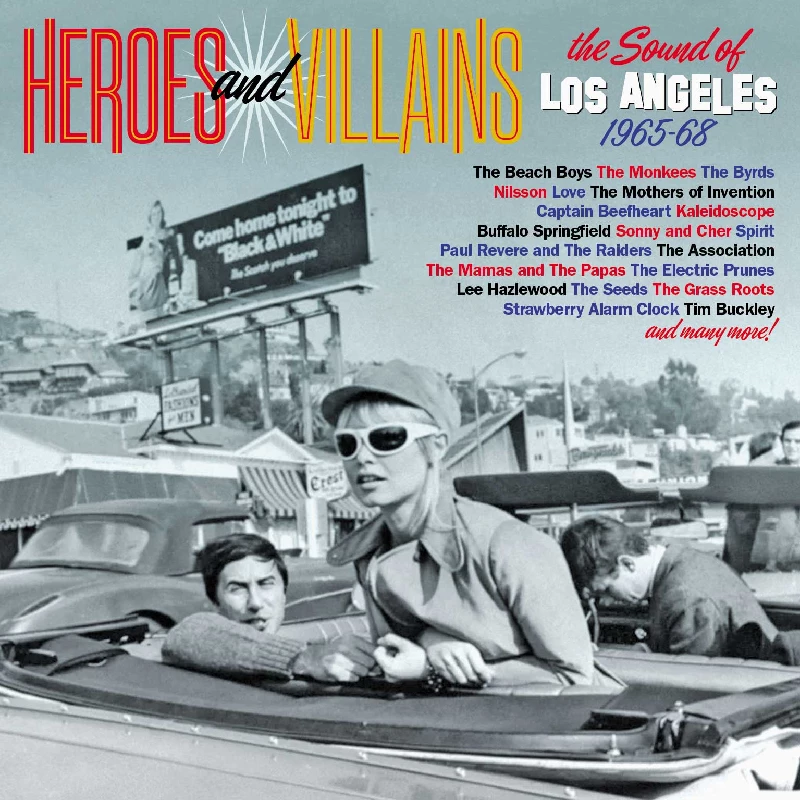 intro
Excellent three-disc retrospective, which fifty years after the original release of the iconic 'Nuggets' album, compiles together music from the LA scene of 1965-68, and the garage/psychedelic/pop sounds of California
Up until 1965, the LA music scene had consisted mostly of girl groups and surf pop, but then suddenly four British guys played some songs on Ed Sullivan's prime time TV show, and bam! The local musicians now began to look overseas for inspiration, but they never forgot their own heritage, and managed to create a mix of British beat and the US pop tradition, a mix that would continue evolving into garage rock, the psychedelic pop scene and what would later be called "sunshine pop", a genre often associated with the US west coast, and California in particular. On this brand new three-disc compilation from Cherry Red we are treated to the whole (well, not really, but that would take far more than 3threediscs, as you can probably understand) roster of poptastic sounds from LA during the mid-60s, with superstars, unknown cult acts and everything in-between. There are plenty of the aforementioned psychedelic and garage bands here, making it sound quite a bit like the iconic and marvellous ;Nuggets' compilation (which spanned the very same years as this box set), first released as a two LP set in 1972, and the re-released as a four-disc set in the late 90s. That latter CD reissue was my first introduction to many of the garage bands, like The Sonics and The Gestures, and, even though "Nuggets" compiled tracks from bands all over the US, a lot of acts were indeed from California. But there is more to this compilation than just backward guitars and power chords – there are also singer-songwriters, like Diane Hildebrand (who released a great self-titled album on the ever-brilliant Elektra label in 1968), Tim Buckley and Harry Nilsson, and some real rarities, like 'Computer Girl', recorded by Urban Renewal Project, a band that turned into Half-Nelson, and was then eventually re-named Sparks. There are also plenty of rare nuggets for the garage fan, with bands like The Satans, Somebody's Chyldren (who also acted as backing band on actress Mae West's albums in the mid-60s), The Prophets of Old, The Heros and The Odds and Ends. I also mentioned superstars a few paragraphs ago, remember? Yup. And there plenty of those here, as well. The Beach Boys, The Byrds, The Monkees, Sonny & Cher, The Mamas & The Papas, Lee Hazlewood, Buffalo Springfield, Love, Steppenwolf… And as always with these compilations, the curators have chosen not to go for the most obvious choices, which is a revelation, to be honest. We really don't need another 60s comp with 'California Dreaming', 'Surfin' Safari', 'Mr Tambourine Man" or 'Born to Be Wild', right? Finally, I have to mention the box set itself. Once again, we are treated to a fabulous booklet, with an essay by compiler David Wells, and then track-by-track notes for all the songs, and plenty of photos and memorabilia, giving you all the information you might need to help you enjoy these 3 discs even more!
Track Listing:-
1
PLEASANT VALLEY SUNDAY (single version) – The Monkees
2
KICKS – Paul Revere and The Raiders
3
ET HER DANCE – Bobby Fuller Four
4
BUT YOU'RE MINE – Sonny and Cher
5
TOMORROW'S GIRL – Merrell and The 'Xiles
6
SAND – Lee Hazlewood with Suzi Jane Hokom
7
ACID HEAD – The Velvet Illusions
8
ALONG COMES MARY – The Association
9
DON'T SAY NO – Ruthann Friedman
10
TWELVE THIRTY (YOUNG GIRLS ARE COMING TO THE CANYON) -The Mamas and The Papas
11
I CRIED MY EYES OUT – The Misunderstood
12
OUR LOVE SHOULD LAST FOREVER – The Whatt Four
13
WANTED: DEAD OR ALIVE – The Rogues
14
THE WIND BLOWS YOUR HAIR (demo version) – The Seeds
15
MY BABY'S BAREFOOT – The Syndicate
16
POINT OF NO RETURN – The Music Machine
17
CHICANERY – The Royal Teens
18
KEEP YOUR MIND OPEN – Kaleidoscope
19
A CHILD'S GUIDE TO GOOD AND EVIL – West Coast Pop Art Experimental Band
20
FLOATING DOWNSTREAM ON AN INFLATABLE RUBBER RAFT – The Second Helping
21
LET'S LIVE FOR TODAY – The Grass Roots
22
SHE SENDS ME – The Roosters
23
(CAUSE) YOU DON'T LOVE ME – The Odds and Ends
24
HELP YOURSELF – The Sanctions
25
I'M GOING BACK TO NEW YORK CITY – Somebody's Chyldren
26
THE TRIP – Kim Fowley
27
SAY WHAT YOU MEAN – Glad
28
COME LOOKING FOR ME – Diane Hildebrand
29
WHERE DO WE GO FROM HERE – The New Wave
30
NEW HARD TIMES – Stone Poneys
31
HUNGRY FREAKS, DADDY – The Mothers Of Invention
32
ZIG-ZAG WANDERER – Captain Beefheart and His Magic Band
33
COMPUTER GIRL – Urban Renewal Project
34
THE MOST UP TILL NOW – The Peanut Butter Conspiracy
35
IT WON'T ALWAYS BE THE SAME – The Millennium
36
THE MUSIC SCENE – Fapardokly
37
JUST CAN'T WAIT – The Prophets Of Old
38
SHE GOT ME – The Misunderstood
39
MAKIN' DEALS – The Satans
40
VIET NAM – Bobby Jameson
41
WITH NONE SHOES – The Leaves
42
BE HAPPY, BABY – The Odds and Ends
43
TEARS IN MY EYES – The Royal Teens
44
SUNSHINE GIRL (promo-only stereo mix) – The Parade
45
MR RICHLAND'S FAVORITE SONG – Nilsson
46
DO YOU LIKE WORMS (ROLL PLYMOUTH ROCK) – The Beach Boys
47
ALWAYS YOU – Roger Nichols and The Small Circle Of Friends
48
CARNIVAL SONG – Tim Buckley
49
FIRE ENGINE SKY – Michael Blodgett
50
I'M NOT LIVING HERE – Sagittarius + 39 Others
Label Links:-
http://www.cherryred.co.uk/
https://www.facebook.com/CherryRedRecords
https://twitter.com/cherryredgroup
https://www.youtube.com/CherryRedRecords
Play in YouTube:-
Pennyblackmusic Regular Contributors
---