---
published: 21 / 6 / 2022
---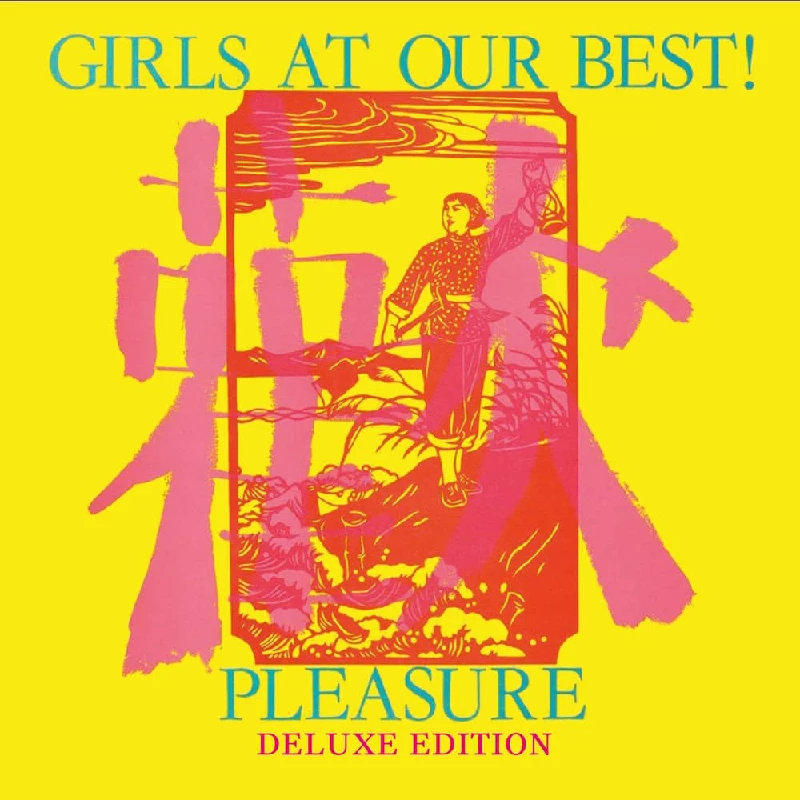 intro
Classic post punk/indie pop on new three-disc deluxe edition of Girls at Our Best!'s 1981 only album
This is hardly the first re-release of this classic post punk/early indie pop album, but it's certainly the most extensive yet, with three discs, containing the original album and plenty of added extras. We're about to dive in, but first of all just let me quickly bring you up to date on this band if you haven't heard about them before. Even though they were highly influential, and rather successful at the time, Girls at Our Best! are hardly a household name these days, even though they should be, if you ask me. Girls at Our Best! were formed as The Butterflies in Leeds in 1979 by Jo Evans, Jez Alan, Terry Swift and Chris Oldroyd, but they soon changed their name, taking their new name from a line in the song 'Warm Girls' (which was the B-side to the band's self-released debut single, 'Getting Nowhere Fast' in 1980). After a few singles, their sole album, 'Pleasure', came out on Happy Birthday Records in late 1981, and the band split up the next year. Some of their singles managed to get into the top 10 on the UK indie charts, with 'Go for Gold' making in to #4 (and that's also one of their best songs, I would say). So, what about this new reissue then? Well, as I said earlier, the first disc contains the original eleven track album, and also adds all the original singles (with B-sides), and two BBC sessions, recorded in 1981 (one for John Peel, of course, and one for Richard Skinner). The second disc consists of a live recording from Edinburgh University in 1981, and also two demo recordings, one with the Butterflies incarnation of the band, and one of 'Boys at Their Best!', recorded during the band's final studio session in 1981. The third disc is made up of a second live recording, this time recorded at the Peppermint Lounge in New York 1981, and finally an interview done on that same tour. I don't think I will spend too much time on the original 'Pleasure' album, apart from saying that it's a great album, clearly influencing a lot of the indie pop bands that formed in the coming years in the UK, like The Fat Tulips and Talulah Gosh. And the same goes for the singles – smashing songs, and I would say that some of their best songs are found here, like the aforementioned 'Go For Gold!' and 'Getting Nowhere Fast', famously covered by The Wedding Present in 1987. The BBC sessions are highly enjoyable (they sound more or less like the album versions), especially the one they did for Peel, where they played a weird medley of their singles, entitled 'Getting Beautiful Warm Gold Fast From Nowhere'. Even though it may sound like a strange idea, it actually kind of works! The first live show, the one recorded in Edinburgh, kicks of the set's second disc, and the first things that hits me when listening to it is that Terry Swift's bass is very prominent in the mix, making them sound a lot more post punk-ish than on the album. But that being said, it's nice to hear the band live in action, especially for me who was far too young (and also living in the wrong country) to experience them first hand at the time. The two demos are also fascinating to hear; the first one, recorded while the band was still called The Butterflies in 1979, is a preview of what was to come later, as it sounds more or less like a Girls At Our Best song, albeit a bit rawer, but it's a demo recording, so you can't expect anything else. The second demo, recorded during the band's final studio session in 1981, is an instrumental track, suitably called 'Boys At Their Best!', and it's surprisingly noisy to me. It's even hard to distinguish a clear melody among all the feedback and distorted guitars. So, I wonder what it would have sounded like with vocals, and also if this would have been a new direction for the band, had they chosen to carry on? I guess we will never know. Now we have arrived at the final disc, with the New York gig, recorded during the US tour that led to their eventual split in 1981 (according to the booklet, guitarist Jez thinks that the main reason was that things were happening far too quickly for the band, and that they weren't ready for it all). This live show is actually originally an audience recorded bootleg, which isn't very surprising when listening to it. It does sound quite rubbish, to be honest. But this time around, the bass isn't the only thing you can hear, and I really wish that this would have been a soundboard recording instead, to make the band more justice. Because they do sound really great, from what I can hear! The final track on this three-disc set is a ten-minute interview the band did in New York the same day as the Peppermint Lounge gig, and it's a great way to start if you want to know more about them! Also, I can recommend the great booklet, which includes an essay by long term fan Steve Flanagan, and also plenty of photos and memorabilia etc. As always, great job on that one!
Track Listing:-
1
Pleasure
2
Too Big For Your Boots
3
I'm Beautiful Now
4
Waterbed Babies
5
Fun-City Teenagers
6
£600,000
7
Heaven
8
China Blue
9
Fast Boyfriends
10
She Flipped
11
Goodbye to That Jazz
12
Getting Nowhere Fast (Single A Side)
13
Warm Girls (Single B Side to 'Getting Nowhere Fast')
14
Politics! (Single A Side)
15
It's Fashion (Single B Side to 'Politics')
16
Go for Gold (Single A Side)
17
This Train (Single B Side to 'Fast Boyfriends') John Peel 17/02/1981 BBC Session
18
China Blue
19
This Train
20
Getting Beautiful Warm Gold Fast From Nowhere Richard Skinner 23/02/1981 BBC Session
21
Fast Boyfriends
22
£600,000
23
I'm Beautiful Now
24
Pleasure
25
Pleasure
26
It's Fashion
27
I'm Beautiful Now
28
China Blue
29
Heaven
30
Water Bed Babies
31
Politics!
32
Go For Gold
33
She Flipped
34
This Train
35
Getting Nowhere Fast
36
Fast Boyfriends
37
Warm Girls
38
Too Big For Your Boots
39
Attribute (The Butterflies Demo 1978)
40
Boys at Their Best! (Demo 1981)
41
Pleasure
42
It's Fashion
43
I'm Beautiful Now 4 China Blue
44
Heaven
45
Waterbed Babies
46
Politics!
47
Go for Gold
48
She's Flipped
49
This Train
50
Getting Nowhere Fast + 3 Others
Band Links:-
https://www.girlsatourbest.com/
https://en.wikipedia.org/wiki/Girls_at_Our_Best!
Label Links:-
http://www.cherryred.co.uk/
https://www.facebook.com/CherryRedRecords
https://twitter.com/cherryredgroup
https://www.youtube.com/CherryRedRecords
Play in YouTube:-
Have a Listen:-
Pennyblackmusic Regular Contributors
---