---
published: 8 / 3 / 2021
---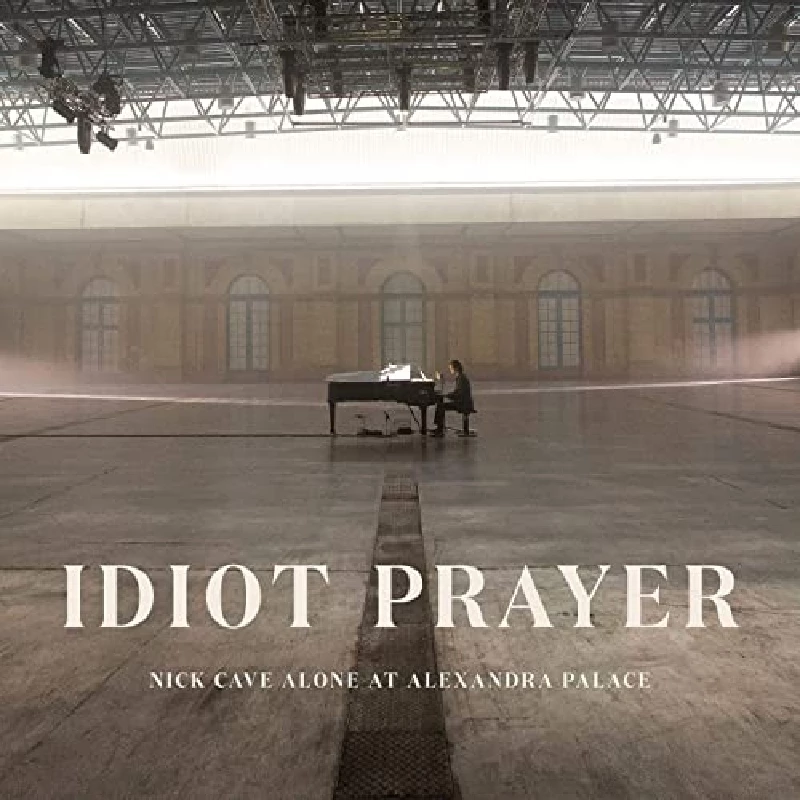 intro
Intense but quietly hopeful and resilient live piano-and-voice album from Nick Cave recorded alone in the empty Alexandra Palace in London
Faced with a postponement of a world tour with his band The Bad Seeds, Nick Cave live-streamed globally on July 23 2020 a once-only performance, not to be rewound or paused, like a real gig. Delivering a sombre but commanding piano and vocal performance in the vast and eerily atmospheric setting of Alexandra Palace in London, Cave said this was his response to the "eerie, self-reflective silence" of the Covid-19 infected year. Filmed by Oscar-nominated Irish cinematographer Robbie Ryan, the soundtrack has now been released as a solo album 'Idiot Prayer.' The twenty-two-track collection spans the breadth of Cave's career, drawing especially on 'The Boatman's Call.' Themes revolve around death, loss and desolation; throughout, Cave's clear and raw vocals transport the listener to an intense and shared togetherness in a time of bleak isolation. Highlights include title track 'Idiot Prayer', a lament for the end of his relationship with PJ Harvey, now re-conceived as an elegy for the world we have all collectively lost; the entrancing yearning of 'Into My Arms'; and the dramatic, sinister rendition of 'The Mercy Seat'. From the stripped-back recitation of the opening 'The Spinning Song' to the closing, elegiac 'Galleon Ship', the 'Idiot Prayer' album leaves a lasting, emotive imprint of what Cave has called "a strange and precarious time." Writing in the March 2020 edition of his Red Hand Files Newsletter, Cave said: "My response to a crisis has always been to create." This sober, stark and muted album, intended as "a prayer into the void", appears like a symbol of quiet hope and resilience. - Something we all need right now!
Track Listing:-
1
Spinning Song
2
Idiot Prayer
3
Sad Waters
4
Brompton Oratory
5
Palaces of Montezuma
6
Girl in Amber
7
Man in the Moon
8
Nobody's Baby Now
9
(Are You) the One That I've Been Waiting For?
10
Waiting for You
11
The Mercy Seat
12
Euthanasia
13
Jubilee Street
14
Far from Me
15
He Wants You
16
Higgs Boson Blues
17
Stranger Than Kindness
18
Into My Arms
19
The Ship Song
20
Papa Won't Leave You, Henry
21
Black Hair
22
Galleon Ship
Pennyblackmusic Regular Contributors
---