---
Gary Lucas
-

The Essential Gary Lucas
published: 8 / 3 / 2021
---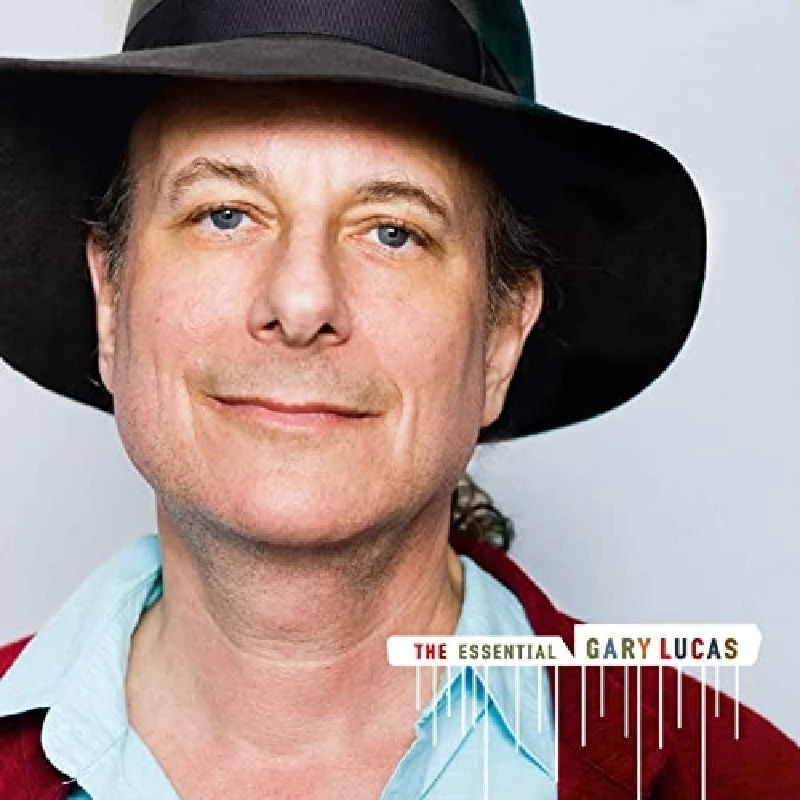 Label: KFR
Format: CD X2
intro
Wide-ranging retrospective on eclectic career of guitarist Gary Lucas reflects his roles as Gods and Monsters band leader and adventurous collaborator with such as Jeff Buckley and Captain Beefheart
On this retrospective two-disc set Gary Lucas proves himself a highly versatile and expressive guitarist. Yet his may be a name that sounds only vaguely familiar. In various permutations of musicians he has long had his own band, Gods and Monsters (the focus of the first disc), but he has equally been a keen collaborator, most significantly in the latter stage of Captain Beefheart's career and the early part of Jeff Buckley's. This characteristic, and the musical catholicity that comes with it, in some ways recalls the approach of Jah Wobble, even to the extent that both have sometimes blended Chinese and Western forms. 'The Wall', for instance, is a 1930s Shanghai pop song performed by Austrian singer Gisburg, into which Lucas smoothly inserts slide guitar. In fact, it's collaborations such as these that are generally the most satisfying tracks here. In Gods and Monsters, Lucas tends to sing as well as play, but regrettably his voice (somewhere in the Lou Reed/Mark Knopfler range) conveys nothing like the emotion or skill of his guitarwork. Contrast this with the gritty passion Nona Hendryx brings to Beefheart's 'Her Eyes Are a Blue Million Miles', the unchanged lyrics forsaking the Captain's trademark surrealism for the soulful sincerity of "I don't see what she sees in a man like me", accompanied by a Muscle Shoals-worthy band to which Lucas contributes perfectly weighted Steve Cropper shades. Similarly, Dutch singer Jolene Grunberg brings great feeling, at times almost Buckleyesque note-stretching, to 'Story Without Words', one of the unreleased songs Lucas co-wrote with Jeff Buckley in the early 1990s, while FeiFei Yang graces a Mandarin language version of 'All Along the Watchtower' with both her voice and keening erhu (Chinese violin). Yet arguably none of these match the beautiful 'Rishte', on which Najma Akhtar's yearning voice soars like a bird over the sensitive accompaniment of Lucas' acoustic and Nitin Metta's tabla. Lucas has also worked with male vocalists, though only Buckley compares for sheer quality with these women. He's represented by the demo for 'Grace' itself which, while lacking the richness and intensity of the now classic version, displays enough in the singing and guitar playing to more than suggest the song's potential. The brisk shuffle of 'One Man's Meat', delivered by the New York Dolls' David Johansen, his voice now a mature bluesy rasp, is another highlight, abetted by delightfully woozy slide guitar. Alan Vega discovers his inner Jim Morrison on 'Life Kills', intoning repeated phrases against Lucas' eddying guitar in a manner that recalls 'Horse Latitudes'; its eeriness is however undermined by a Suicidal tendency to go on too long. The only male singer Lucas uses more than once in this collection is the Woodentops' Rolo McGinty. 'Skin the Rabbit' has the distinction of being his first co-written song, the recording from Elephant Studios in London - Lucas' eclecticism has also seen him record in such places as New York, Amsterdam and Havana - featuring a stomping rhythm on a folky foundation which becomes increasingly disturbed by dark bass and fierce wah-wah. 'Whip Named Lash', a protest against the first Gulf War, is the more powerful of the two, capped off by a searing solo. As well as an abundance of songs, it's not surprising to find that Lucas has exercised his talent on many instrumental pieces. There are two Beefheart (dis)compositions, based on the Captain's 'Exploding Note Theory'; it's the brief 'Flavor Bud Living', where the notes and unexpected changes sound almost as though carved from the instrument, which has more emotional impact than the even greater technical demands of 'Evening Bell'. Also operating in left-field is the Adrian Sherwood-produced 'Guanguanco'; an initially spacey, relaxed feel is gradually subverted by depth-charge snare and a chugging bass. 'Fool's Cap', 'Dream of a Russian Princess' and 'Will o' the Wisp' are acoustic guitar excursions, models of dextrous picking and flowing fingers that, especially on 'Dream', create a quasi-Spanish feel. One of the most affecting pieces in the collection also concludes it, Lucas' adaptation of Dvorak's 'Largo'. His slide guitar is blues-suffused, yet at times achieves an almost Chinese inflection to the Czech composer's work, a demonstration in miniature of the falseness of musical barriers and Lucas' own achievement in overcoming them. In the informative booklet that comes with these albums, Gary Lucas is scrupulous in crediting all the musicians and singers he has worked with, often artists of great calibre. It's to be hoped that this release will find the world giving him similar recognition.
Track Listing:-
1
Fata Morgana
2
Evangeline
3
Coming Clean
4
Chime On
5
Climb the Highest Mountain
6
Let's Go Swimming
7
Swamp T'ing
8
One Man's Meat
9
Poison Tree
10
Follow
11
Skin the Rabbit
12
Grace (Studio Demo)
13
Lady of Shalott
14
Skin Diving
15
After Strange Gods
16
Whip Named Lash
17
King Strong
18
All Along the Watchtower
19
The Wall
20
The Moon Represents My Heart
21
Out From Under
22
Her Eyes Are a Blue Million Miles
23
Flavor Bud Living
24
Evening Bell
25
Bra Joe from Kilimanjaro
26
Fool's Cap
27
Janacek's "On An Overgrown Path" No. 15 Allegro
28
Two Roads
29
Will 'O the Wisp
30
Rishte
31
Life Kills
32
Story Without Words
33
Music for "The Golem"
34
Dream of a Russian Princess
35
Guanguanco
36
"Largo" from Dvorak's Symphony No. 9
Play in YouTube:-
Have a Listen:-
Pennyblackmusic Regular Contributors
---