---
published: 26 / 11 / 2020
---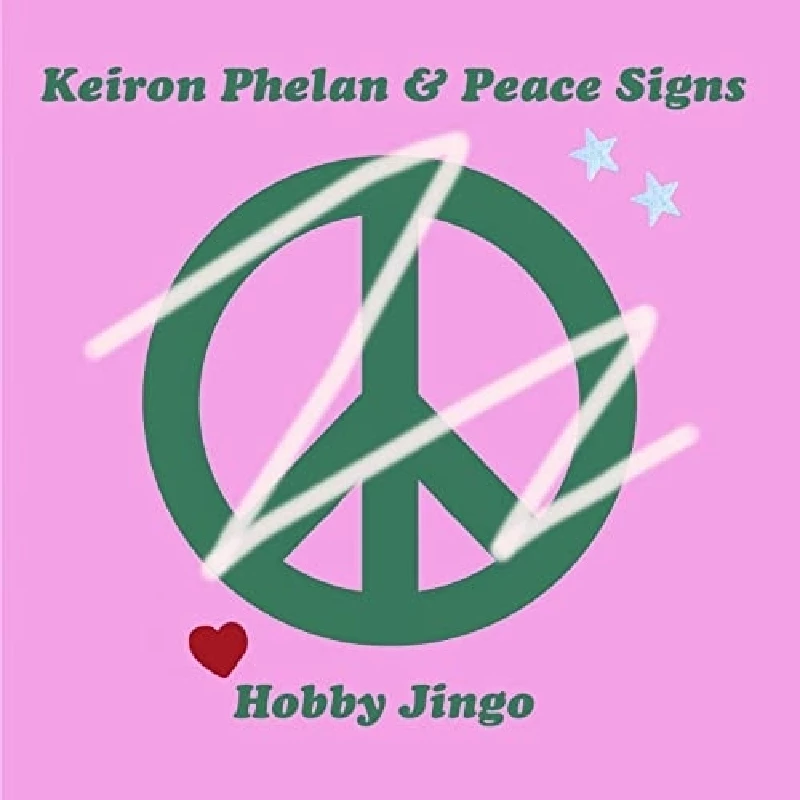 intro
Multi-instrumentalist Keiron Phelan's second Peace Signs album is a breezy, reflective collection of classic grown-up pop
'Hobby Jingo' is the second solo album from London-based multi-instrumentalist and songwriter Keiron Phelan with his band Peace Signs. The term "hobby jingo" means "a precarious situation," a much friendlier and quaint way of saying "a hot mess." Vibrant candy colours used on the album cover art hint at what to expect inside. Despite being created during an angst-filled time, the album is soothing and uplifting, creating an atmosphere of sitting comfortably in a warm cafe or cozy dive bar on a rainy summer day, happily whiling away time until there's a break in the clouds. 'You Never Put a Man on the Moon', 'Candy Floss Hair' and 'The Man Who Sang Eurovision' are light, sophisticated pop from an earlier, more glamorous era: Bacharach, Alan and Marilyn Bergman, cocktail lounges, and a time when men still wore hats. This isn't to say that the album is retro or cliched in any way; it isn't. Just like Phelan's voice is smooth without venturing anywhere near the habit that crooners like Harry Connick Jr. have of self-consciously wanting to sound like all members of the Rat Pack simultaneously. These songs are classic and timeless, like the sexy, sunny 'Cinnamon Synthesis', soulful and uncluttered 'After the Last Hurrah', and the chilled-out but happy title track. Jack Hayter deftly incorporates tasteful pedal steel guitar into a few songs and avoids even once tipping the scale into twanginess ('How Are You Getting Home, Imogen?' and a heart wrenching cover of Aphrodite's Child's 'Break'). One of the stand out tracks is 'New Best Friend', which is all-round fun and punchy with an infectious singalong chorus. While much of the album brings the post-war hit parade to mind, 'What Kaiser Did' goes even further back to a Kurt Weill-like, Weimar cabaret tune, name-dropping Kaiser Wilhelm II and what seems like a lover's quarrel using a backdrop of war, spying, burning bridges, and diplomacy. Throughout the album's themes of day-dreaming fantasy, finding one's way home, comfort, loss, longing, and countercultural dream girls, 'Hobby Jingo' goes a long way toward easing frazzled nerves and making the listener feel better, an impressive accomplishment in any year but especially this one.
Track Listing:-
1
Hobby Jingo
2
You Never Put a Man on the Moon
3
Candy Floss Hair
4
How Are You Getting Home, Imogen?
5
The Man Who Sang Eurovision
6
New Best Friend
7
Break
8
Cinnamon Synthesis
9
Jingo Piano
10
What Kaiser Did
11
After the Last Hurrah
12
Sixth Form Poetry
13
Goodnight Stan
Label Links:-
https://www.facebook.com/GareduNorduk
http://www.garedunordrecords.com/#facebook
https://twitter.com/GareDuNordUK
Pennyblackmusic Regular Contributors
---