---
Squire
-

Get Ready To Go
published: 5 / 5 / 2020
---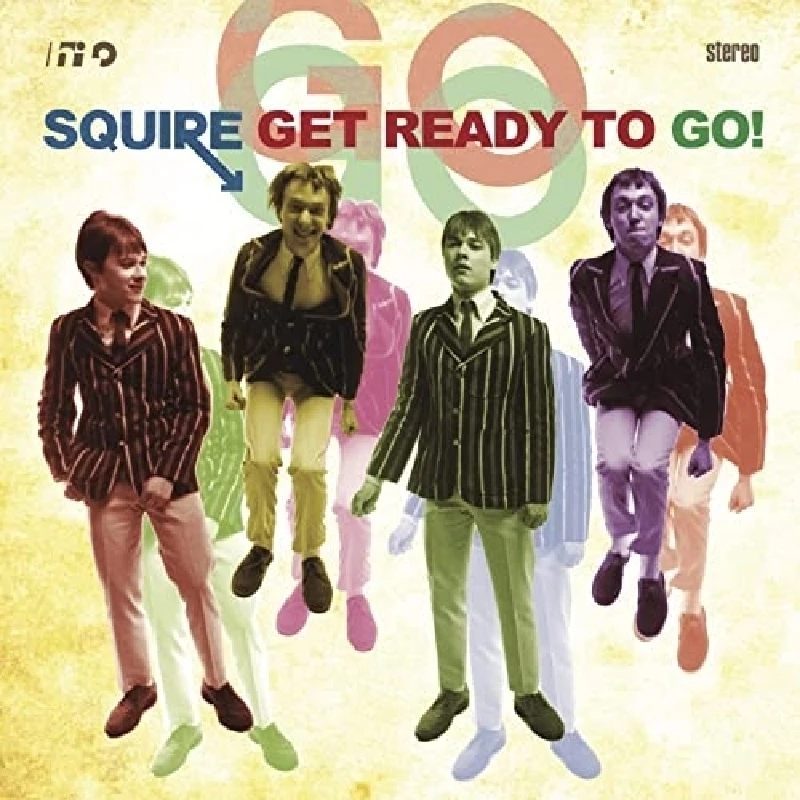 intro
Energetic new compilation from mod revivalists Squire traces the evolution of the band from punk to mod in 1977-78
Squire started out as a covers band in Guildford, England, consisting of former Paul Weller classmates Enzo Esposito (vocals/bass), Steve Baker (guitar), and Ross Di'Landa (drums). Anthony Meynell joined as vocalist and songwriter and brought with him a backlog of original material. Most of the tracks on this collection are homemade four-track demos Anthony and his brother Kevin Meynell (drums) recorded in 1977-78 as a pre-Squire fictional band the Numbers. Squire, named for the shop they rehearsed above, achieved a fair amount of attention as mod revivalists at the end of the decade when they were included on the famous mod compilation album 'Mods Mayday '79'. It wasn't until years and personnel changes later that they became power pop darlings in America. 'Get Ready to Go!' alternates sometime jarringly between angry punk, ska and more polished pop material with a much different vocal style and cleaner guitar, like the jaunty 'Do What You Wanna Do' and their first single for ROK Records 'Get Ready to Go!', a favourite of John Peel's. Both the punk and mod material are heavily influenced by the Who ('Four-Timing Girl') and early Jam, for whom Squire opened in 1977 shortly after Anthony joined. The same Jam influence is there on 'I'm 21', a punchy new track, added to the beginning of the collection rather than as the last song or a bonus track. While the song does look at life and accomplishments decade by decade, it is far from one of those depressing, wistful life retrospective songs like 'It Was A Very Good Year', ( the best line: "Perhaps I should go to university/But that didn't seem the life for me/ So I got a job in a factory/And a D-I-V-O-R-C-E/Now I'm 31!'), assessing each decade from 21 up to 101 and then backwards again." 'No Change' features fuzzy guitars and a Stiff Little Fingers-like attack, with disapproval aimed at the Sex Pistols, Generation X, and other punk bands, calling them out for riding around in limousines and enjoying the usual rock star spoils, and punk audiences for copying each other. Other targets for their ire include the BBC, ITV, boredom, school, the dole, serial infidelity, hypocrisy and supermarket music. There is a general atmosphere of youthful angst at not knowing what to do with one's life or what direction to take. This anxiety is balanced out by more upbeat pop songs, celebrating late summer despite the Beach Boys cancelling their 1977 tour ('Let's Have Some Fun'), a '60s love song about glue sniffing ('All I Gotta Do'), and contradictory attitudes toward city life ('City Breakdown' vs. the original 1978 demo of 'Livin' in the City'). Overall the collection is an interesting early history of a high energy band that should have garnered more acclaim during the first mod revival.
Track Listing:-
1
I'm 21
2
Let's Have Some Fun
3
City Breakdown
4
Left Behind
5
Four-Timer Girl
6
All I Gotta Do
7
I Just Don't Wanna Work!
8
Getting Better
9
Tesco Music
10
No Change
11
Do What You Wanna Do
12
Steve Zodiac Returns
13
Livin' in the City
14
Get Ready to Go!
Band Links:-
http://www.squirenet.co.uk
http://www.facebook.com/Squire
http://www.twitter.com/squiremod
http://www.youtube.com/user/squir
http://squire.bandcamp.com
Pennyblackmusic Regular Contributors
---