---
Jack Lee
-

Bigger Than Life
published: 22 / 12 / 2016
---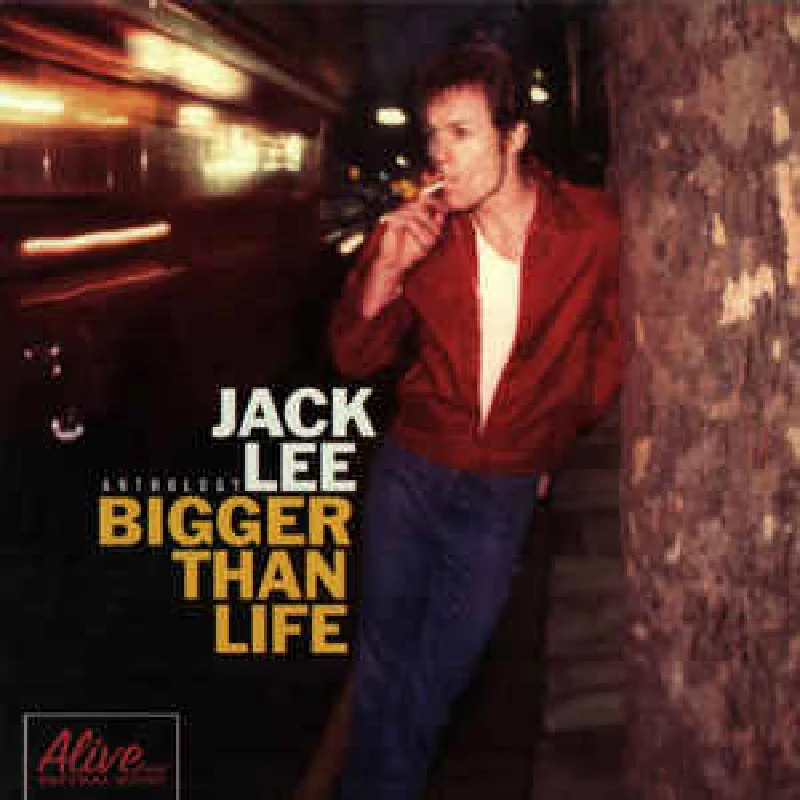 intro
Fascinating and essential compilation which combines together both the solo albums released by Jack Lee, the singer and guitarist in legendary power pop trio the Nerves, in the 1980s
I guess most fans, like me, discovered Jack Lee through his work with the now legendary trio the Nerves, a band that only managed to release one 4-track EP during their short lifetime in the mid 1970s. And if it Blondie hadn't decided to record a cover version of 'Hanging on the Telephone', one of the songs from that for their third album, 'Parallel Lines', in 1978, that self-titled EP would probably be forgotten by now, which would, of course, be very unfair, as the four songs on it are fantastic, all of them. After the band split up in 1978 the other two members, Peter Case and Paul Collins, went on to form other bands, such as the Beat and the Plimsouls, and singer/guitarist Jack Lee started a solo career. At the time, not a lot happened though. He released an album in 1981, with the brilliant title 'Jack Lee's Greatest Hits Vol. 1', an album that included the song 'Come Back and Stay', which would be covered by British chart throb Paul Young just a few years later, making it one of his first big hit singles. He also re-recorded a couple of Nerves songs, among them the aforementioned 'Hanging on the Telephone' and 'Paper Dolls', but those recordings are in my opinion far inferior to the original ones. Four years later, Lee released a second, self-titled album, an album that didn't make much of a fuss either. After that, he more or less disappeared from the music scene, even though he still performs from time to time with his new band Jack Lee Inferno (he refused to take part in a planned Nerves reunion back in 2012). Those two solo albums, together with some singles, have been really hard to find for a long time now, so Alive Naturalsound is doing a great thing by re-releasing them all on the compilation album 'Bigger Than Life'. To be fair, the first half, taken bfrom the first solo album, is a lot better than the second one, mostly because of the cheesy 80's production on the self-titled effort. Anyone with even a slight interest in the 70's power pop scene should, however, definitely own this!
Track Listing:-
1
Good Times
2
Give Me Some Time
3
Come Back And Stay
4
Any Day Now
5
Stand Back And Take A Good Look
6
Hanging On The Telephone
7
Women
8
I'm Gonna Have Fun
9
Crime Doesn't Pay
10
Paper Dolls
11
It's Hot Outside
12
Sex
13
Somebody Else To Love
14
Bird In A Cage
15
Why Am I So Lonely?
16
From Time To Time
17
Between Two People
18
Play With Me
19
Time Machine
20
The Girl In The Picture
21
Breaking Into My Heart
22
Bigger Than Life
23
Small World
Label Links:-
https://www.facebook.com/AliveNaturalsoundRecords
http://www.alive-records.com/
https://twitter.com/AliveRecords
https://instagram.com/alivenaturalsound/
https://www.youtube.com/user/JIMalive1
Pennyblackmusic Regular Contributors
---