---
Toby Hay
-

(With Nick Jonah Davis and Jim Ghedi), Cafe 9, Sheffield, 21/1/2015
published: 12 / 4 / 2015
---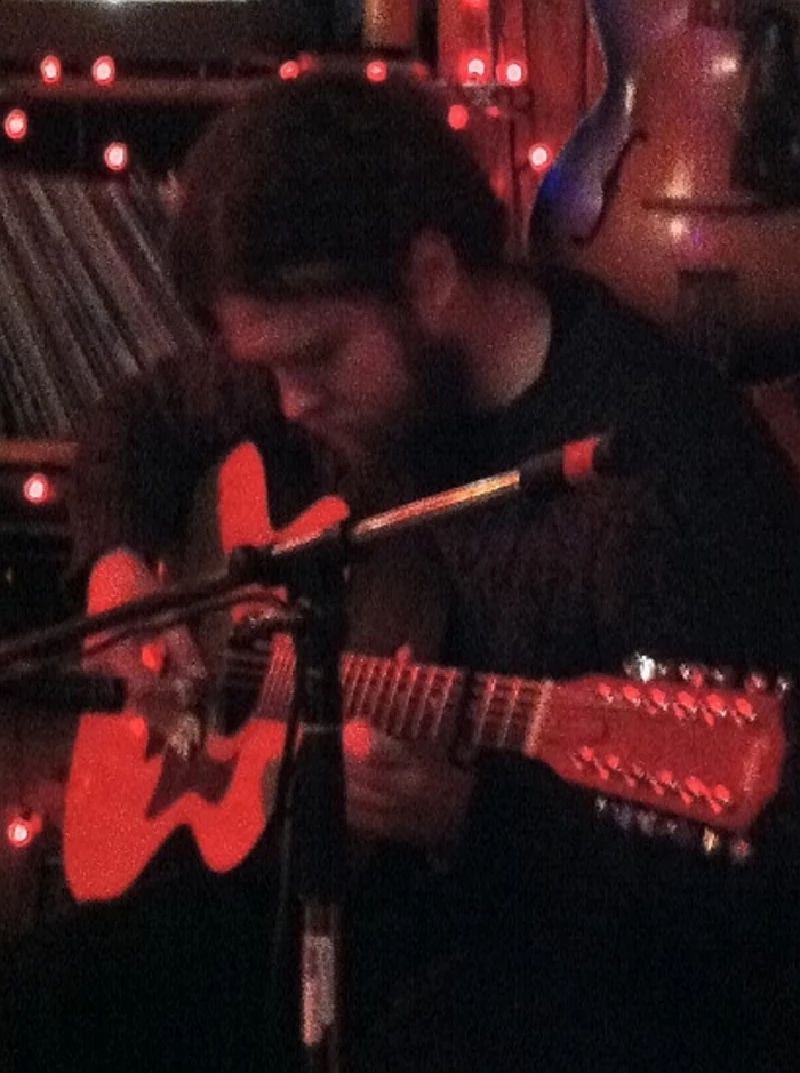 intro
At the Heretics' Folk Club new base in Sheffield, Keith How enjoys a captivating evening of folk rock from Welsh instrumental musician Toby Hay and his fellow guitarists Jim Ghedi and Nick Jonah Davis
The Heretics' Folk Club, brainchild of Robert E. Lee, has found a new home in the leafy suburbs of Sheffield far away from its previous venue, the bustling Riverside Bar. Robert Lee, as well as having the most excellent taste in music, knows how to put a gig on. Cafe 9 has a warm bohemian feel, a wood burner in the corner, low lighting reflecting from the oak-stained panelling, sofas ,chairs and vintage tables. A separates Hi-Fi system is overwhelmed by vinyl on a handy shelf. Snug? Yes, but lovely. Did I mention good coffee? In the corner there is a chair that is soon inhabited by an unassuming young cat who Robert Lee introduces as Toby Hay. He says hello deftly tuning a 12 string guitar, and plays us 'Raven', a stunning instrumental . We learn from his in between chat that Toby hails from mid-Wales with its valleys, windswept moorlands and tight communities . All this is clearly evident from the restful feel he brings to the room. His second offering 'Starlings' brings to mind the gathering of thousands of starlings ( a "murmeration" ) that happens near my home at dusk during winter . Notes spiral and swirl around us. 'The Gathering' is wonderful, painting a picture of lonely places . Toby plays four compositions, thoughtful , gentle and totally captivating. A short break brings Sheffield's own Jim Ghedi to the hot seat . A prodigious, talent Ghedi is constantly creating music and has recently returned from some time living in Brussels where he in his own words , had been "bumming around." He greets us with his engaging smile before launching into 'Sinful Man of Mine'. In the way that Toby Hay's compositions reflect his surroundings and nature, it is fascinating to encounter this incarnation of Jim Ghedi .These works clearly reflect his experiences while travelling.They take unexpected turns, and growl aggressively before dropping into quiet moments of reflection. 'Sevenoak's Windsong' rises and falls as Ghedi improvises around his themes. Ghedi appears intense, almost urban. His works are lengthy symphonic adventures that you just cannot ignore. He dedicates 'The Rose that Stands Alone' to deceased guitarist Jack Rose who he discovered while on his travels. There is a restlessness to this performance tonight, but Jim's charm, passion and talent are evident for all to see. Robert Lee refers to the night as an "evening of string botherers" which I rather like. For those of us who can strum E,A and B it is rather jaw dropping. No more so when the final guitarist of the evening lays down a stunning 'Goodfella Riverside Blues' as his opener. Nick Jonah Davis cuts a rather downbeat figure hunched over his guitars, but his keen humour and worldly wise observations balances beautifully with his magical fretwork. 'Farewell Sad Flower ' sparkles like winter stars and 'Zanzibar Chi' is delightful. Davis is a formidable guitarist, and captivates the audience with his deft and inventive compositions. There is a feel of pre-war blues to Davis' performance, and a highly accomplished set includes a magnificent 'House of Dragons', a dark tale of an old house and gargoyles, which is worth the entrance price alone . Great stories without words. Leaving the Heretics' Folk Club and stepping out into the cold Yorkshire night is akin to stepping from an enchanted world into reality. A fine evening! Five Questions for Toby Hay PB: How did you come to the guitar? TH: I have two older brothers who both play music. My first guitar was a little three-quarter size nylon string, but I kind of just messed around for a few years before I properly got into it. I started off playing guitar in bands, I am still quite new to this solo stuff I am playing now. PB: Could you give us an insight into your creative process? How do you find inspiration and then construct a composition? How do you use tunings? Do you have a favourite tuning/ guitar? TH: My music is inspired by where I live in mid-Wales. The landscape, the history and the people. I find it hard to describe what it is exactly that inspires a particular tune, which is why I love instrumental music so much. For me, it is a perfect way of expressing thoughts that are impossible to put into words. I play with open tunings, I only use a few at a time though. I have a Taylor 12 string which is my favourite instrument, and the guitar that most of my new compositions are performed on. PB: How do you approach a live performance ? TH: I hope to try and engage everyone in the audience, That's the aim. I love instrumental music for its accessibility. There is no language barrier. It about the music, and hopefully it makes people feel something. I try to give a little background to each of the pieces, in the hope that it will help people connect with them. I always leave room for improvisation in the music as well, as I like letting the energy in the room change certain aspects of my playing. I get a real buzz from that. PB: Do you have a view on the role of the artist in today's world? TH: To inspire others. I know my world would be worse if I didn't have the guitar. It would be great if everyone could find their "thing", whether that be art, or music, or sport, or whatever. PB: What does 2015 hold for Toby Hay? TH: I am working on the release of two new EPs - One all about Rhayader, and one all about birds. I am also writing and recording my debut album for release in 2016. And playing live as much as possible. It should be a fun year... PB: Thank you.
Band Links:-
http://tobyhay.com/
https://en-gb.facebook.com/Toby-Hay-280536078727886/
https://twitter.com/tobyhaymusic
live reviews
---
C.A.R.A.D. ,Rhayader 19/11/16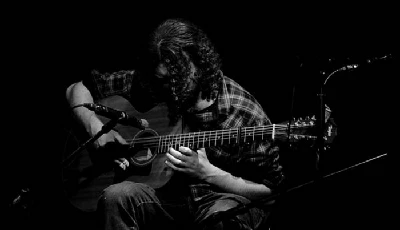 Keith How enjoys guitarist and instrumentalist Toby Hay's launch gig for his new EP 'Birds' in Rhayader in rural Wales
features
---
Under the Radar (2018)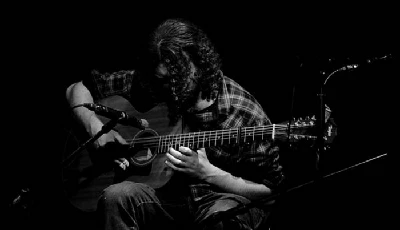 In his 'Under the Radar' column, in which he searches out lesser known artists and labels, Keith How reflects on Wales' best kept secret guitarist Toby Hay. who releases an engaging new recording 'The Longest Day', that follows on from 'The Gathering', last year's highly acclaimed album.
reviews
---
New Music for 12 String Guitar (2019)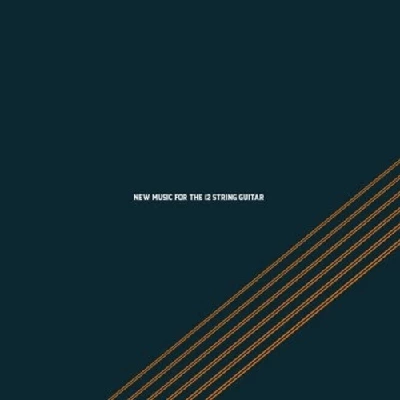 Impressive new album of instrumental improvisations from Welsh guitarist Toby Hay which further enhances his growing reputation as one of the UK's finest guitar players
Pennyblackmusic Regular Contributors
---