---
published: 10 / 7 / 2012
---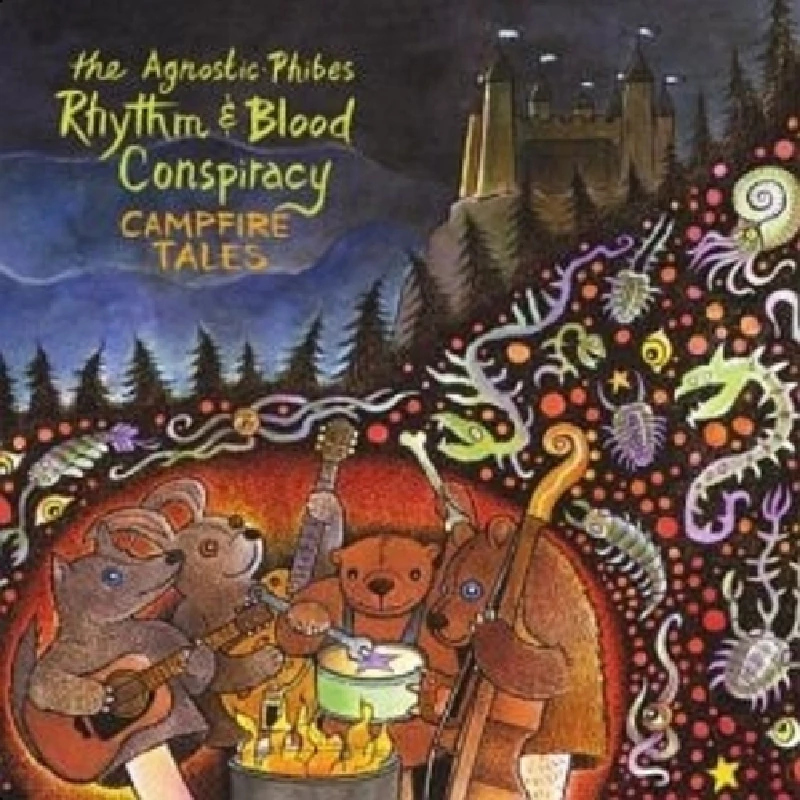 intro
Magical merging of psychobilly and folk rock on debut album from fiery Canadian collective, the Agnostic Phibes Rhythm and Blood Conspiracy
The Agnostic Phibes Rhythm & Blood Conspiracy is a collective of musicians headed up by garage-punk misanthrope Jackson Phibes who create these magical, folk-y tunes from within the Canadian wilderness. They also have an incredibly time consuming name, so I shall herein refer to them as Phibes. Rude you may think, but they live in a cabin so the chances of them reading this review are probably pretty slim anyway. Besides, I'm guessing if there's a bunch of them then they will already be quite aware of how good they are. The fact that they've managed to make an album and got to Blighty all the way from 'Ray Mears' country speaks volumes to this reviewer. The album cover is worth the entrance fee alone. Capturing a children's book style woodland setting it only serves to further the magic of the Phibes and while this may be a minor part and in no way connected to the music, for me it does set the scene literally in a way I suppose. I'd have been happy just looking at the cover, but nobody really wants to read me going on about that so I guess I should get to the music. The album lives very nicely up to its name of 'Campfire Tales', but only told by what I would imagine to be crust punks, beatniks, rockabillies - basically beardy types with maybe a token quaffed chap for good measure It is essentially a folk album…but, well, it isn't as there is a real rough-and-ready edge to it that can only have come from years of punk rock and hard living. This isn't a bunch of haircuts singing about their gap year exploits . That's for sure. One has only listen to 'Wolfman Franz' and 'Who Fears the Devil' to realize that these guys have lived their lives. Both are gritty from the off-set, featuring not only the husky vocals from Phibes, but the gently growling of the guitars and even the percussion, which is fairly minimal, both sound like they are being beaten like a madman possessed. 'Windigo song' is littered with slide guitar and bridges the rockabilly-psychobilly-bluegrass boundaries and does a slam dance all over them. It is nothing short of fantastic. This is mountain man music at its finest, I would imagine Charlie Daniels himself would be a huge fan of these guys. If you were to imagine a band that Seastick could have been in if he was more rugged and gravely then you're half way there, but to be honest Phibes make him look like Jack Johnson. 'Campfire Tales' is a fantastic collection of songs from a fantastic ensemble - TheAgnostic Phibes Rhythm and Blood Conspiracy (see I even reverted to their preferred name I like them that much). I can't recommend trying to track them down high enough, if of course they don't track you down first!
Track Listing:-
1
A Match to the Kindling
2
Campfire Tales
3
Wolfman Franz
4
Windigo Song
5
Voices
6
Neckin' Party
7
Wild Night Company
8
Who Fears the Devil?
9
Magpie & Skunk
10
Respected
11
Butcher, Maker, Undertaker
12
Blind Ghost Moan
Band Links:-
https://www.facebook.com/Agnostic-Phibes-Rhythm-Blood-Conspiracy-15963
http://www.last.fm/music/The+Agnostic-Phibes+Rhythm+&+Blood+Conspiracy
Label Links:-
http://www.saprecordings.com/
Pennyblackmusic Regular Contributors
---