---
Miscellaneous

-

The Spice Girls
published: 4 / 7 / 2012
---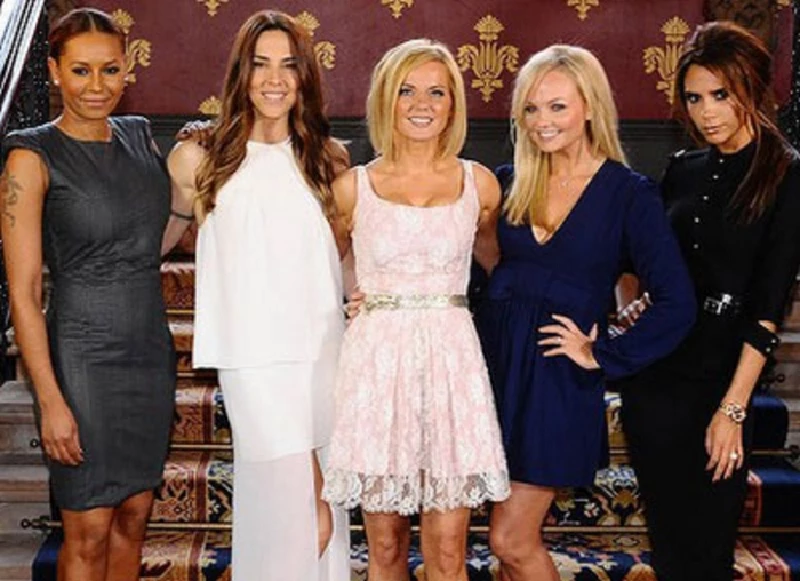 intro
In 'Hitting the Right Note', Jon Rogers reflects on the new Spice Girls musical, 'Viva Forever', and the current trend of music towards nostalgia
Before anyone begs to differ, let it go on record that 'Hitting the Right Note' loves a good bit of pop music. I may have two left feet and all the grace of a three-legged hippo stumbling around, cutting shapes on the dance floor that only embarrassing dad-dancing permits... But hell, a great pop tune is transcendent. Great Art (with a capital A) can make you ponder the mysteries of the human existence, but a great pop tune can make you feel that lust for life. But 'Hitting the Right Note', unfortunately, felt no lust for life over 'Viva Forever!', the upcoming musical backed by the Spice Girls, which follows the life of a girl called Viva who enters a reality contest to be in a girl band. Even if you don't like the girl band - and they're clearly not going to appeal to the 'serious' music fan - you can't deny their popular appeal. Their debut single 'Wannabe' in 1996 hit the top of the charts in over 30 countries, and their debut album sold over 28 million copies. In total the group has sold over 75 million records worldwide, making them the most commercially successful girl group of all time. 'Entertainment Weekly' estimated that the band grossed between $500-800 million from 1996 to 1998. Even at the bottom end of that estimate, that's still a shed load of cash and, split five ways equally between the five woman, that's not bad going at all. Then they were widely reported to have been paid £10 million each for their reunion tour in 2008. And there's the key. Money. Now, nothing wrong in making a shed load of cash as a bi-product of what you do. After all, Premiership footballers do very well. But you get the impression with the Spice Girls that the band is nothing more than a way of making money. The desire or motivation isn't to make a great pop tune that will last for generations, but that the notes that really count are the ones that have the Queen's face on them, not the musical variety. Speaking at the press conference for the launch of the musical, held at the St Pancras hotel where the video for 'Wannabe' was shot, Mel Chisholm (aka Sporty Spice) said: "What this [the musical] does is open us up to a new generation. A new market who wouldn't have necessarily been Spice Girls fans." The important word there is "market". It's a telling phrase. Nothing about a desire to gain new fans or rekindle the interest from aging ones. Chisholm speaks the language of some corporate marketing director. It's clear her real priority is exploiting that "market" and making as much profit as possible. It is nice to know that she views her fans and followers as just a market to be exploited for profit. Clearly then 'Girl Power' meant little more than economic power. I'll tell you what they want, what they really, really want. Your money. Ever had the feeling you've been cheated? But what did you expect. Invariably, these nostalgic revivals/reformations are - let's face it - done for the money. Despite what a lot of people may very well say and mumble incoherently about "doing it for the fans." Really what they're thinking of is the big, fat cheque they'll get to top up their bank balances and pension plans. My Bloody Valentine reformed because of a burning desire to play once more? Really? Or was it because they had the chance to make some money? At least the likes of the Pixies and the Stooges bothered to record some new songs. So perhaps at least Sporty Spice was just being honest and open rather than spewing out a load of rubbish about integrity and waffle about "doing it 'cos our fans wanted us to." Yeah, right. There is though something very unsettling about the whole nostalgia in pop music. It's retrogressive, not progressive. It looks over its shoulder at the past at what has gone on previously and revels in that. The best pop music, to these ears, appeals in the transitory notion of the now. It's the whizz, bag, pop of a firework - the explosion of sound and colour. And then it fades and is gone. Only to be replaced a few seconds later by another whizz, bang, pop. [Ironically great pop music does have staying power too, like Dusty Springfield's superb 'Son of a Preacher Man'.] We revel in that three-minute wonder of the moment. But all of these nostalgia acts are just looking backwards and a time that has long since faded from view. This Spice Girls musical is nothing more than that, but with a different spin on things. The golden goose can be made to lay a different sort of egg this time. Mainly because the reunion tour has already been done and fell apart before the end, and another one is highly unlikely if rumours of fractional infighting between different members of the band are true. Still though if there's money to be made the Spice Girls 'brand' can still be exploited for all its worth and no doubt 'Viva Forever!' will keep the cash registers ringing. All these nostalgia acts from the Stooges to the Spice Girls are the current equivalent of the 70's rock dinosaur, making pop music a stale and dull place, lacking excitement and thrills. Looking to the past instead of trying to invent something new. Where's the modern day equivalent of the Sex Pistols to kick all these old farts into retirement?
Visitor Comments:-
572

Posted By: Myshkin, London on 19 Jul 2012
With all due respect, can I politely suggest that your writer tries to get out a little more. He may start to enjoy life.
---
Pennyblackmusic Regular Contributors
---