---
published: 2 / 7 / 2012
---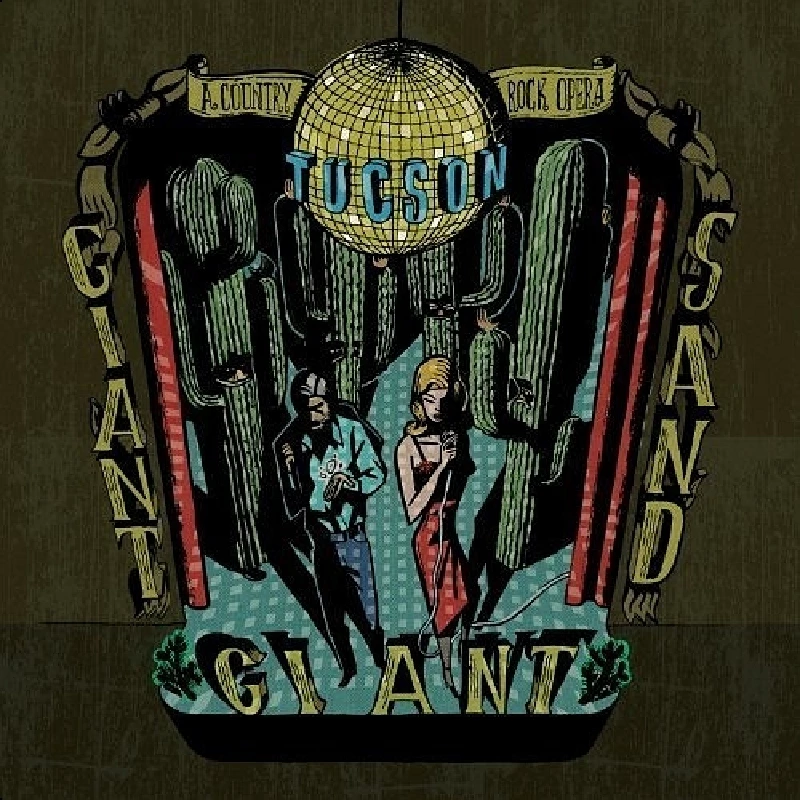 intro
Underwhelming debut album from prolific Tucson-based songwriter and musician Howe Gelb's new twelve-strong project Giant Giant Sand, which has little to segregate it from his other projects
Along with the likes of Bonnie 'Prince' Billy and The Fall, Howe Gelb - the main man behind the band Giant Sand - is prolific. Only probably he knows just how many albums he's released. It's probably something like twenty four of them, and that's just as a band. And that's just since 1985. Never mind solo albums or different side projects. And like with Bonnie 'Prince' Billy, all too often it's a case of quantity over quality. Just stick on one album and there's very little to distinguish it from all the rest. That still holds true here. Well, sort of. For 'Tucson' Gelb has expanded the band - it now has 12 members - hence the expanded name to Giant Giant Sand and that has given the group a fuller, richer sound. There's now a string section, a pedal steel guitarist and singer Lonna Kelley adds a counter-weight to Gelb's windswept, dusty vocals. But despite that there's little here, musically, that differs too far from the original blueprint of the band. Still, you have to hand it to them, they do what they do very well. Fans won't be disappointed at all. It's all dust-bowl Americana tunes that have slightly faded in the sun. Which is no bad thing but 'Tucson' just sounds well, just... underwhelming. Gelb is essentially something of a musical conservative. He plays safe. He knows what he likes and sticks with that. Admittedly he's stuck his toe out here (to some extent) but not anything like far enough. When you pick up some 'product' with the Gelb 'brand' on it you know exactly what you're going to get. It won't disappoint in the slightest but nor will it contain anything new or exciting. Rather like Ronseal, it does exactly what it says on the tin. And get this... 'Tucson' is what used to be called a concept album. Although here it's dubbed a "country-rock opera" - whatever one of those is. The story revolves around a "semi-grizzled man with overt boyish naïveté" who, in the classic existential tradition, has a burning desire to leave his hometown behind and go on that great American road trip. Whoa! Concept album alert! Sound the alarm! Okay, that's all being rather unfair and uncharitable. Nothing wrong with concept albums per se at all. Some are pretty good. It's just that they don't have a good reputation. And there is plenty on 'Tucson' that is of note and interest. 'Carinito' livens things up and sees the band get animated. 'Mostly Wrong', 'Forever and a Day' and 'Ready or Not' always manage to paint the picture in a few brushstrokes and with a light touch. And musically, Gelb always manages to capture that elusive element of cacti-strewn deserts, the heat, the isolation, the emptiness as well as those whiskey-soaked nights in some dive bar. So 'Tucson' sets out Gelb's credentials once more very well and it will have an attraction to those already converted as well as being a fine way to be introduced to those unfamiliar. But it could be just so much more.
Track Listing:-
1
Wind Blown Waltz
2
Forever and a Day
3
Detained
4
Lost Love
5
Plane of Existence
6
Undiscovered Country
7
Love Comes Over You
8
Thing Like That
9
The Sun Belongs to You
10
We Don't Play Tonight
11
Ready Or Not
12
Mostly Wrong
13
Hard Morning in a Soft Blur
14
Recovery Mission
15
Slag Heap
16
Not the End of the World
17
Carinito
18
Out of the Blue
19
New River
Band Links:-
https://www.facebook.com/giantgiantsand
http://giantsand.com/
http://giantsand.com/
Label Links:-
https://twitter.com/firerecordings
https://www.facebook.com/Firerecords
http://www.firerecords.com/
https://firerecords.bandcamp.com/
https://instagram.com/fire_records/
https://www.youtube.com/user/FirerecordsUK
Visitor Comments:-
565

Posted By: Myshkin, London on 03 Jul 2012
Is your reviewer somewhat deaf?? I would have to agree that Gelb can be rather "conservative" in his musical tastes but to state that 'Tucson' is "underwhelming" is just down right stupid. To me, it's one of the best records he's made in the past few years. Certainly he has a formula to his music and he sticks to it but he's pulled the stops out this time. And so what if he is conservative - if it ain't broke, don't fix it.
---
Pennyblackmusic Regular Contributors
---