---
2L8
-

New Battles, Without Honor and Humanity
published: 2 / 4 / 2012
---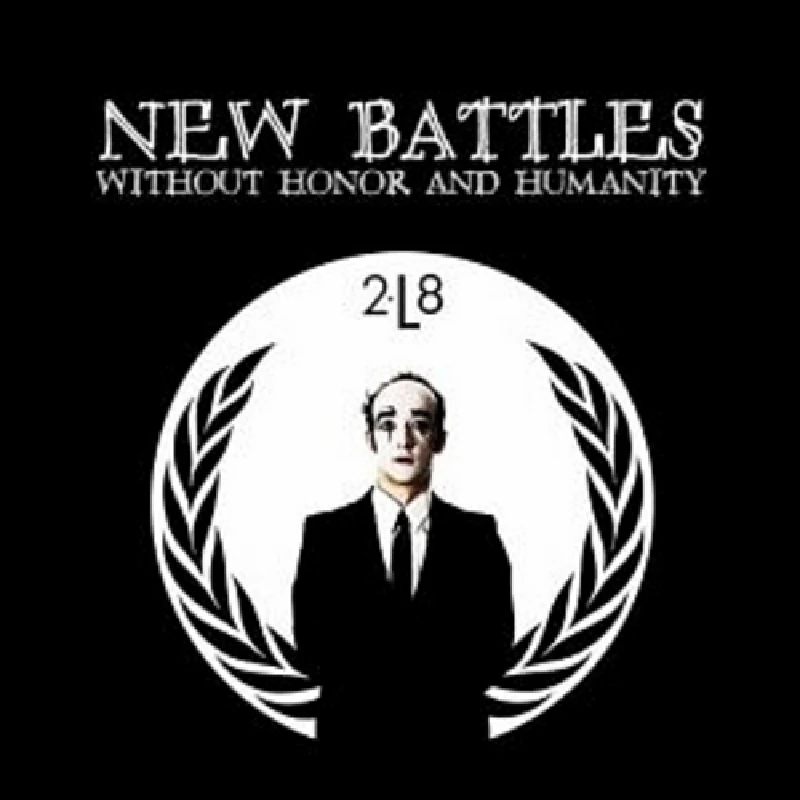 Label: 2L8
Format: CD Box
intro
Exquisite and beautifully packaged double CD and book on ecologically-themed album from Greek act, 2L8
Too Late, 2L8, is the project of Greek musician K The Clown, who is fond of anarchy. This album comes in a most stunning package though. The sophisticated anarcho-chic on the six by six inch hardpaper 2CD booklet makes this the ultimate item for both Record Store Day and Bookstore Day, provided there is the latter. Its music is also available on download for the price you think appropriate. The double CD booklet is available in specialist record stores and on-line. 2L8's previous albums are available from from their website and are hosted on a notorious file-sharing website. The web proves to be ever so more helpful. 'New Battles' is an epic album, "album" as in the truest sense of the word and which you can also perceive to be a handheld theatre play. Whilst using the internet, where on many platforms 2L8 has its presence, it becomes a multimedia experience. Like rhetoric goth perhaps, the lyrics, however, read like pamphlets, in order to respect humanity and ecology. The wording is straight and simple in its striving for a better world. Yet then in the music the greatest surprise comes as it is a wealth of melodic rock music that is not shy of rockabilly riffs and which also adds a teaspoon of glitter rock. Exquisite and elaborate, the two discs 'Sunlight' and 'Moonlight' feature many rock songs of unprecedently known non-English quality, bar the bands from Sweden and its neighbouring regions of course. Above all, 2L8 only uses those words whose implications they understand. In a sense 2L8 is the Mediterranean answer to REM and is a Greek original.
Track Listing:-
1
The Agenda
2
The Balkan Nigger
3
Innocent Smile
4
Let It Go
5
The Bordeline
6
Interlude
7
It's Strange, But What Isn't Strange
8
Strange Too
9
Radiance
10
Fight
11
The Will to Live
12
To Calm Our Brothers Fears
13
Respect the Brightness of Our Souls
14
Fading
15
Velvet
16
The Seeker
17
Greatness Falls
18
Understanding of Standing Under the Same Cloud
19
A Monent!!!
20
Lover
21
Silence
22
Healing Song
23
Lost Pictures
24
Sleepless
25
Don't Follow Me
26
Xxx
27
Love Is Gone
28
Circle the Pencil Mr Ink
29
The Forgotten Dolls Choose to Die
30
Close Your Eyes When Orbiting New Planets
31
I Got Nothing
32
An Ancient Voice
Band Links:-
https://www.facebook.com/2l8toolate
https://twitter.com/2l8toolate
https://www.youtube.com/user/2l8toolate
https://plus.google.com/103592761073858634195
http://www.2l8toolate.com/
http://2l8toolate.bandcamp.com/
Pennyblackmusic Regular Contributors
---