---
published: 17 / 3 / 2012
---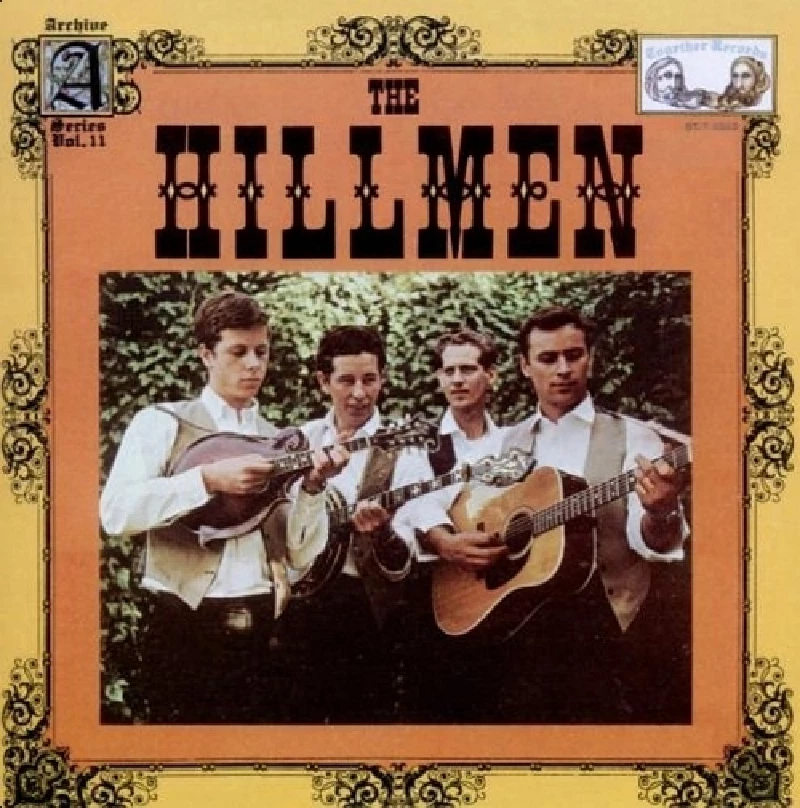 intro
Fascinating reissue of 1964 only album by Los Angeles bluegrass band the Hillmen, which was an early group of Chris Hillman from the Byrds
The Hillmen made one vinyl LP back in 1964, and then it sat on the shelf until 1969 when it finally appeared badly pressed and off-centred. This repressing collects together for the first time on CD the original album mix by Dave Hassenger after two previous CDs appeared in remixed editions. The album was recorded by Jim Dickson at World Pacific Studios, and the original plan was to sell the Hillmen to Jac Holzman at Elektra, which at that time was mainly a folk-based label. He, however, passed. The Hillmen are an acquired taste. Sid Griffin and Andy Kershaw would probably be able to tell you everything that has not already been written about them for hours, but for many people this release will be their first taste of this little heard group. The Hillmen were formed out of several Los Angeles bands joining together, The last member to join was the 17 year old Chris Hillman, who later on went and became the bass player for the Byrds, whom perfectly matched folk music to a Beatles beat and then, as a result of Hillman's influence, took on country music. It is an album that is better appreciated if you are a bluegrass fan, but that said, for its duration, it does completely carry you away with its banjo fever. The eleven numbers of the original LP are all mostly short and snappily played. It is the sort of music that would instantly find a home on Bob Harris's Radio 2 Americana show. 'Fair and Tender Ladies' opens the album. It is simply played with a vocal from lead singer and guitarist Vern Gosdin that is reminiscent of Woody Guthrie. The Hillmen play with ease and sound totally natural, but Chris, who plays mandolin on this album, used to rehearse for eight hours a day to get this good. The music is not complicated but with enough banjo jangle from banjo player Don Parmlin to please the bluegrass crowd. 'Winsborough Cotton Mill Blues' is much faster, and has enough passion in it to convert anyone new to hardcore blue grass. 'Wheel Hoss' has the pace of a moving train and is a thigh slapping classic. 'Fair Thee Well' is actually a Dylan number, but sounds like a true country song. 'Go'in Up' is so fast that it is infectious. 'With These Chains' ended the first side of the vinyl, but for some reason was missed out on both of the previously released CD issues. This is harmony-based with perfectly picked guitars and banjos to assist the vocals. 'When the Ship Comes In' kicks off the second side of the vinyl LP, and, another Dylan number and a knee slapper at that, is the only track on the original album to feature a lead vocal from Hillman. 'Roll On Muddy River' is bluegrass at its most pure, while 'Bluegrass Chopper' is so fast you have to run along with it to keep up with it. 'Ranger's Command' and 'Prisoner's Plea' , which close the original album, are in contrast slowly delivered. Amongst the extra tracks for the CD editions, 'Sangeree' is a camp fire number. 'Barbara Allen' is largely instrumental-based and features a strong banjo lead. The slowly played stringed instruments of 'Copper Kettle'are backed by lush harmonies. 'Salt Creek', which makes its debut here on this new edition, is a very fast banjo-led instrumental traditional number, which has the pace of a runaway horse. 'The Hillmen' is not an album for pop fans really, but it is definitely one for the Byrds' completists out there.
Track Listing:-
1
Fair And Tender Ladies
2
Winsborough Cotton Mill Blues
3
Wheel Hoss
4
Faretheewell
5
Go in Up
6
With These Chains
7
When The Ship Comes In
8
Roll On Muddy River
9
Blues Grass Chopper
10
Ranger's Command
11
Prisoner's Plea.
Band Links:-
https://www.facebook.com/ChrisHillmanMusic/
http://www.chrishillman.com/
Label Links:-
http://www.floatingworldrecords.co.uk/
https://www.facebook.com/floating.worldrecords
https://twitter.com/floatingwrecord
Pennyblackmusic Regular Contributors
---