---
Ronettes
-

Be My Baby: The Very Best of
published: 9 / 11 / 2011
---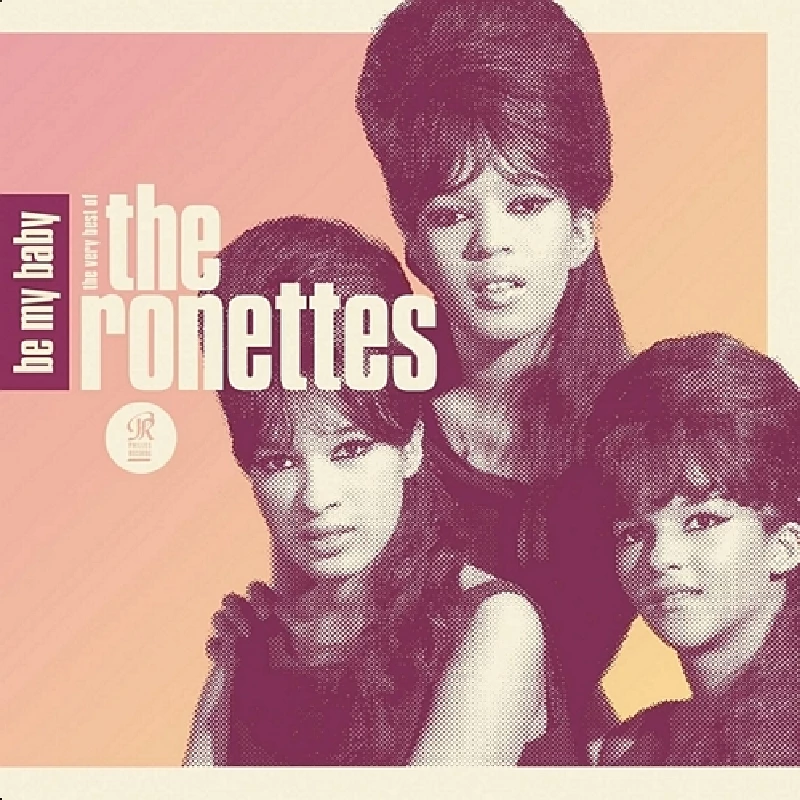 intro
Excellent if unnecessary new compilation from ultimate 60's girl group, the Ronettes
As girl groups go The Ronettes, a trio of US singers, weren't the most popular. Ultimately they only had eight songs in the Billboard Top 100, with five going top 40. Their only album, 'Presenting the Fabulous Ronettes Featuring Veronica' in 1964 could only make it to a lowly 96 in the US charts and as such they weren't the most successful, in commercial terms. But perhaps they were the best. Any group that supported the likes of the Beatles and the Rolling Stones on tour can't be all so bad. Nor have a young singer called Cher as a backing singer. And the band's lead singer, Ronnie Spector, just happened to sing along to the house band at Ondine's, an exclusive East Side club in New York where the guitarist was one up and coming Jimi Hendrix. How can anyone resist the seductive charms of 'Why Don't They Let Us Fall in Love?', '(The Best Part of) Breakin' Up' and, of course 'Be My Baby'. The latter definitely up there with the likes of 'Good Vibrations' as being as close to pop perfection as it gets. But it wasn't instant pop stardom for Veronica Bennett (later known as Ronnie Spector), her sister Estelle Bennett and their cousin Nedra Talley. The group had something of a false start signing to Colpix Records in 1961. The three singles released, 'Silhouettes' (April 1962), 'I'm Gonna Quite While I'm Ahead' (June 1962) and 'Good Girls' (March 1963) all failed to chart. But that period was important for the band as they started to form their own, unique identity. It was during this period that they changed their name from Ronnie and the Relatives to the Ronettes and they started to form their distinctive image: heavy eye make-up and tall hairstyles that would, nowadays, make Marge Simpson jealous. Looking back on that time in her autobiography 'Be My Baby' Ronnie Spector reflected: "We'd look pretty wild by the time we got out on stage and the kids loved it." But the lack of a hit frustrated all three of them which was the impetus for Estelle Bennett to put that call into famed producer Phil Spector's Phillies Records and get an audition. The rest, as the cliché has it, is history (with a certain amount of mythology thrown in). With hindsight it would seem that the Ronettes were the perfect group for the famed Spector's production technique captured in the phrase 'wall of sound' - and no doubt helped by Phil and Ronnie quickly developing a relationship. Despite his fame and wealth already the Gold Star Studios were perfect for his vision. Although hardly grand or imposing, the small recording room helped bounce the sound off the walls, creating an echo, giving any recording a fuller, bigger sound. Not only that to help build up that 'wall' Spector would not just have one pianist on a recording but three. Or perhaps six guitarists, or a whole crowd of backing singers. Then to double the sound he'd record everything back on itself. Then double it. And double it again, layer upon layer, until that wall of sound had been built up. In Phil Spector's mind they were "little symphonies for the kids." Ronnie Spector's voice, effectively, was the final brick in the wall: "He knew from the first second he heard me that my voice was exactly what he needed to fill in the centre of this enormous sound." Her sweet, seductive voice with lush backing vocals, complimented that huge 'wall of sound'. It was a classic formula but one that worked so well. And the roll call of classic Ronettes tunes just goes on and on. 'Why Don't They Let Us Fall in Love?', 'Baby, I Love You', 'Walking in the Rain', 'So Young', 'I Wish I Never Saw the Sunshine'... All 24-carat gold classics. Little, pure pop gems. Admittedly they're hardly lyrically adventurous solely concerning themselves with the trials and tribulations of young love. Boy meets girl, the delight of falling in love and the heartache of breaking apart. In effect classic pop themes. 'Be My Baby', the group's hit single that reached #2 in the charts in 1963, is the obvious stand out. A little under three minutes of luxurious pop seduction and pleading. It could be said that their music was truly orgasmic, as Ronnie related in her autobiography a tale about performing to a group of GIs in Germany: "One guy actually had an orgasm right in front of the stage! It happened during 'What'd I Say?' That was our encore number, so we went really wild on that one. I was shaking around pretty good up there when I looked down and saw this soldier lying on the floor, rubbing himself through his dungarees. Then I did a quick bump, and all of a sudden his body tensed up and he got a real blissful look on his face. Oh, my God, I thought, he's coming!" Few music groups of whatever musical hue can say that their music creates that sort of response. Musically, then Sony's collection of 'The Very Best of The Ronettes' is certainly a blue-chip classic but why, exactly do the company feel the need to put out yet another collection of their songs. Already available is a 'Best of' set, an 'Ultimate Collection' and a 'Greatest Hits' package. I am not really convinced that the world needs yet another variation on a theme and each one effectively covers exactly the same ground, give or take a few minor exceptions. Still, you can't fault the music.
Track Listing:-
1
Why Don't They Let Us Fall in Love
2
Be My Baby
3
Baby, I Love You
4
(The Best Part Of) Breakin' Up
5
So Young
6
Do I Love You?
7
Walking in the Rain
8
I Wonder
9
When I Saw You
10
You Baby
11
Born To Be Together
12
Is This What I Get For Loving You?
13
Paradise
14
Here I Sit
15
I Wish I Never Saw The Sunshine
16
Everything Under The Sun
17
I Can Hear Music
18
You Came, You Saw, You Conquered
Band Links:-
https://en.wikipedia.org/wiki/The_Ronettes
https://www.youtube.com/channel/UCJGP43sKxv1SaS2CugSkBWQ
https://www.facebook.com/TheRonettesMusic/
Label Links:-
http://www.sonymusic.co.uk/
https://twitter.com/sonymusicsouth
https://www.facebook.com/SonyMusicSouth
https://www.youtube.com/user/essonymusic
https://instagram.com/sonymusic
https://plus.google.com/+sonymusic/posts
Pennyblackmusic Regular Contributors
---