---
published: 10 / 10 / 2010
---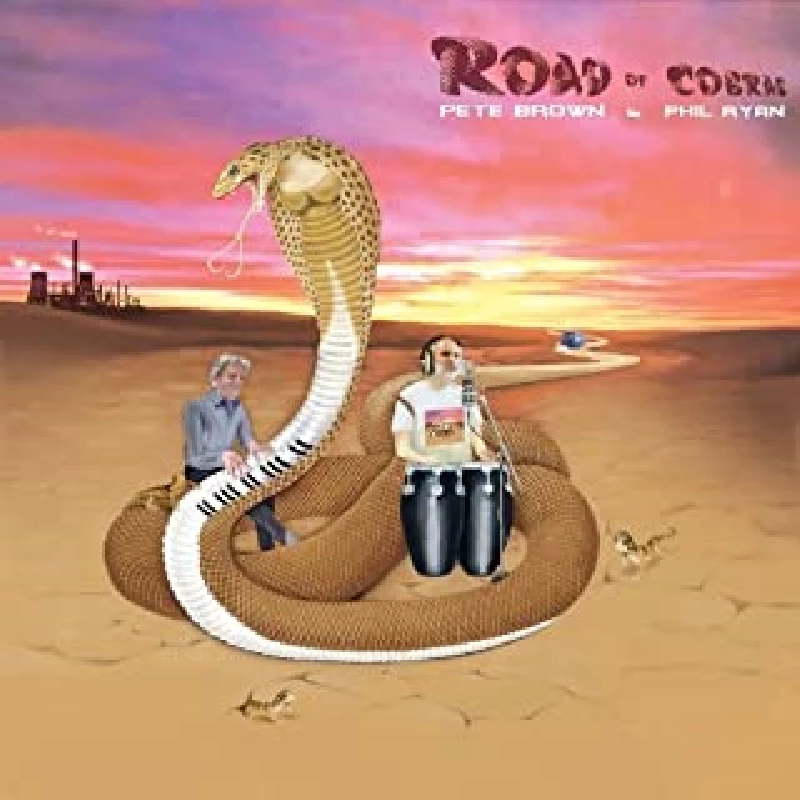 intro
Adventurous and ambitious brass-laden latest album from former Jack Bruce co-writer Pete Brown and keyboardist and arranger, Phil Ryan
Pete Brown was a vital part of the Liverpool poetry scene in the 60s. He formed the First Real Poetry Band with guitarist John McLaughlin and wooed the band Cream, co-writing with Jack Bruce and Eric Clapton, 'White Room', and establishing a prolific collaboration with Bruce for the majority of their tunes, including 'Sunshine of Your Love.' He went on to write a BBC film score with Phil Ryan which has led to a 12 year collaboration which spawned 'Ardours of the Lost Rake' and 'Coals to Jerusalem'. These works established the foundation for their last album, 'The Land that Cream Forgot'. Their newest CD, 'Road of Cobras', is adventurous and incredibly ambitious The engaging opener, 'Flag a Ride' commences with an immediate attack of brass. Brown's vocals are strong and swarthy. The lyrics range from cynical to quirky throughout. Here, he sings, "I quit hanging out in bars" and keeps up the casual encounter when the chorus occurs: "Trying to flag a ride/But I ain't getting no reply." Backing vocalists, Helen Hardy and Rietta Austin, who team up to provide support in nine tracks, blend in well. "I told the foxes to get lost/Whenever they came too near," Brown continues, in his colloquial way. The antiphony counter-balances his jazzy leads. 'Living on the Edge' introduces some biting, brass riffs (Lee Goodall/sax and Laurie Brown/trumpet) along with Ryan's fancy keyboard touches. 'Between Us'("there's a million miles of hard road…") allows us to experience a more mainstream ballad approach and the duet between Brown and Maggie Bell brings out the deeper meaning of the song's metaphors. "When we come together and the sweetness flows" is the pay-off. Intricate sax provides ample time for reflection during the meandering outro. 'Klip-On Weirdness Kit' is drastically different: "Joining in the circle of crazy people wearing purple/It's the time to get dressed up…." More than a hint of 60s fun, psychedelia and a healthy nod to Zappa infuse. 'The Ballad of Psycho and Delia' twists and gnarls into a macabre, tale of murder, all begun at a "run-down, hippie bar." A contagious hook pulsates in 'Tell Me,' and when Brown sings, ""When you're in the air/You can't get off the swing," you're taken back to the days of Bobby and Frank. The best line that is much-milked, on the album might be: "The boys we used to be are still not men." It's a romp through muted and bright instrumental cacaphony. Another, Zappa-like tune, '13th Floor' is about a man hoping to not run in to his lover's husband any time soon. He ponders the possibilities, though. It's a crazy, well-developed story. 'Scroll On' is a curious mix of prog rock and Broadway ballad embellished by fascinating strings and a lovely piano finale. When 'Love Has Wings' comes along, you're grateful. The song's simplicity provides a welcome contrast to previous incarnations. 'Didi', another ballad, has more cache and swings. 'Moving Target' is a solid tour de force for more solid brass licks and the searing discovery: "I just can't face those staring eyes." The world of weird again interrupts with 'Sneaky Spot Trading Man' and the finale, 'Couldn't We Try Again', is a combination of textures and snappy lyrics: "I got coal from South Africa/I got silver from Brazil….'cause I don't care what I kill." What stands out in this CD is a mix of hooks and genres. It has the drive of Steely Dan, the instrumental and vocal fills of Ray Charles and the tough-guy sound of Blood, Sweat and Tears. Ryan arranged all the horns which was no small feat and made this album come alive with virtuosity; Mick Taylor's guitar work is smooth and exciting, while never competitive with the brass. But, with the shortest song being 4.16 and the longest, 7.08, this 14 track project could have easily been divided up into two works. However, there's some great ideas, vocally and thematically, that really show creativity, and would probably sound great done live. So, that said, it's good to kick back and enjoy the bounty.
Track Listing:-
1
Flag A Ride
2
Living On The Edge
3
Between Us
4
Klip-On Weirdness Kit
5
The Ballad Of Psycho And Delia
6
Tell Me
7
Men Only
8
13th Floor
9
Scroll On
10
When Love Has Wings
11
Moving Target
12
Didi
13
Sneaky Spot Trading Man
14
Couldn't We Try Again?
Label Links:-
http://www.proper-records.co.uk/
https://www.facebook.com/ProperRecords
https://twitter.com/ProperRecords
https://www.youtube.com/user/propertv
http://www.properdistribution.com/
http://instagram.com/properblog
Pennyblackmusic Regular Contributors
---