---
published: 4 / 9 / 2010
---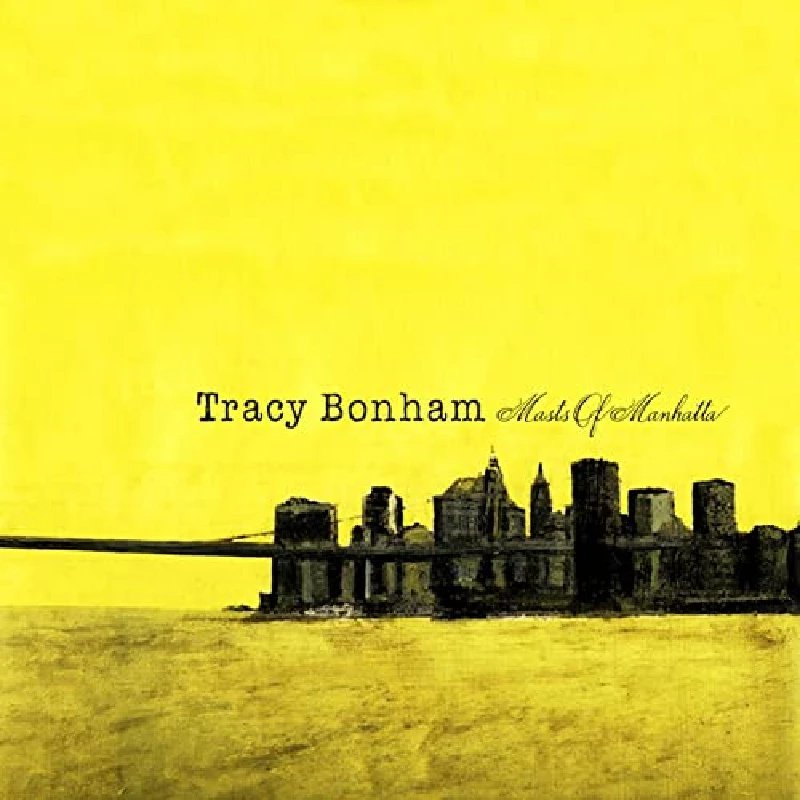 Label: Lojinx
Format: CD
intro
Fine combination of experimentalism and pop on first album in five years from much acclaimed Boston-based singer-songwriter, Tracy Bonham
A lot has happened in the five years since Tracy Bonham released her last album. Five years is a lifetime in the music industry and even artists who met with the success Bonham did with albums like 'Down Here' and 'The Burden of Being Upright' can be forgotten in the mists of time. So many new female singer-songwriters have emerged in that time; can there still be a place for Tracy Bonham out there? Well, the first thing that strikes you when listening to 'Masts Of Manhatta' is that, if, like me, you had almost given up on hearing anything new from Bonham and had therefore turned your musical attention elsewhere, Bonham has lost none of her appeal. It really is refreshing to hear a musician who is offering something new. Bonham has, with 'Masts Of Manhatta' at least, raised the bar for all other female singer-songwriters. We knew, of course, that Bonham isn't part of the cutesy/quirky/ little-girl-lost batch of female singers. Her music has always been gutsy but sophisticated and there has never been any doubt that she is an accomplished musician but on this set of songs Bonham seems to have matured some since we last heard from her. I'd go as far as to say that even in the short time I've listened to these eleven original songs that this is Bonham's best album to date. Bonham has lost none of her knack at turning out appealing melodies that last the course, ones that aren't overtly sweet but that you just can't get out of your head and the prettiest melody here is 'When You Laugh the World Laughs With You'. That song shows a lighter side of Bonham as does the track that follows it, 'We Moved Our City to the Country', which in many ways is the centrepiece of the album as Bonham sees this collection of songs as detailing two journeys; one leading the musician away from music and back again, and the other her round trip from city to country and back. That song is also one of the strongest Bonham has ever recorded. In just that one track Bonham covers so much ground. Again a sing-along melody coupled with Bonham's powerful vocals gives way to her violin which, as we would expect adds so much and is heavily featured throughout the album, and really lifts an already exceptional song even higher. Then suddenly Bonham slows the pace down and the instrumental closing part of the song just conjures up visions of driving into the country. It really is powerful, affecting stuff. There are two distinct sides to this album and the music that Tracy Bonham produces. On a song such as 'You're My Isness' Bonham displays both of them within the same track. There's this almost jazzy side to parts of not only 'You're My Isness' but to whole songs on 'Masts Of Manhatta'. In fact I'd go as far as to say that on the first four songs on offer here Bonham shows the more experimental side of her music before she lets the poppier part of her music sneak in on 'When You Laugh The World Laughs With You'. Once that makes an appearance halfway through the album thankfully we get to hear more and more of it. While none of the songs take any time at all to fall in love with that second half of the album is more readily accessible. Take a listen to the penultimate song, 'Angel, Won't You Come Down' which will capture you on the very first listen for proof. On 'Masts Of Manhatta' Tracy Bonham proves that she is still following her own path and is still ahead of the game. After a long five year wait I can only say again that Tracy Bonham has produced her strongest set of songs so far. 'Masts Of Manhatta' is one of those albums that just gets better and better each time you hear it.
Track Listing:-
1
Devil's Got Your Boyfriend
2
Your Night is Wide Open
3
Big Red Heart
4
Josephine
5
When You Laugh the World Laughs with You
6
We Moved Our City to the Country
7
Reciprocal Feelings
8
In the Moonlight
9
You're My Is-Ness
10
Angel, Won't You Come Down?
11
I Love You Today
Label Links:-
https://www.lojinx.com/
https://www.facebook.com/lojinx
https://plus.google.com/+lojinx/posts
https://twitter.com/lojinx
https://www.youtube.com/user/lojinx
Pennyblackmusic Regular Contributors
---