---
published: 13 / 1 / 2010
---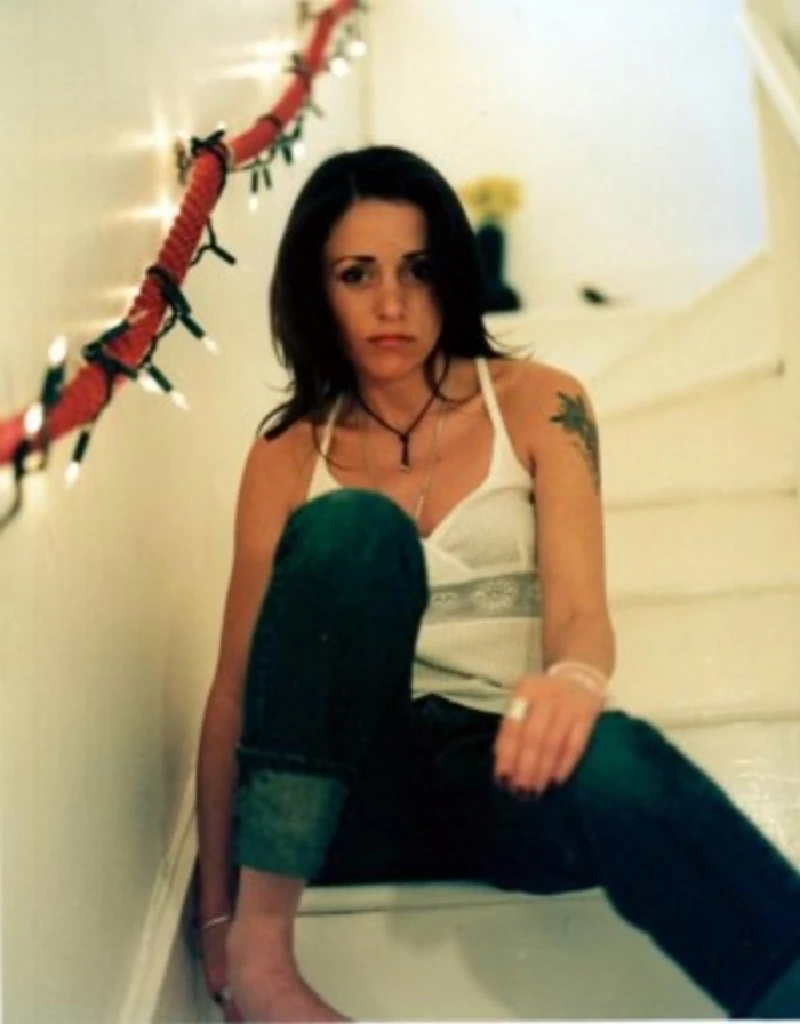 intro
Boston-based singer-songwriter and Americana artist has been attracting increasing acclaim with her powerful vocals and captivating songs since erupting onto the music scene in 2000. She speaks to Malcolm Carter about her current band the Holy Wreck and her new album, 'Luna Turista'
"I was sure enough to come/I was dumb enough to stay/But the secrets of my soul weren't enough to keep me home/Weren't enough to keep me straight." Those words were our introduction to the music of Boston born and raised Eileen Rose way back in the year 2000. They opened her debut album 'Shine Like It Does' and they were our first taste of Eileen's powerful vocals and her knack of writing melodies that linger in the mind long after her the last sounds of her songs have faded. So for a decade now this talented singer/songwriter has been sharing the secrets of her soul with us over a further four albums, the latest of which, 'Luna Turista' was recently released on the Floating World label. With each new album reviewers claim that her latest batch of songs are the best so far that Eileen Rose has put onto tape. That's understandable, but it's a fact that this talented musician has yet to make a merely average album. I have been guilty of those claims myself, especially with her last two albums. 2008's 'At Our Tables' was such a strong set of songs that on first hearing it was natural to feel that no artist could have bettered those songs on previous albums. It's only when returning to the earlier albums that you realise that every album Eileen has made could be labelled as her best. Eileen hasn't made any drastic changes to her music over the year. Much has been made of the fact that 'At Our Tables' was recorded in Detroit which indicated that the album was going to be more soulful than her previous work with maybe a little of that city's harder rock leanings of the White Stripes and the MC5. While it is true that with each new album Eileen adds new texture and ideas to her sound she has never really been an out and out copyist. It's also said that there is little or no original music anymore; that it's all been heard before in some form but it's almost impossible to compare Eileen's music with that of any other artist. Most of Eileen's music is instantly accessible but it loses none of its appeal after repeated playing. With her band the Holy Wreck she has found the ideal musicians to work with and without taking any credit away from the input those amazing musicians add to Eileen's songs it can't be denied that for many of us the very first thing that made us fall head over heels in love with her songs is Eileen's vocals. As with her songs in general, and she has been grouped into many different genres by the critics none which really fit the music she makes totally, her vocals are not comparable to any other artist. Passionate and emotive those vocals are without a doubt but quite simply no other artist can cover such a differing range of songs just now as well as Eileen Rose does. In interview in Pennyblackmusic, Eileen Rose was both very open and detailed in her replies. PB: Your latest album, 'Luna Turista', was released just over a year after 'At Our Tables'. Were the songs for 'Luna Turista' written during the last twelve months since your last album or are some of them older? ER: A lot of the album was written over the last year and half, although the original version of the song, 'Silver Ladle', appeared on my first record with Rough Trade, 'Shine Like It Does'. I've been performing it live for the last year and half with the Holy Wreck (which consists of the Legendary Rich Gilbert and Nata Stalfa) and loved the way they play it. Joshua Hedley sang it with me a couple times as a duet and our voices blended so beautifully, I wanted to record that version of the song. I'm really happy with it how it turned out. One of our finest moments, I think. The cover of 'Luckenbach, Texas' was originally done by Waylon Jennings in 1977, so I guess you can consider that one older! PB: You've worked with various producers in the past but co-produced your last two albums; one with Eric Hoegemeyer and the latest album with Rich Gilbert. Why did you decide to start producing your own albums? ER: Well, I've always co-produced my records. My songs are pretty much arranged, in terms of structure, instrumentation, grooves and basic parts...before I walk into the studio (Although Eric and I did do some experimenting in the studio that was a lot of fun and yielded some great things – he's got fantastic rhythm ideas). For the most part, I've never really have the time/budget to book into a studio unless the songs were ready to go. But I'm not skilled at getting the sounds I want from the gear. I always know what I want, just don't always know what dials to turn and buttons to push to get it. But, this is my fifth solo album(and probably my ninth or tenth studio album) so I do know what I'm doing. 'Luna Turista' is the type of album I know how to produce. If I wanted to make a Kraftwerk tribute record, or an 'Eileen Rose Sings Sly and the Family Stone', then, yeah, I'd need a producer. But I loved working with Rich on this record because he was there with me, out on the road, developing the songs from the ground up while people watched. Then, it was just a matter of booking into a studio to get the basic drums down (a very easy task with Nate Stalfa because he is such an incredible drummer) which we did half in Nashville, then half in Berlin while we were touring. (A sort of a Bowie meets Dolly Parton vibe.) Then, the fun part, we took the basic tracks home and did the overdubs, harmonies, some vocals, fiddle, tipple, pedal steel, organ...all kinds of great things – all in the living room. It helps to have a band member that plays two dozen instruments. PB: You were born and raised in Boston, Massachusetts but I understand you are of Irish / Italian descent. Do you think having that mixture has influenced the sound of your music? ER: It's certainly influenced my song writing. My family, my parents, being raised Catholic, working class – these are all themes that show up in my lyrics. My mom is a big music fan – always had music on in the house and, now that I think about it, a pretty eclectic taste: Dean Martin, Irish traditional music, Johnny Cash, Kate Smith, polka music, country, big band... My dad was a great dancer and he and my mom would get dressed up and go dancing every Saturday night at the Moose Lodge. We would have big family cook-outs that always involved my aunts and uncles sitting around in lawn chairs singing, for hours, silly songs, Irish songs, patriotic songs, songs from popular movies – they had a blast. Yeah, that influenced me. Music looked fun. PB: Can you please tell us a little about your musical career? You have worked with Alabama 3 but have you been in any other bands? ER: My first band that was actually signed and released records was a band called, Fledgling. We were on a label called TVT which has now gone bankrupt. Fledgling was, more or less, an indie rock band with somewhat deeper lyrics. It was a good learning experience although not an entirely happy one. We disbanded in the mid 90's. I moved into an old cottage on a dairy farm in Essex and started writing very personal songs without any specific intention. After a year or two, I decided to try performing them solo. I got a gig opening up for the Larry Love Show Band in the back of a pub called the Weavers Arms. Larry really liked my songs and the band offered to back me up for a few shows. I got some management help. We played a show at the Camden Barfly. Geoff Travis from Rough Trade was there. He offered me a deal for my first solo record. So, nope, haven't really been in any other bands. PB: One of your songs from 'Shine Like It Does', namely 'Shining', was featured in the Disney movie 'The Rookie'. You were in good company on the soundtrack which also featured songs by Willie Nelson, Guy Clark and Ryan Adams. How did that come about and how did it feel to have one of your songs chosen for a major movie? ER: I got that placement through a great guy named Danny Benair who works with a lot of Rough Trade artists. I was really very surprised and delighted to hear that a company like Disney wanted one of my songs. My sister and my brother-in-law went to see the movie in the theatre and, okay, we had to wait to the very end of the trailers to hear my track, but my sister, my brother-in-law and the 15 year old kid sweeping up popcorn were very impressed. It's also very lucrative so a couple of song placements a year can really go a long way to sustaining a songwriter, as long as they don't live too large. PB: Another song plucked from 'Shine Like It Does', 'Lie To Me', was chosen for an episode of the TV series 'Felicity', which I am not, I have to say, familiar with. That album is now nine years old. Have you been asked if any of your newer songs can be used in films? ER: There have been no bites for the new record yet, but there is always that possibility. It was released in the UK in October and won't be out in the states until the Spring. Maybe Tarantino will decide his next film really needs an Eileen Rose song. Cross your fingers for me, will you? PB: In keeping with your change of producers and record labels you have also recorded in different studios; Rochester, Detroit and now Nashville and Berlin for 'Luna Turista' but still you've managed to keep your own sound. If you had to return to one of the studios you have used in the past for your next album which one would you choose and why? ER: It's true, the albums I've made have each been in different circumstances. I guess I like it that way. For 'Luna Turista', I think I hit the best combination. We went into a great, all vintage studio here in Nashville called Fry Pharmacy. It's full of old tape machines, vintage amps and microphones. We got some great drum and bass sounds there. Then in Berlin, we recorded more drum tracks and some songs which required piano because they had a beautiful grand piano there. But then, we brought it all back home to Nashville and did all the overdubs (guitar, pedal steel, banjo, tipple, fiddle, organ, harmonica, harmonies....) all in the living room. We could take our time and experiment a bit more, redo takes as much as we liked because there wasn't the financial pressure of the clock ticking away in an expensive studio. So, for the next record, I think I'd like to do the whole thing at home and really take my time with it. PB: When asked who Eileen Rose sounded like recently I was at a loss as to what to say. Your vocals are quite unlike those of any other artist. Often, even during a song, you change your vocal style. Have you taken lessons to get that vocal sound or does it just come naturally? ER: That's a nice thing to hear. It's difficult to stand out these days. I've never really studied voice. I had four or five lessons when I was about 20 or so but that's it. They were helpful because it took some of the mystery out of it but really I learned by doing. The voice is a muscle so it gets stronger through use. There are few things, technically speaking that I've consciously worked on. I've trained myself to relax my vocal box while I'm putting a note through it – that's how you avoid straining and get a better tone. I've made a point of writing songs in lower keys so I could develop my lower register. I love the sound of a low, female voice but mine is naturally higher placed. The end result is that I now have a very wide range – my natural high placement and the lower one I developed over the years. But the emotion in my voice, that's real and is simply there. I couldn't sing or sound like I do without it. PB: 'Luna Turista' and the extra live CD that came with 'At Our Tables' are credited to Eileen Rose and the Holy Wreck. For 'Luna Turista' the Holy Wreck consisted of Rich Gilbert and Nate Stalfa. Is that now a settled line-up and will future recordings also feature this band? ER: Yes, the songs on this record were developed out on the road, with Rich and Nate. They sound like they do because of this band, these players. We three did a lot of touring together in the past year or so. It seemed right and natural to bill this album just as we've been billing our live shows. I enjoy playing with them so much – they're such advanced, versatile players – I think it's very likely you'll see another record from all of us together. It may have a different sound or approach – I like to keep moving forward and get restless if I feel I'm repeating myself – but that's how things stay interesting. PB: With each new album you release I feel, along with many others, that you have surpassed the previous one. Then I return to an older album and realise I'd momentarily forgotten just how good the earlier albums were! Do you have a favourite from your five albums or does the latest one always take that honour? ER: We do tend to like our most recent albums and songs because you simply get burnt out on the old stuff through touring. I'm really proud of this new record, but I also love my 2002 second solo album 'Long Shot Novena'. I enjoyed making that album and I love how it sounds. A couple songs from that record remain high on the request list from fans. I'll always have a soft spot for 'Shine Like It Does' – though it's a bit hard for me to listen to my voice on that album. It sounds so high and a bit on the weak side compared to what I can do now. But it was my first solo record and it shocked me that it was so well received. It was the first time I'd gotten press and been properly interviewed. It had songs that ended up in a movie and on TV. I really didn't expect it and it did a lot for my confidence. But sure, of course, the new one is the best. The new one is always the best, whether it is or isn't. (In this case, it is, honest guv.) PB: Studio or stage? Which do you prefer? ER: Stage! I like hearing the songs come together, tracking them. I enjoy putting my vocals down. But mixing is so boring! (Sorry, all your mix engineers, I know it's a skill.) Don't get me wrong, mixing is crucial to the overall success of the record. I'm just lousy at it and I have trouble sitting still for it. I sound like a 9-year-old, don't I? I can re-sing a vocal 30 times if I have to. (Although, in general, I try to do it Sinatra/Bowie-style. You get three takes and that's it.) I'm particularly proud of my vocal performance on 'Silver Ladle' from 'Luna Turista' because that's one vocal take, my first and only vocal take for that song. But, yeah, give me a crowd, my guitar, a mic and a glass of wine and I couldn't be happier. PB: You play both keyboards and guitars on your albums but which do you prefer to write your songs on? ER: I honestly like writing on both of them – the songs are so different from each other given the instruments. I have more of a chord vocabulary on piano although my guitar playing is coming along. Really, for how many years I've been playing guitar. I should be a lot more advance than I am. My right hand is good, my left is hand. Well, I should be able to play more difficult chords. But I can't – my hands just won't do it. Maybe they're too small. Actually, that's probably bullshit. I just never sat down and played scales, etc. I've had many good intentions to, but always seem to drift into writing a song instead. But hey, I've got the Legendary Rich Gilbert to do all that fancy stuff for me now! PB: Any touring or recording plans set yet for 2010? ER: 'Luna Turista' really is, still, brand new. We've only played a handful of shows in the UK for this album so it looks like we'll be back in the Spring. No details yet but they're in the works. It will also be out in the US in the spring of 2010 so it looks like some US based touring is on the horizon too. PB: Thank you.
Band Links:-
http://en.m.wikipedia.org/wiki/Eileen_Rose
Picture Gallery:-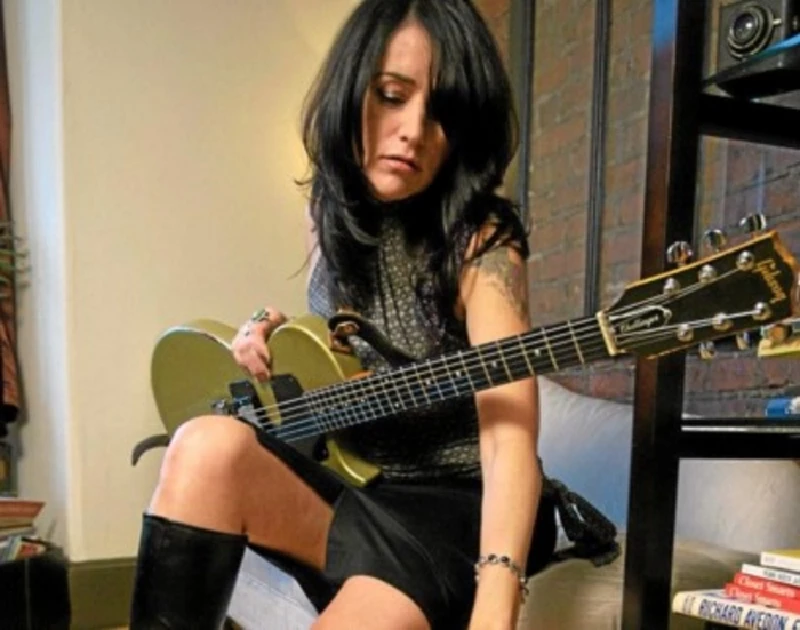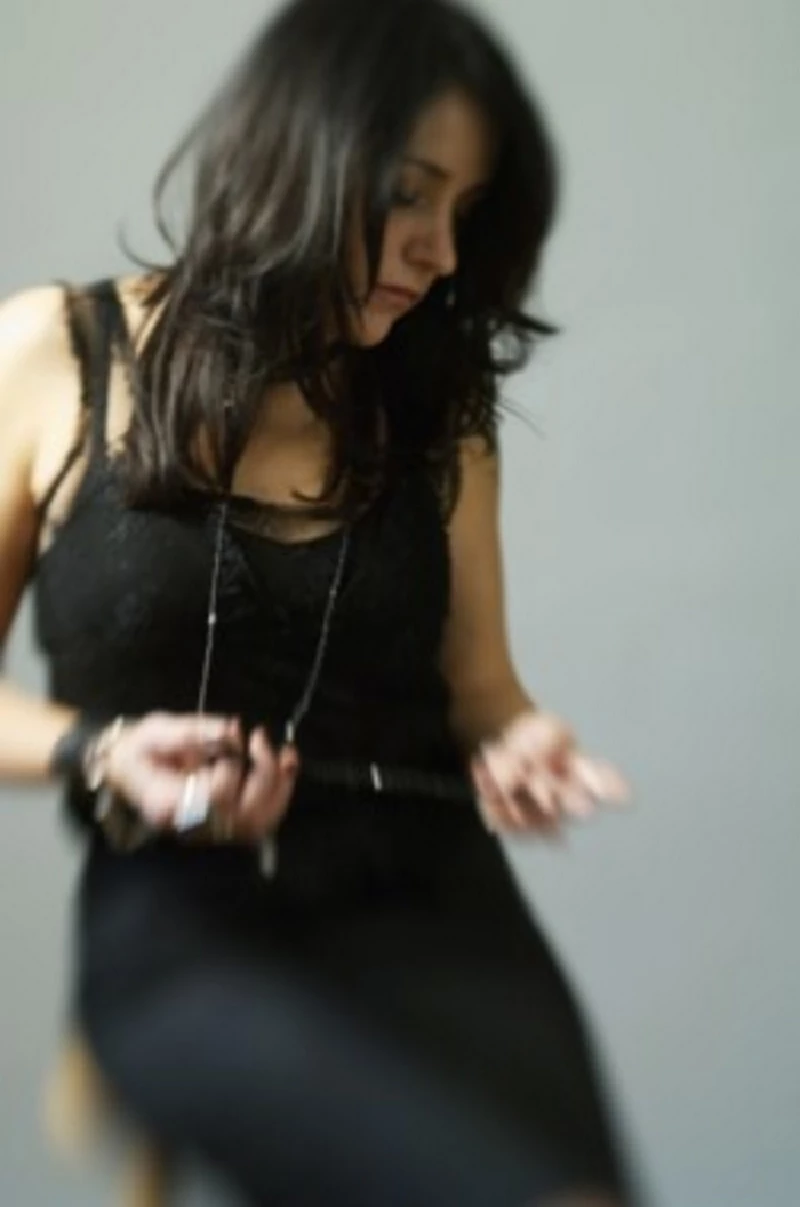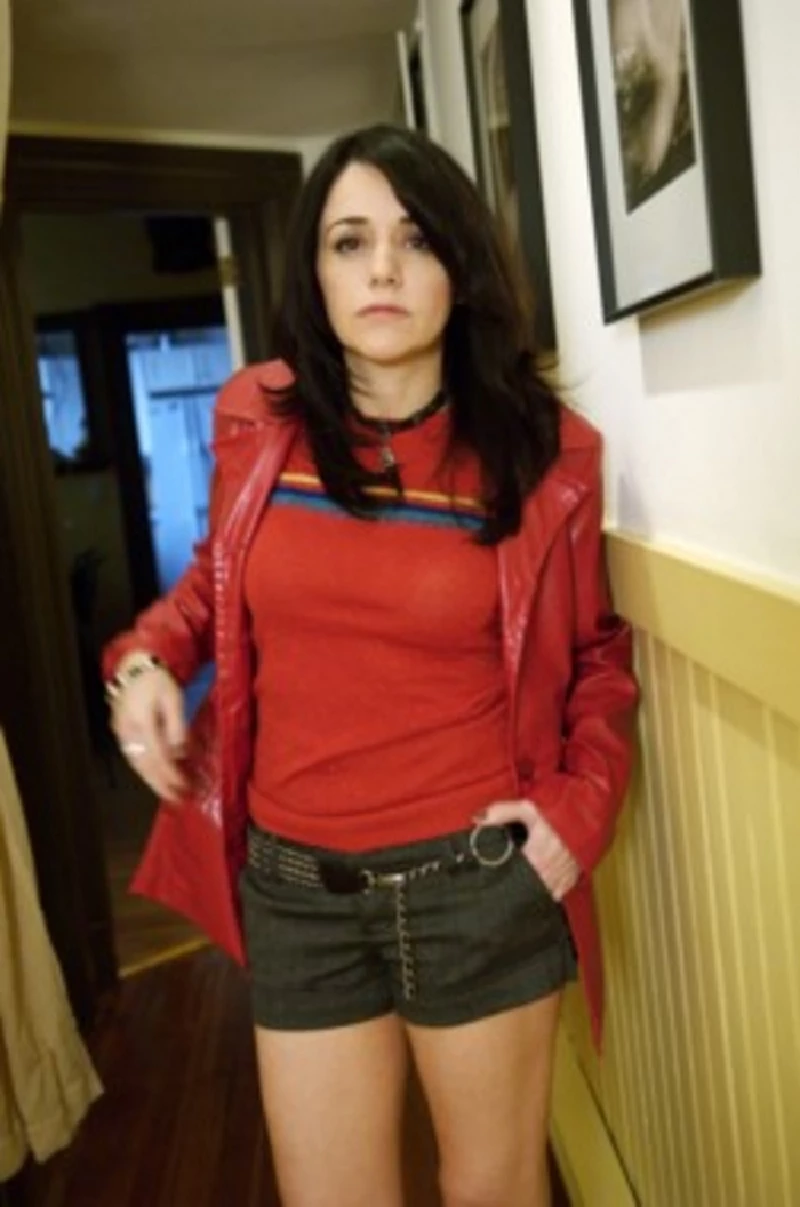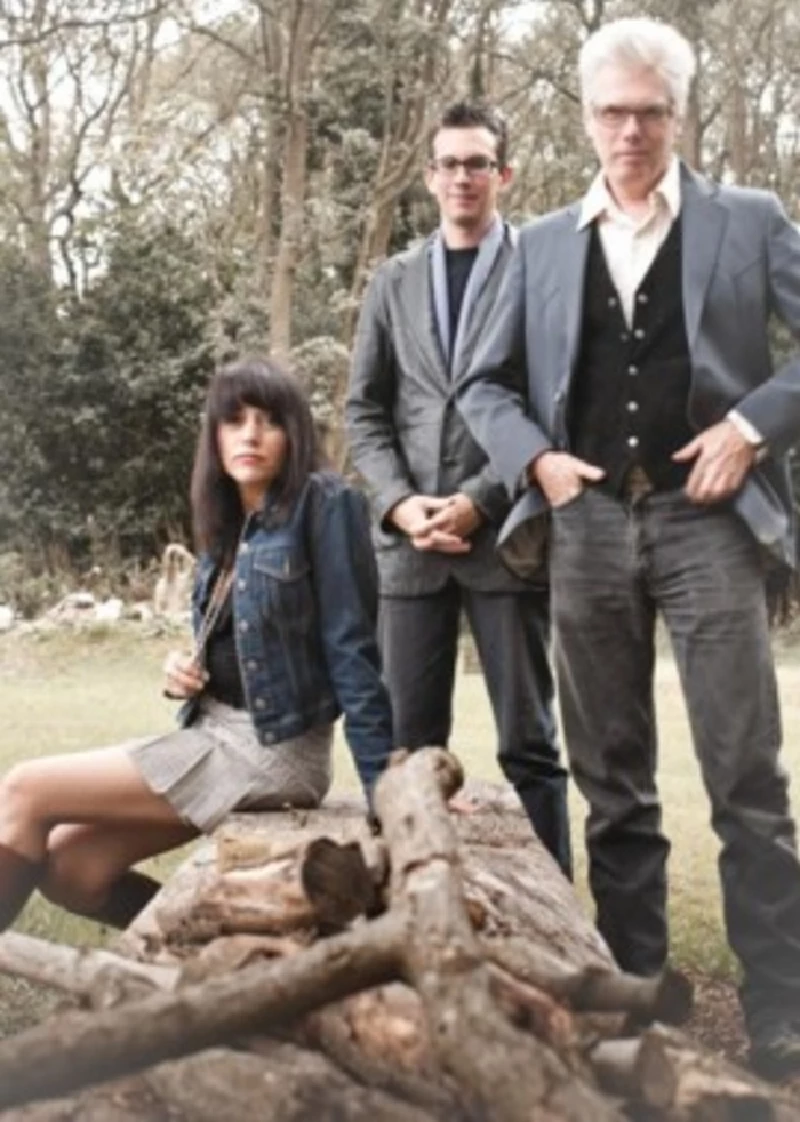 Visitor Comments:-
252

Posted By: Laura, Bristol on 02 Feb 2010
Love Eileen, thanks for the super interview PB! Lots of interesting stories, hope she tours again soon.
---
Pennyblackmusic Regular Contributors
---