---
REM
-

Royal Albert Hall and iTUnes, London, 24/3/2008 and 26/3/2008
published: 20 / 4 / 2008
---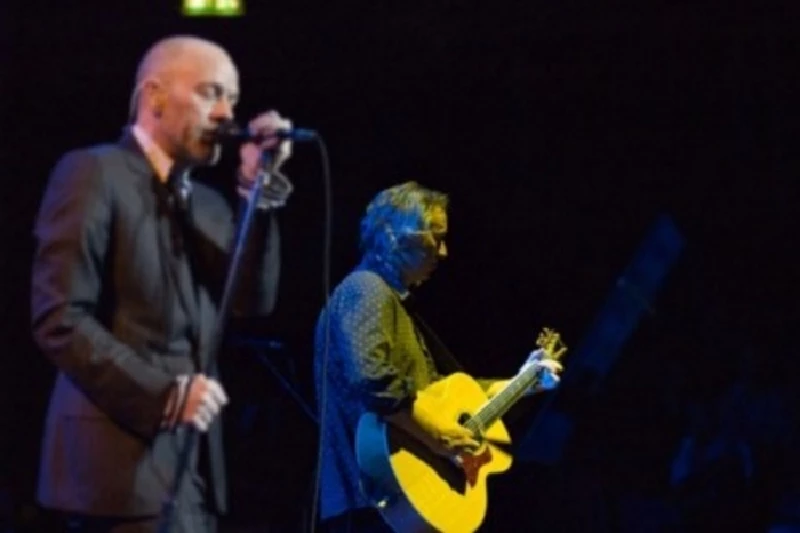 intro
At two showcase gigs to promote their new album 'Accelerate', one at the Royal Albert Hall, the other a tiny show at the iTunes Store, Anthony Strutt watches two very different, but almost equally powerful performances
REM remain amongst my favourite bands of all time. Both of these two gigs were more promotional dates to promote the following week's release of their new album, 'Accelerate', an album that has seen the band return to their IRS years' jangly Rickenbacker sound. I only got tickets for the Albert Hall show gig as I'm in the fan club. I knew that when they went on sale normally they would sell out in seconds and they did. By the time, I got home on the day of the pre sale, all that was left was £40 tickets, which I bought and which were only one row away from the back, a problem that I had had last time as well. REM have since announced a stadium tour in August and broke my heart for the first time ever by choosing to play as their London date, Twickenham Stadium, which is nowhere near London, and which is also massive. I subscribe to REM's entire back pages, but I'm not going there to hear that one song which every other person fell in love with back in '91 and which launched them to a mass market. March 24th was a busy day for Michael Stipe. He began it by launching the album at the ICA in the morning, and even signed autographs for most of my friends, which isn't something he does often. The Albert Hall gig was a benefit for the ICA. Support came from Foals from Oxford, and who started the evening off, They were followed by Duke Spirit, and then a solo Robyn Hitchcock who was backed by just a solo acoustic guitar and with Led Zeppelin's John Paul Jones on banjo to assist him. His set was quite serious for once and hard to digest, with just hints of his usual humour in between the songs. For the last three songs he was joined by REM's Peter Buck, Scott McCaughey, and drummer Bill Rieflin. REM finally hit the stageat 9.38pm, eight minutes late, for this gig which was being broadcast live on Radio 2. They started off the evening loud and carried on that way. While it was a long evening, their set was expensive and somewhat too short. They began with 'Living Well is the Best Revenge' and 'Accelerate', following this with a beautiful reading of' 'Drive' from 'Automatic for the People' which reduced me to tears. 'Man Sized Wreath' followed which Michael announced was written for a hero of his, Martin Luther King. In between this he said "Hello Wembley" to tease the audience, before saying he knew perfectly well that he was at the Royal Albert Hall. All three main members of the band spoke to the crowd about their fond memories of the venue. Mike Mills saw Eric Clapton there, while Stipe attended Fashion Rocks there. Peter Buck meanwhile told John Paul Jones during Robyn Hitchcock's set that he last played there in 1970, not '69, as he has a tape of Zeppelin's gig there. Stipe then told us that the following song was their romance song for the 21st century and played 'Electrolite'. 'Houston' from the new album was next. A fan at this point shouted out "We love Mike Mills" to which Mike answered "£10". Mike sat at the piano for 'Hollow Man', which may be the next single before they launched into the current one, 'Supernatural Superserious', a song that got its title as a result of a suggestion by REM.'s friend, Chris Martin of Coldplay. 'The Final Straw', a political song about America's government screwing up big time and the only number from their last album, 'Around the Sun', was followed by the song everyone bar me came for, 'Losing My Religion. and which went down as might be expected. Stipe then said that the next song, 'The Great Beyond', was a request by him. They then played the closing number of the new album and last tour number, I'm Gonna DJ', a song that didn't fit in with the mood of 'Around The Sun'.'Horse to Water' closed the main set at just 52 minutes. For the encore which wasn't broadcast live on air, the band were ready to have fun and play whatever they wanted, so the first number was their first number one single in Japan, 'Imitation of Life' from 'Reveal'. After this we were presented with just two more songs, 'Until the Day is Done', and lastly 'Man on the Moon' from 'Automatic for the People',which is another crowd favourite and which was later used as a theme tune for the film of the same name. And then REM were gone until two days later. March 26th started with the band doing a live lunchtime session for Jo Whiley during which they performed an acoustic version of 'Supernatural Superserious' as well as a cover of Editors 'Munich' who now have the UK tour support for the REM August tour. I once again got tickets for the iTunes gig because I'm in the fan club. With the audience limited to just 600, this was out of the two gigs the more special. It took place though in the wrong venue, a download shop that didn't remove anything so viewing was impossible even down the front. Stipe is a Mac type of guy, so that's why they chose this venue. The whole gig can also be bought at iTunes. The set was short again at just over 50 minutes with no encore. We queued up in the rain this time with security everywhere, but this was more of a fan's show, the set mixing new songs with real gems from their back pages. REM opened with 'Bad Day'. This was followed by 'Auctioneer (Another Engine)', which left a lump in my throat , and 'Supernatural Superserious'. Stipe announced that the set would be short because the band needed to get a curry, so only another 10 songs followed. 'Fall on Me' is a golden oldie, while 'Man Sized Wreath' is a new song. Some of the audience shouted out for 'Permanent Vacation', but we got instead 'Hollow Man'.. 'West of the Fields' followed from REM's first album, 'Murmur'. They then played 'Houston' and 'Living Well'. The audience were then faced with a choice as the band had decided to just do one hit. We were offered 'Losing My Religion' or 'Man on the Moon'. 'Man on the Moon' won easily, 'Carnival of Sorts' was requested but refused by Stipe. 'I'm Gonna DJ' was played instead and they then followed this with 'Walk Unafraid', before they decided to close my favourite REM show ever with 'Horse to Water', bringing to an end a near perfect few days. See you at the stadiums then,guys. Mmm, maybe. Still totally against it myself.
Picture Gallery:-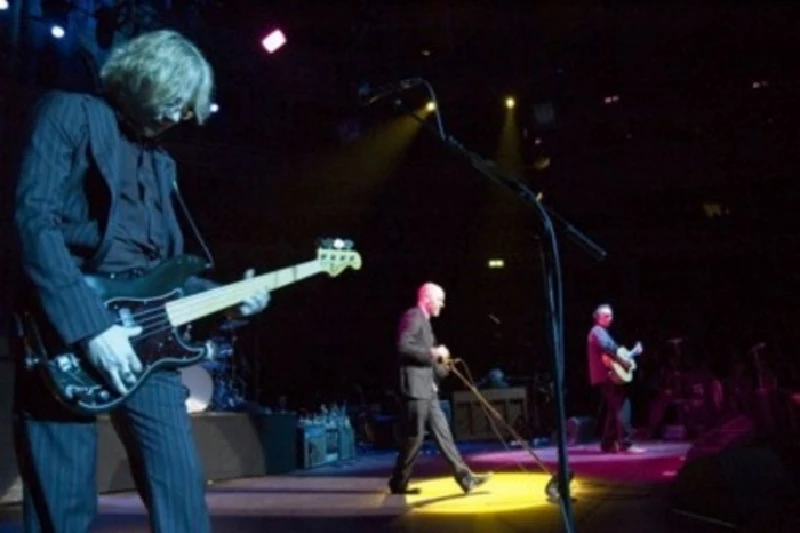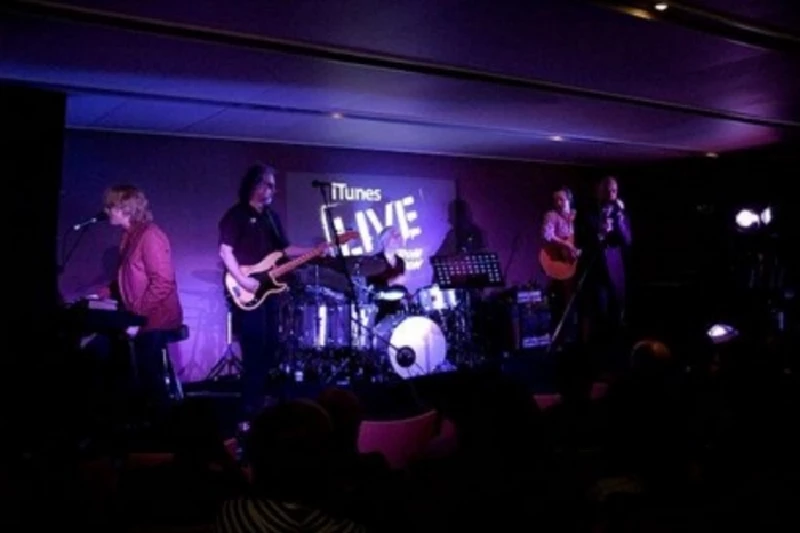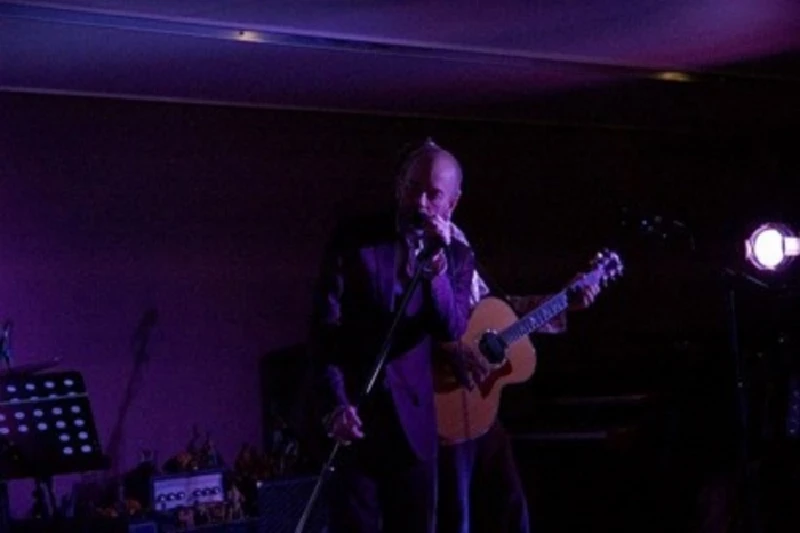 live reviews
---
Hammersmith Odeon, London, 19/2/2005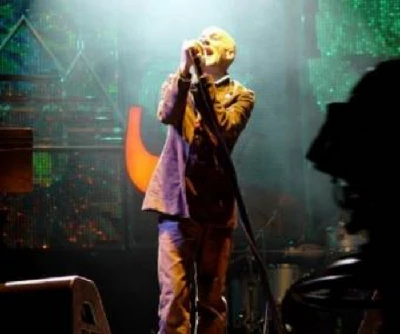 Despite having the worst seats in the house, and being stuck at the very back of the venue, Anthony Strutt still manages to enjoy REM's performance at a recent gig in London at the Hammersmith Apollo
Make Trade Fair Oxfam, Hammersmith Apollo, 20/9/20
Carling Academy, London, 24/6/2003 (1st Night)
Carling Academy, London, 25/6/2003 (2nd Night)
related articles
---
Alex Rex: Live Review (2019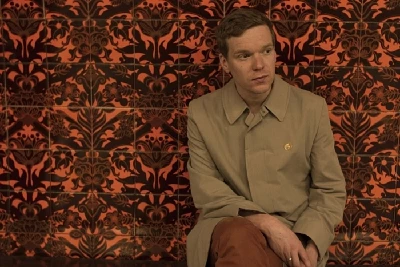 At an intimate and ancient venue in Sheffield Nicky Crewe watches Alex Neilson as he 'ditches bitterness to take us straight to regret' with his dark and powerful music. He also gives us the magic formula for the cure for depression, raising spirits in more ways than one.
Pennyblackmusic Regular Contributors
---