---
Various

-

Declaration of Fuzz
published: 7 / 1 / 2007
---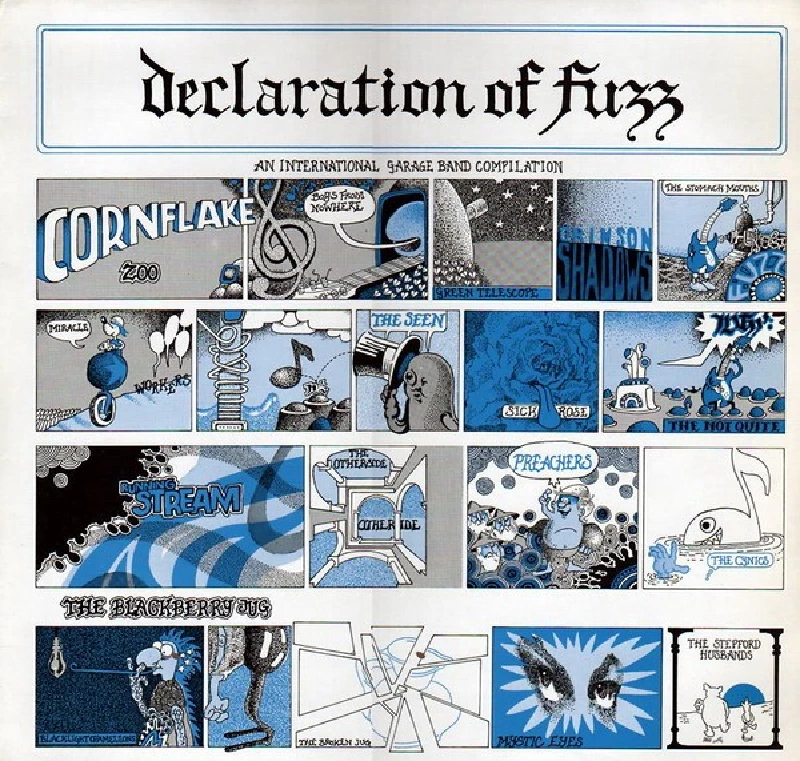 intro
20th anniversary re-release of the now firmly established independent German label Glitterhouse's first full-length release, an energetic and raw compilation of Swedish, German and American garage bands
It has been twenty years since 'Declaration of Fuzz' was released, a raw, energetic compilation that was the first full-length release for the now well established independent German label Glitterhouse. This anniversary record retains the same mantra as its original, losing none of its swagger during the re-mastering process. Compiled by Reinhard Holstein, the head of Glitterhouse Records, 'Declaration of Fuzz' is exactly what it should be, a proud, unashamed statement of intent, of the discordant beauty of rock and roll. It is not simply a collection of angry Stooges rip-offs shouting in a garage though. This is more of a companion piece to Lenny Kaye's 'Nuggets' compilation, influenced as much by the British invasion of the early 1960's as by the rawk and roll of early 1970's USA. Formulated with a variety of never-rans from Sweden, West Germany and the USA, this record highlights the power and feeling of high quality, small-scale music scenes, impenetrable to the outsider, a reason to live for those in the know. Coming out of the traps with a raucous two and a half minutes of unadulterated fuzz from the Boys From Nowhere, 'Declaration of Fuzz'quickly changes tack. The Not Quite are the Pretty Things with lead guitars stripped out and replaced with a mournful solo more at home hanging out in Laurel Canyon with Stephen Stills. And while the Blacklight Chameleons could never have sung 'Door' without the existence of Jim Morrison, they surely could never made such a menacing rhythm without the B52s. Cornflake Zoo on the other hand could well be a Members side project with organs, yet 'L.O.V.E' by the Miracle Workers is one of the few records that actually fits with the common conception of garage bands. It is essentially the Ramones, only slower. 'Declaration of Fuzz' is a truly fascinating document and is populated by revivalist bands but it lacks a common thread. It is a curiosity museum. Saying that to start a record label with such a record is certainly a winkle-picking foot in the right direction.
Track Listing:-
1
Boys From Nowhere- Jungle Boy
2
The Not Quite- Wars Or Hands Of Time
3
Blacklight Chameleons- Door
4
Sick Rose- Don't Come With Me
5
The Seen- Hey Joe
6
The Blackberry Jug- Blackberry Jug
7
Mystic Eyes- I'm Glad I Walked Out The Door
8
The Stomach Mouths- Something Weird
9
The Cynics- Nowhere To Run
10
Miracle Workers- L. O. V. E.
11
Cornflake Zoo- 13 Stations
12
The Stepford Husbands- Why Aren't You There?
13
The Otherside- Say Those Magic Words
14
Crimson Shadows- Gonna Make You Mine
15
Running Stream- I Never Loved A Girl
16
The Green Telescope- Make Me Stay
17
The Preachers- Cryin' Shame
18
The Broken Jug- 2120 South Michigan Ave.
Label Links:-
http://label.glitterhouse.com/
https://www.facebook.com/GlitterhouseRecords
https://twitter.com/glitterhouserec
https://www.youtube.com/user/GlitterhouseTV
Pennyblackmusic Regular Contributors
---