---
Various

-

Blue Skies Up : Welcome To The New Pop Revolution
published: 17 / 5 / 2006
---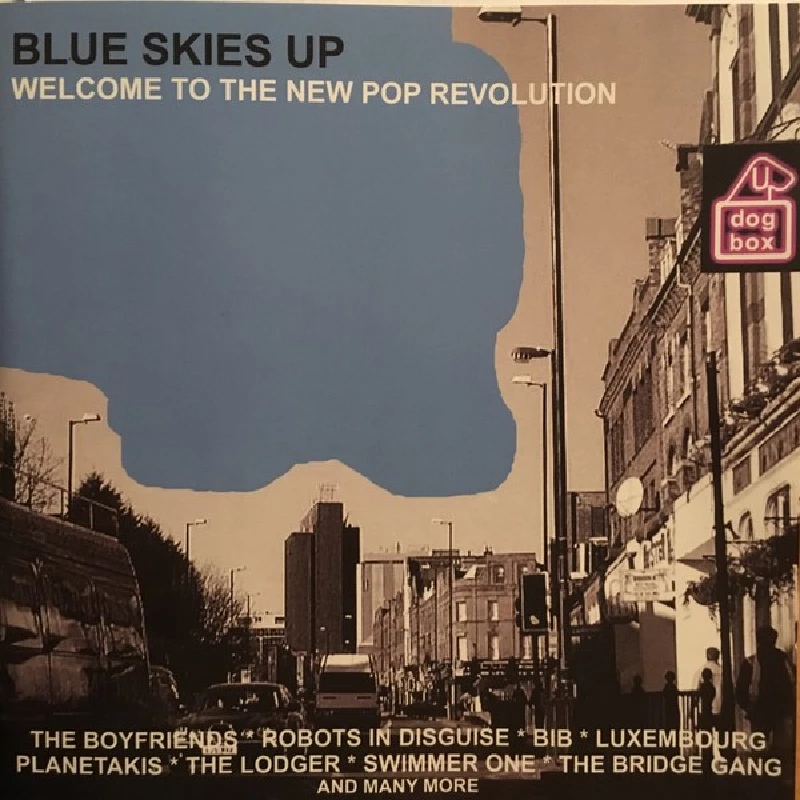 intro
Mixed bag compilation from Dogbox Records, which includes songs from the Boyfriends, the Lodger and the Sweethearts
Dogbox Records' 'Blue Skies Up' compilation is a right mixed bag, but one I've enjoyed rifling through. The opening track from Swimmer One is in the good category, a really good piece of techno-pop that's great to chill out to. Other high points are the brilliant Boyfriends with 'Remember' and underground favourites Robots in Disguise with the über-catchy 'Bed Scenes'. Planetakis's track is a really cool and danceable pop track, which in my opinion falls in quality slightly when the band switch from singing in German to English in the chorus. It's nothing major, however, and towards the end of the song, the chorus builds to a point where it becomes quite tremendous. Johnny Cola's crazy circus electro track 'Suburban Voyager' is a brilliant listen, and another great dance tune, while Cumbria's the Sweethearts add a welcome slice of Belle and Sebastian style acoustic pop to the proceedings with 'Pop machine!'. The more forgettable tracks on the album come from the Lodger and Nakeru. They're not bad songs, but in my opinion they don't match the standard set by the other bands. The compilation finishes with two crackers; Piranha Deathray's post-punk bounce-along 'When Can I Meet Your Parents' and Morton Valence's 'The Kiss', a beautiful bit of space-pop to bring the album to a close. 'Blue Skies Up' is overall a really enjoyable collection of up and coming pop acts, and an excellent guide to what you should be saving your money up for. Thanks Dogbox!
Track Listing:-
1
Swimmer One- We Just Make Music For Ourselves
2
Luxembourg- Not My Number
3
Planetakis- Beautiful Today
4
Boyfriends- Remember
5
Jonny Cola- Suburban Voyager
6
Sweethearts- Pop Machine
7
The Schla La Las- Gotta Go
8
The Lodger- Not So Fast
9
Bib- Jobs-On-Line '06
10
Robots In Disguise- Bed Scenes
11
The Laurel Collective- International Love Affair
12
The Bridge Gang- Sarah's Brother
13
The Bleeding Hearts- Stars
14
Nakeru- Long Walks On The Beach
15
Piranha Deathray- When Can I Meet Your Parents?
16
Morton Valence- The Kiss
Pennyblackmusic Regular Contributors
---