---
published: 22 / 12 / 2005
---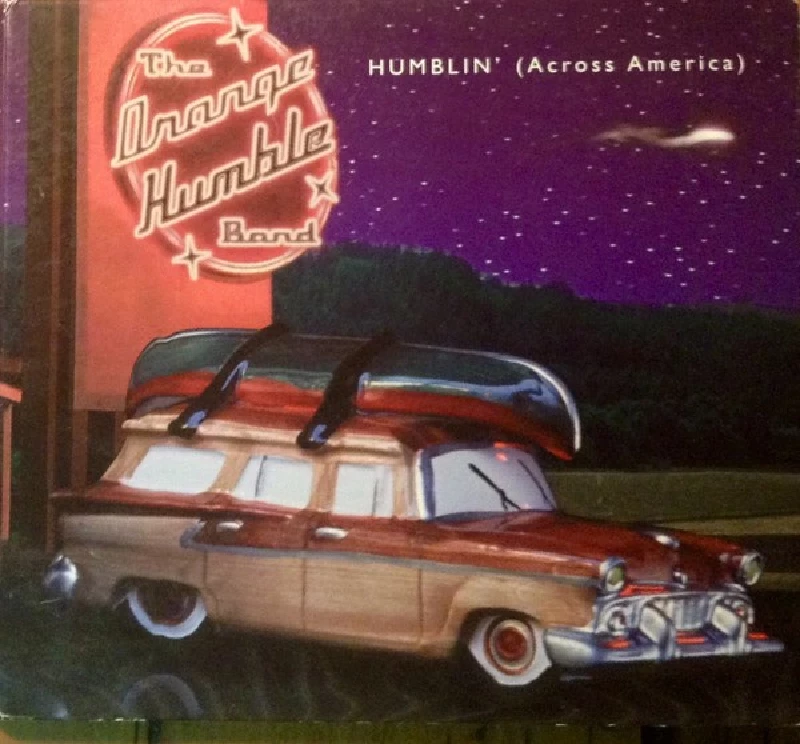 intro
Reissue of classic debut album from power pop supergroup the Orange Humble Band', which includes in its line-up Ken Stringfellow, Big Star's Jody Stephens, producers Jamie Hoover and Mitch Easter and Coronet Blue's Antony Bautovich
Re-issuing, or maybe re-promoting is a better term to use, a six-year old album might seem to be an odd thing to do but those more cynical among us would point out that as two of the main players of the Orange Humble Band, namely Ken Stringfellow (The Posies) and Jody Stephens (Big Star) have, fairly recently, returned with the groups that made their names and captured a new audience that the time is ripe to push some of their back catalogue. The truth is that 'Humblin' (Across America) is not only better than the Posies latest offering but also knocks Big Star's ' In Space' well out of orbit. Well, someone had to say it. In fairness 'In Space' was far, far better than we could have hoped for ( how many times have we been let down by our musical heroes reforming and not coming up with the goods?) and with all the talent in this supergroup called the Orange Humble Band they really couldn't fail to produce the classic which is their second album. Band leader Darryl Mather ( ex Someloves) is at the core of the band along with the aforementioned Stringfellow, Stephens, Anthony Bautovich (Coronet Blue, Lonely Hearts), Jamie Hoover (Spongetones and producer of most of the classic power pop which has come our way over the last few years) and the wonderful and incredibly talented Mitch Easter. To this already remarkable array of talent Mather has roped in none less than Spooner Oldham, Jim Dickinson, Don Dixon and Bobby Sutliff. This is one album where, if the above names are familiar, you know how the songs are going to sound. It's a kind of power-pop infused with Southern soul and with those Memphis horns never far away; the song 'Listen Up!' being a good example of this. The ghost of all those 'B' bands looms heavy over these songs as we would expect, The Beatles, the Byrds, Big Star, Badfinger, there all in here somewhere along with other obvious influences from the musicians past. The Hollies come to mind more than once which is no surprise really as their sound could be heard throughout 'Frosting On The Beater', the Posies finest album. So what makes this album such a classic? That word 'soul' has a lot to do with it. It's debateable if Stringfellow has ever bettered his vocals on 'Can You Imagine', the definition of white soul in 5 and a half minutes, and with Mitch Easter supplying stunning lead guitar, this song is a highlight in an album of highlights. It's the horns which supply the soul factor on the following song, 'Freewheelin', with Stringfellow sounding more like the Posies front man we are used to. Soul music means different things to different people. To the less blinkered there's not such a giant step from say any song on any of 'Dave Godin's Deep Soul Treasures' series to any song on offer here. This is just a different take on soul music. It's the type of soul that Big Star excelled at; maybe it's due to the fact that their albums, like Humblin' , were recorded at Ardent Studios in Memphis, maybe it's because with Spooner Oldham, who has played on many a soul classic, that soulfulness can't help but shine through or maybe it's simply because Mather has written 15 songs which sound like instant classics. It's all here, everything we ever wanted in music from around 1964 up to today; melodies, those heavenly harmonies, a rough edge here and there, jangly guitars, soul and the sound of a band enjoying their time together knowing, just knowing, that they are making something special which is going to shine through each and every song on the album and make the listener smile time and time again. It's the album we were always hoping the Jayhawks were going to make, the lost Golden Smog album, the album you always find your self turning to in those moments. Apart from, hopefully, introducing these songs to a new audience, this re-issue does remind us that is has been 6 long years since the lucky ones first heard these sounds. Let's hope it's not as long before we get to hear some new songs from this collective. In the meantime we are left to wonder how a ballad like 'One Hour's Lonely Play' can cover so much musical ground, break hearts and still be tucked away on an album when it should be blaring out of radios on a daily basis.
Track Listing:-
1
Vineyard Blues (Remembering Loudon)
2
What's Your Crime?
3
On Your Way Back Home
4
Any Way You Want It
5
One Hour's Lonely Play
6
Better Just Fake It
7
Listen Up!
8
Annie Run Run Run
9
The Ballad Of Gospel Sam (Instrumental)
10
Can You Imagine
11
Freewheelin'
12
Skyway Believin'
13
Cresent City Ball Park Theme (Instrumental)
14
The Way She Moves
15
Come Try This
Band Links:-
https://en.wikipedia.org/wiki/The_Orange_Humble_Band
https://www.facebook.com/pages/The-Official-Orange-Humble-Band/4448704
Label Links:-
http://www.laughingoutlaw.com.au/
https://www.facebook.com/laughingoutlawrecordsandmanagement
https://laughingoutlaw.bandcamp.com/
Pennyblackmusic Regular Contributors
---