---
published: 27 / 8 / 2004
---
intro
First-rate political folk rock from uncompromising duo, the Creekdippers, which convincingly provides the alternative American viewpoint on Bush's War on Terror
There have been plenty of anti-Bush and anti-war protest songs coming from all over the world, but few in America are prepared to stand up and write and sing about what many people over there are thinking.  That's because they are not supposed to be thinking it - it's unconstitutional to criticise Bush's War on Terror.  You're either with America or against America, and that makes it so much harder to be a patriotic American and be seen to be against this phony war.  But now the tide is turning. The people of America are fed up of hearing of the bodies of their young men and women returned in the dead of night, sick of stories of soldiers abusing prisoners, and further sickened by the vultures of capitalism circling overhead waiting for the big bucks to roll in for the reconstruction deals.   So the Creekdippers 'Political Manifest' comes as a breath of fresh air in the midst of gung-ho support for Bush.  Other bands have spoken out against him, The Dixie Chicks famously had their CDs burned for coming out against him, but few, as yet, have written any anti-war songs and let alone a whole album of them.  When asked why he chose to write and record 'Political Manifest', Mark Olson , the Creekdippers' songwriter, said "I keep thinking about the dangerous direction the country has headed under the presidency of George Bush - he represents everything wrong with American today: Between a war fought by a disproportionate number of immigrants and the poor, and economic and environmental policies that puts Corporate America over everything.  I couldn't sleep anymore and I'm a writer so I wrote."  His wife and his co-star in the Creekdippers, Victoria Williams, would like to see her tax paying for the things those of us who live in the UK take for granted- education, emergency services and free healthcare for all, not warmongering.   Well, that's what the lyrics are about. How about the music? Well it's American folk, but before you turn off, the opening track, 'Poor Ol' GW' is bluesy and funky ; the third track, ''Duck Hunting' sounds unashamedly like Bob Dylan in his pre-electric days, whilst 'George Bush Industriale' shares its roots with the White Stripes and Nick Cave's more recent offerings. Other tracks are more traditional style folk with Victoria Williams singing on two of the songs in her unusual style which might not appeal to everyone.  If you have no interest in politics or hearing a different American view, this probably isn't for you, but if you are, even if you don't like the style of music, it's worth a listen - just to hear the alternative American viewpoint, the one we don't usually get to hear.
Track Listing:-
1
Poor GW
2
Walk With Them
3
Duck Hunting
4
Senator Byrd Speech
5
Where Is My Baby Boy
6
George Bush Industriale
7
Saw Song
8
Portrait Of A Sick America
9
My Father Knows Foes
10
The End Of The Highway
11
Coming, Coming
Label Links:-
http://label.glitterhouse.com/
https://www.facebook.com/GlitterhouseRecords
https://twitter.com/glitterhouserec
https://www.youtube.com/user/GlitterhouseTV
reviews
---
Mystic Theatre (2004)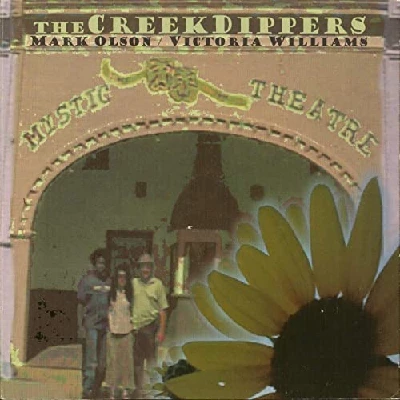 Traditional country collection from the Creekdippers, the band of real-life couple Mark Olson and Victoria Williams, which, while occasionally hinting at greatness, is often overcome by "a degree of sameness"
Pennyblackmusic Regular Contributors
---