---
Various

-

Emo Diaries, Chapter 10-the Hope I Hide Inside
published: 12 / 4 / 2004
---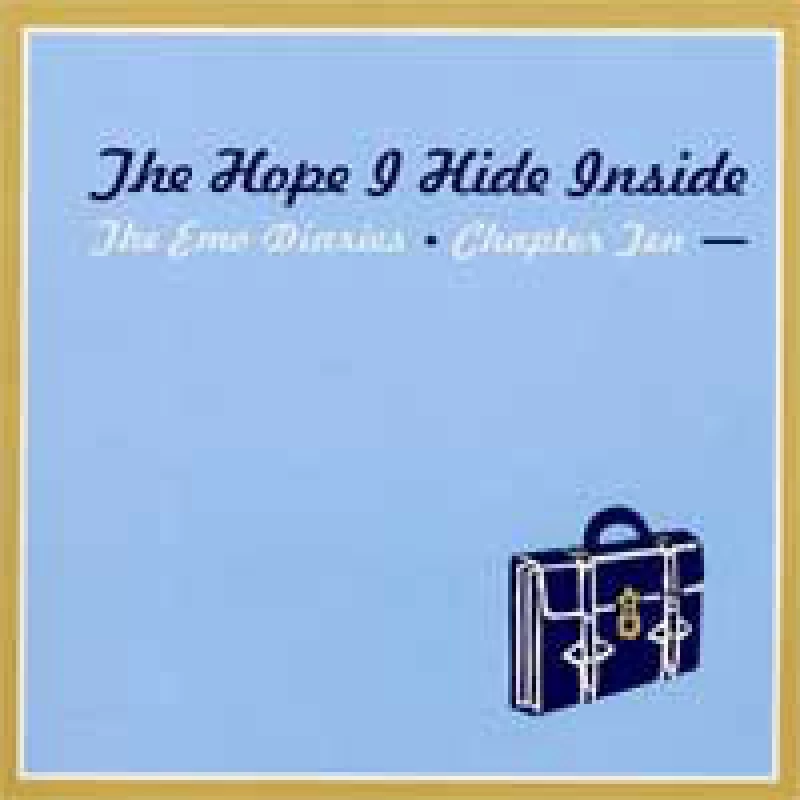 Label: Deep Elm
Format: CD
intro
Splendid farewell CD in Deep Elm's long-running 'The Emo Diaries' series, which both showcases some of the current bands on their roster, and also introduces several new ones
Very few compilations succeed in defining a genre, but Deep Elm's series, 'The Emo Diaries' has, over the course of 10 Chapters, consistently shown the cream of the crop for fans of indie rock, emo and hardcore. Eight years ago, the first Emo Diaries compilation set out to define a style that at the time was an underground movement, and featured some of the bands that would be soon making waves and taking the sound to a new audience. The first volume featured Samiam and was the first many had heard from Jimmy Eat World (a band who went on to record 'Clarity' and 'Bleed American', two albums that encapsulated everything great indie rock music could be about) as well as the ace Camber, whilst volume two was even better with Pennyblackmusic faves the Appleseed Cast's first offering, the gorgeous Brandtson, the classic guitar sound of Pop Unknown. Later there were contributions from Penfold, Planes Mistaken For Stars, Last Days Of April, Sweep The Leg Johnny, the Movielife, Further Seems Forever, the White Octave, This Beautiful Mess, Drive Til Morning, Logh, Settlefish and many other bands all of which deserve more attention. It takes a lot of guts for a label to stick a CD out from a bunch of bands that have barely just formed and have no exposure whatsoever, but if there's one thing you can say about Deep Elm it's that they have a lot of guts! Alas, 'The Emo Diaries' have come to an end, like all good things have to. But not before one last volume, and it's as good as any other chapter from the series. Kicking off with Oliver, the compilation is in top gear from the word go,. Their contribution, 'Straightest Jacket', is a classic pop song somewhere between Jimmy Eat World and Brandtson. Then there is My Name Is Nobody, from Jerusalem, who really let it go with 'Brother Abel', a full on, totally rocking hardcore track. A Month Of Somedays have one of the more original sounds of the band featured, with a really great vocalist and their song, 'A Window's Pain' is one of my faves from the entire series. The last two tracks are both acoustic, with Lost On Purpose's 'Friends' showing that a very simple approach can be very effective, whilst the Silent Type's 'Jus Primae Noctis' has some great guitar playing, sounding a bit like the Smiths, and is another standout. England gets in on the act too, with two bands featured, neither of whom I've heard before, but whom are worth looking out for, Latitude Blue (from Wiltshire) modernise the classic Britpop sound with 'On the Corner' (I hope that doesn't offend them, it is meant as a compliment!!), and London's The Holiday Plan opt for a more typical hardcore sound, but still contribute with 'Projecting Power' a great song! There are also a couple of contributions from some of Deep Elm's recent signings. Lock And Key play passionate hardcore, similar to the likes of Hot Water Music and Hunter-Gatherer but not at all derivative, and their contribution 'Crow's Nest' is a great introduction. Finally, there is an exclusive track from Sounds Like Violence. Their EP. 'The Pistol' has been on constant rotation since it arrived, and we have a hunch at Pennyblackmusic that this band could be one of the most exciting bands of the next few years (without wishing to hype them up too much, it's just a simple fact that we can't stop playing their music, and they are a truly enticing prospect). Their track here is not as good as some on the EP, but it is still probably the best song on an already brilliant compilation, and shows a raw, slightly mellower side of Sounds Like Violence. Could it be that in it's dieing breaths'The Emo Diaries' series have unveiled yet another gem? A band that will soon be adored by indie rock fans everywhere? I think so…. 'The Emo Diaries' may be dead. But don't worry, Deep Elm is going to keep fishing out the best-unsigned bands, with a new series, "This Is Indie Rock: The Best Bands You've Never Heard". I can't wait!
Track Listing:-
1
Oliver – Straightest Jacket
2
My Name Is Nobody– Brother Abel
3
The Holiday Plan– Projecting Power
4
Sounds Like Violence– The Light Is Such A Beautiful Sight
5
A Month Of Somedays– A Window's Pain
6
Bailey Drive– How Would It Phase You?
7
Lock And Key– Crow's Nest
8
Hercules Hercules– Red Makes White
9
Lukestar– Alpine Unit
10
Latitude Blue– On The Corner
11
Lost On Purpose– Friends
12
The Silent Type– Jus Primae Noctis
Pennyblackmusic Regular Contributors
---