---
Various

-

Branches And Routes
published: 3 / 9 / 2003
---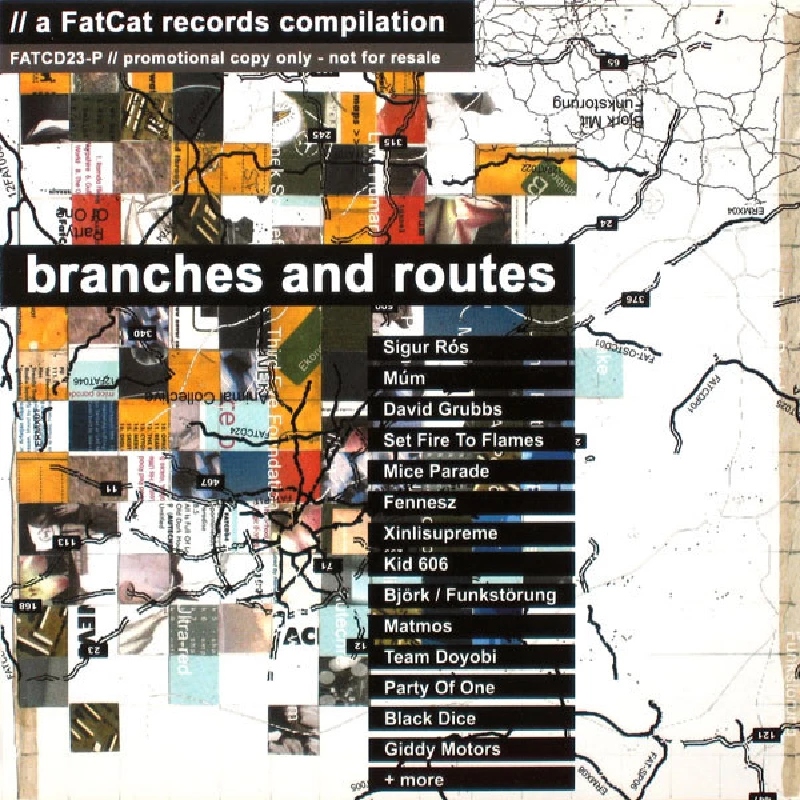 intro
27 track double compilation that celebrates the first 6 years of the Fat Cat,and which, while offering few surprises, nevertheless still proves to be "inspired listening"
For fans of the obscure and the eclectic, Fat Cat have released an epic 27 track compilation, 'Bridges and Routes', offering a varied insight into the last 6 years of the label's myriad of ambient successes. There is always place for the sampler; a collection of the rarest and most significant tracks of a label's history, offering an instant education without requiring to have over-zealously catalogued every release wearing your parka. These York Notes of the music industry offer priceless morsels of insider knowledge amongst a smorgasbord of the better-known definitives, in this case an apt description of a compilation which features the Nordic talents of Múm, Sigur Rós ( Thom Yorke namechecked them and sigh, an overnight success) and the Funkstörung remix of Björk's 'All is Full of Love' amid a journey through the capillaries of ambient fusion. Whilst there are no surprises on either of the compilation's two CDs and the running order flows seamlessly, it's still inspired listening, comprising the type of innovative sounds that command a larger underground following than they do popular airplay and herein lies its charm. For the experimental and open-minded there is a diverse collection ranging from the minimalist composer David Grubb's Transom to the jazz-punk fusion (yes, it does work) of the stunning Giddy Motors. Yet whilst samplers offer the uninitiated dinner-party crib notes to win friends and influence people, 'Branches and Routes' is nevertheless for the dedicated intelligensia, those who own a parka but would never admit to the fact they still keep it in the back of the wardrobe. Yes, Fat Cat may be cool but remember that real cool pushes boundaries and hovers on the periphery, never intending to offer the promise of accessibility, just a sniff of how it could be. To expand your mind as well as your repertoire however, you couldn't go far wrong investing in what is likely to be the first of many compilations from camp-Fat Cat, the musical equivalent of dabbling in mild hallucinogens at university…
Track Listing:-
1
David Grubbs– Transom
2
Mice Parade– Pursuant To The Vibe
3
múm– Green Grass Of Tunnel
4
Process– E1
5
Kid606– Die In California
6
Set Fire To Flames– Steal Compass / Drive North / Disappear
7
Björk Mit Funkstörung– All Is Full Of Love (In Love With Bjork)
8
Transient Waves– Cruise Control
9
Duplo Remote– Cusp
10
Matmos– Freak N You
11
Grain– Untitled 3
12
Stromba– Invisible Stink
13
HiM– Slow Slow Slow
14
Sigur Rós– Ég Mun Læknast!
15
Fennesz– Badminton Girl
16
Drowsy– Bright Dawn
17
Crescent– Spring
18
Team Doyobi– E5
19
Com.A– Radio Squelch Crush Land
20
Dorine_Muraille– Dopées
21
The Dylan Group– Avila
22
Programme– N'importe Quoi Pour N'importe Qui
23
Party Of One – Shotgun Funeral
24
Xinlisupreme– Murder License
25
Giddy Motors– Baddie Who?
26
Black Dice– Things Will Never Be The Same
27
Sylvain Chauveau– Minéral
Label Links:-
http://www.fat-cat.co.uk/
https://www.facebook.com/FatCatRecords
http://fatcat-records.tumblr.com/
https://www.youtube.com/fatcatrecords
https://twitter.com/FatCatRecords
Pennyblackmusic Regular Contributors
---