---
Various

-

Boss Samplerage 3
published: 10 / 10 / 2002
---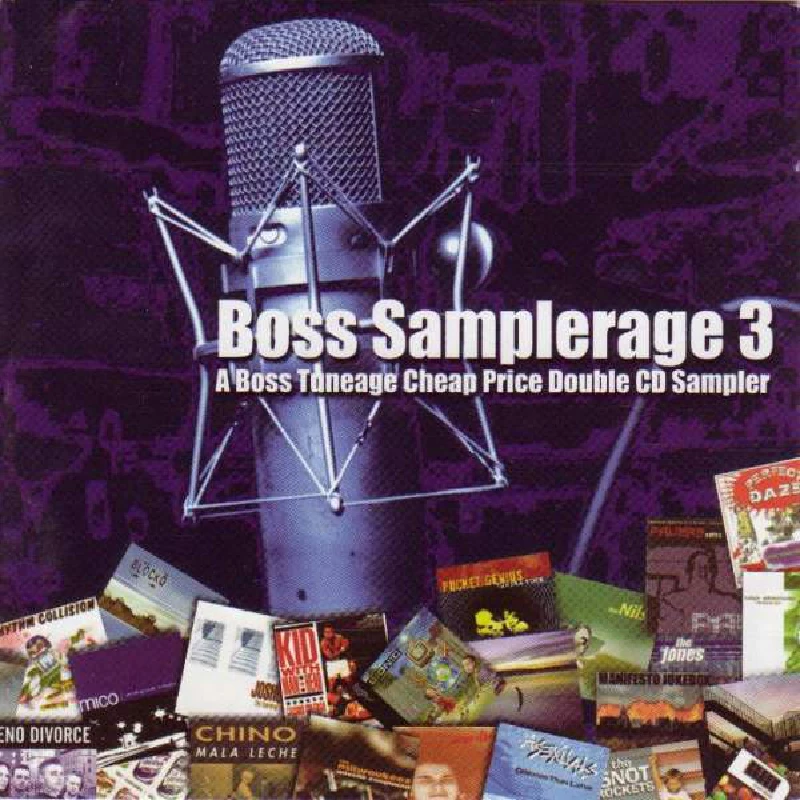 intro
Sprawling double CD sampler from the Boss Tuneage punk label, which serves as a "first rate" introduction to its 12 year history
One has to admire Aston Stephens... The Boss Tuneage owner has a demanding day job managing a CD plant, for which he makes a 100 mile round trip from Bedford to London and back again each week day. Yet he still has the energy and somehow finds the time to run his prolific punk label, often putting out a remarkable four of five new releases every month. Stephens, who runs Boss Tuneage single handed, began his label in 1990, dissolved it in 1995 and then restarted it again in 1999. Over the course of the last 12 years, Boss Tuneage has put out over 120 albums and singles, nearly 100 of which have come out in the last 3 years alone. Extracts from nearly half of these releases appear on Boss Tuneage's latest budget-priced compilation, 'Boss Samplerage 3', a sprawling double CD, that features 56 tracks and 53 bands. Any compilation of this size perhaps inevitably is going to be something of a mixed bag. Many of the songs and bands that appear on 'Boss Samplerage 3' take the DIY ethos of punk to an extreme, and are unlikely to appeal to anyone except the most die-hard and iron-constitutioned of fans. With a running time of over 2 and a half hours, all that abrasive punk at least on initial hearings may also quickly prove to be too much of a good thing, and, to be fully appeciated, is probably best listened to, at least at first, 5 or 10 tracks at a time. Yet, whatever its flaws may be, 'Boss Samplerage 3' is also very enjoyable. For every weaker track, there is always in contrast at least one good one. There are strong songs from well-established international groups such as the Nils, Chino, Annalise, the Asexuals, La Motta and Stand GT, which alone fulfill the budget price of less than a fiver, and there are also several other otherwise obscure gems. Five Foot One's twangy, good-natured instrumental 'Fluffy', for example, was culled from a demo tape by a long broken-up Canadian group which Stephens happened to stumble across. As a history of the label, it is also first-rate, featuring songs from recent additions Woolworthy and the Pavers, but, running back through the years, to include two tracks from gritty local Bedford group, Vehicle Derek, who were the very first band to release a record through Boss Tuneage. Boss Tuneage has now become Britain's largest independent punk label. As both an introduction to it, and also as a retrospective to date of Stephens' unique, tireless vision, "Boss Samplerage 3' is superb.
Track Listing:-
1
Manifesto Jukebox–Paralysed
2
Woolworthy– Achin' To Bleed
3
The Unknown–Seven
4
Kid With Man Head–Closer Than Before
5
La Motta–Night Sun
6
The Milwaukees–When They Attack
7
Beezewax–Two Holes Apart
8
K-Line – Stay Poor
9
Eesch– Such A Good Time
10
Kick Joneses– The Rain And The River
11
Shooter McGavin – Broken Melody
12
Rhythm Collision– Whatcha Gonna Do
13
Bedford– The Last Song
14
Organic – Parkdale
15
The Nils– Scratches And Needles
16
Exit Condition–Throwing Sticks For The Underdogs
17
Barefoot–Everytime
18
The Tank–The Crew
19
Sylvie –Smoke And Mirrors
20
Brian James Meets Flatpig– New Rose
21
Annalise –Next Stop Nowhere
22
G Whiz– Rockford
23
Scarper!– Everyday Lifetime
24
Travis Cut–In Transit
25
Brock Pytel–Big Strong Love
26
Pavers– Red Suzuki
27
Punchbuggy– Same
28
Four Square– Slightest Sympathy
29
Mico –Section One
30
Chino –Uno Mas
31
Snot Rockets– California
32
Vehicle Derek–Things We Did
33
Rise –Waiting
34
Asexuals–Dish
35
Big Ray– Car
36
The Miles Apart– Prime Mover
37
Reno Divorce– What Were You Saying?
38
Stand GT–Blank The Allstars
39
Pocket Genius–Hitched
40
The Jones –Volatile
41
Benny – Speeded Up Cover Version Of John Cage's 4 Minutes 33 Seconds (Demo Version)
42
Raggity Anne– Two Sides Of Maddy
43
Perfect Daze– One Thing For Sure
44
Tokyo Adventures– Piff Poff Poof
45
Blocko – Rabit Punch
46
Five Foot Nothing– Fluffo
47
Hate Fuck Trio– Grandpa D Was A Gangster
48
Benny – Speeded Up Cover Version Of John Cage's 4 Minutes 33 Seconds (Studio Version)
49
Die Kunst– Car
50
Shutdown (5)– No. 1 Seed
Pennyblackmusic Regular Contributors
---