---
published: 16 / 9 / 2002
---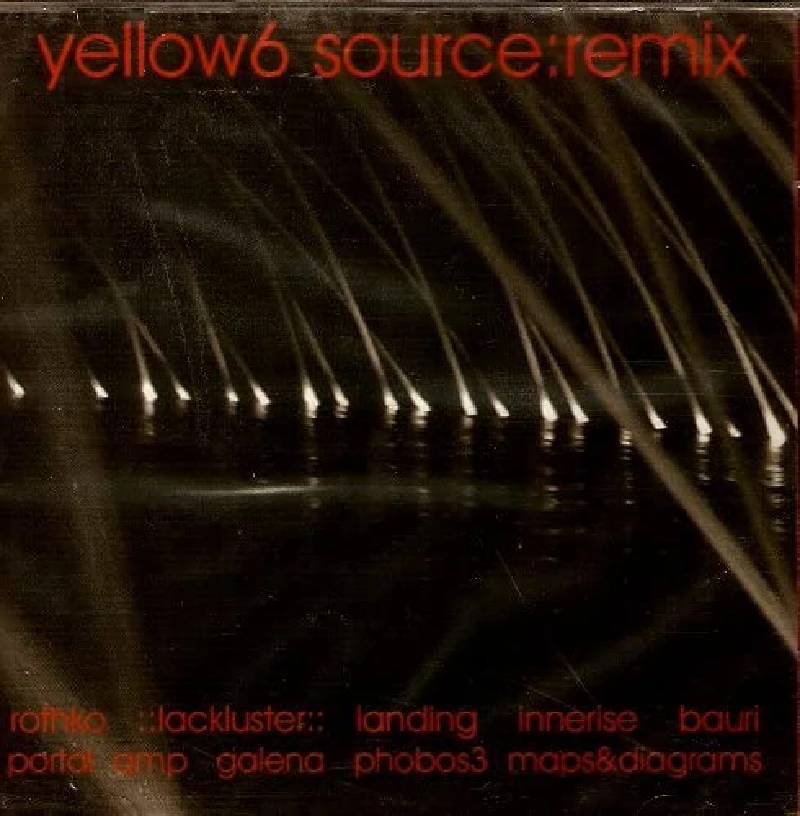 intro
Enjoyable compilation of remixes of some of long established post rock group, Yellow 6's best known tunes
Yellow 6, over the course of the 7 years since it formed, has become well respected both in the UK and Europe. Jon Attwood, the only regular member of the group, has written countless songs with endless sound variations. 'Yellow 6 Source: Remix' experiments with 11 of the band's songs, each of which has been remixed by one of 10 related artists. Rothko, Mark Beazley's solo project, opens and closes the compilation with 2 different remixes of 'Silhouette'. Both are calm and almost dreamy. The tone of the introductory track is slightly stronger, but the density of the tune is smoothly faded into the background on the latter. The Finnish group Lackluster, the next band, have reworked 'Expressway 427'. Fast beats of various drums give the song a lightly electronic sound.  Sweden's Bauri reoriginates the sound of the release with 'Leitmotiv'. Drums stand clearly in the middle of the song. A synthesizer reminiscent of an organ shivers into an echo. 'Snowmelt' ,the 7th track, which has been remixed by Amp, has a higher pitched tone. It sounds a little like a roughly pulsating alarm. This harshness is smoothed out by the gentle guitar that opens Galena's remix of the next track 'Summersend' . Other instruments are added, and towards the middle part of the song, the tune develops a deep bell-like echo. The whole compilation reintroduces some of the better known Yellow 6 tracks. All 10 of the artists involved in these reworkings have maintained much of Yellow 6's sound, but have added some of their own character as well. Their ambient dance sounds make this CD well worth listening to.
Track Listing:-
1
Silhouette (Rothko Remix)
2
Expressway427 (::Lackluster:: Remix)
3
Marble#1 (Landing Remix)
4
Silhouette (Innerise Remix)
5
Leitmotiv (Bauri Remix)
6
Redleitmotiv (Portal Remix)
7
Snowmelt (Amp Remix)
8
Summersend (Galena Remix)
9
Onecertain (Phobos3 Remix)
10
Halflife CPL-33 (Maps&Diagrams Remix)
11
Silhouette (Rothko Remix)
Visitor Comments:-
62

Posted By: Paul lloyd_igloomag, Coventry, england on 01 Jan 1900
One time rock guitarist and now electronic artist Jon Attwood (aka Yellow6) has steadily built an dedicated fanbase with his beautifully crafted ambient soundscapes. Working alone and exploring the possibilities of fusing guitar and electronic sounds into ambient masterpieces, Attwood has released and array of singles, albums and compilation tracks on a range of labels worldwide. Source:Remix is his first foray into remix culture and features a series of remixes of his own tracks by friends and artists from the indie electronic scene such as Bauri, Portal, Map & Diagrams and Rothko. The Yellow6 sound is an enchanting mix of electronically enhanced guitar work with chilled beats and overlaid synths resulting in a serenely floating bed of aurally relaxing tones that drift and flow, lulling you into a complete state of calm and tranquillity. In general, a majority of the mixes here are fairly true to their original form, adding some extra synth lines, electronic tones, beats or a bassline. Opening and closing the album are Rothko's "Silhouette" with Spanish style acoustic guitar and the swirling tones, the opener additionally featuring added feedback. Lackluster – that's the female American Lackluster, not Esa Ruoho of Defocus fame – brings bell like chimes and bouncing beats to "Expressway 427" while Landing's "Marble #1" is more true to the style of the original. Innerise take things in a new direction by adding a deeply thunderous yet relaxed dub bassline and cool rhythmic beats to "Silhouette". Bauri turns in a lengthy but gentle remix of "Leitmotiv" featuring acoustic guitar and melodic beats that gradually pick up pace, becoming more rhythmic and utilising a vocal sample while skilfully maintaining the chilled nature original tune. Picking up the pace is Portal with a fast paced rhythmic train like drum 'n' bass remix entitled "Red Leitmotiv" whereas Amp maintain a similar but steadier rhythm for their 8 minute "Snowmelt" rework, adding some orchestral touches and abrasive guitar work to proceedings. Picking up on the feedback theme are Galena who contrast that with a dark maelstrom of ominous electronic tones on "Summers End". Lightening the tone somewhat are Phobos3 with "One Certain", a light melodic rehash with a building, almost military breakbeat. Before Rothko close the album in similar way to its start Maps & Diagrams gives us "Halflife CPL-33", a serene floating track with hissy clicking beats and a looped acoustic guitar sample that gains a fuller more prominent bassline around the midpoint. Attwood's work is always supremely tonal and serene, the remixers in this project taking his original work and adding elements of their own to create a new take on his ideas. The Source:Remix album as a whole works really well and is of a consistently high quality; quite unusual for a remix project as they are usually hit and miss affairs at best. Innerise, Bauri, Portal and Maps & Diagrams provide reworks of particular note.
---
Pennyblackmusic Regular Contributors
---