---
Various

-

C91
published: 18 / 1 / 2022
---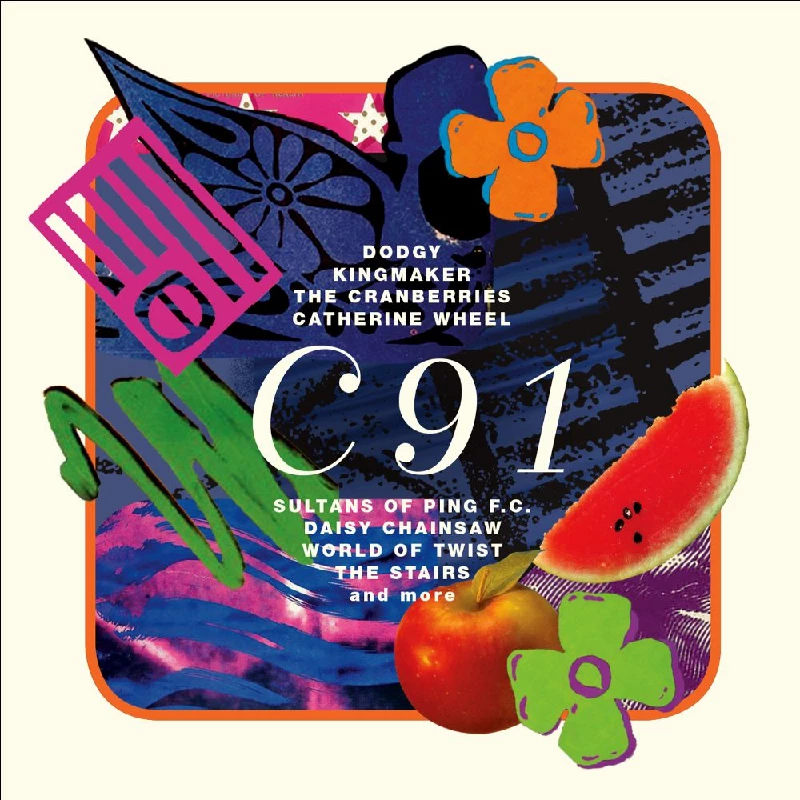 intro
Next instalment in Cherry Red's successful C-series is 'C91', which shows that 1991 was a bad year for indie music, but the compilation itself is a joy to behold
Almost two years ago, I reviewed the previous instalment in Cherry Red's C-series (taking off from NME's iconic indiepop compilation 'C86'), 'C90', and realised that 1990 wasn't a brilliant year for indie music. Now, the time has come for the next instalment, 'C91', and after listening to all three discs I have to say that 1991 wasn't much better. Rather the opposite. Among the 59 tracks here, very few are enjoyable, to be honest. But let's take a closer look at what we have on offer here. As usual with these compilations, there are quite a few bands that went on to become more successful within the next years, like Manic Street Preachers, Dodgy, Saint Etienne, The Cranberries, The Charlatans and Lush. Their contributions on 'C91' are mostly early singles or album tracks, with The Cranberries showcasing their initially softer side (such as on the brilliant single 'Linger', taken from their debut album, just like the song here, 'Them'). There are also quite a few bands that were very hyped at the time, but nowadays hardly anyone remembers them. I'm looking at you, Sultans of Ping FC, Daisy Chainsaw and The Dylans (among others). In 1991, Britpop was not yet a thing, and instead most indie bands in the UK continued to mix guitars with 'groovy' drums and beats, just like they did in 1989 and 1990 – we can call it The Curse of the Happy Mondays. But as on 'C90', there are some bands that never decided to follow that boring path, and instead kept walking the same old way they always had, like the Sarah Records bands Gentle Despite, Heavenly, Blueboy and The Sweetest Ache. No baggy drums on those recordings! As usual, the compilation in itself is a joy to behold, with the same informative booklet etc that we have come to expect from Cherry Red's excellent compilation. I will leave you will the same conclusion that I made on that review two years ago – it's not Cherry Red's fault that 1991 sucked for pop music.
Track Listing:-
1
Daisy Chainsaw – Love Your Money
2
Dodgy – Summer Fayre
3
Kingmaker – When Lucy's Down
4
Catherine Wheel – Black Metallic
5
Sultans Of Ping F.C. – Where's Me Jumper?
6
Bleach – Bethesda
7
Revolver – Crimson
8
The Wendys – Pulling My Fingers Off
9
The Stairs – Weed Bus (Flower Shop Demo)
10
Poppy Factory – 7 x 7
11
The Cranberries – Them
12
The Dylans – Godlike
13
Moose – Jack
14
Spirea X – Jet Pilot
15
Levitation – Nadine
16
Bang Bang Machine – Flower Horse
17
Sweet Jesus – Honey Loving Honey
18
Sun Dial – Fireball
19
Fabulous – There's A Riot Going On
20
Drop – Drone 1 21 Blueboy – Clearer
21
The High – Up And Down
22
The Charlatans – Over Rising
23
Top – She's Got All The World
24
Chapterhouse – Pearl
25
Saint Etienne – Nothing Can Stop Us
26
Flowered Up – I'll Be Your Dog (Introducing Barry Mooncult)
27
World Of Twist – Sweets
28
Stan – My Delight
29
Paris Angels – Oh Yes
30
Lush – For Love
31
Scorpio Rising – Watermelon
32
Boo Radleys – The Finest Kiss
33
Slowdive – Morningrise
34
Spectrum – (I Love You) To The Moon & Back
35
Secret Shine – Grey Skies 16 Medalark Eleven – Snake
36
Smashing Orange – Not Very Much To See
37
The Forever People – Sometimes
38
Manic Street Preachers – Stay Beautiful
39
Northside – Take 5
40
Ever – Virginize
41
Ned's Atomic Dustbin – Until You Find Out
42
Th' Faith Healers – Gorgeous Blue Flower In My Garden
43
Spitfire – Dive
44
Honey Smugglers – Closer
45
Horse Latitudes – Northern Country Lie
46
See See Rider – Stolen Heart
47
Steamkings – In Your Room
48
Greenhouse – New World Order
49
Gentle Despite – Shadow Of A Girl
50
Moonflowers – Fire + 7 Others
Label Links:-
http://www.cherryred.co.uk/
https://www.facebook.com/CherryRedRecords
https://twitter.com/cherryredgroup
https://www.youtube.com/CherryRedRecords
Pennyblackmusic Regular Contributors
---