---
published: 18 / 10 / 2021
---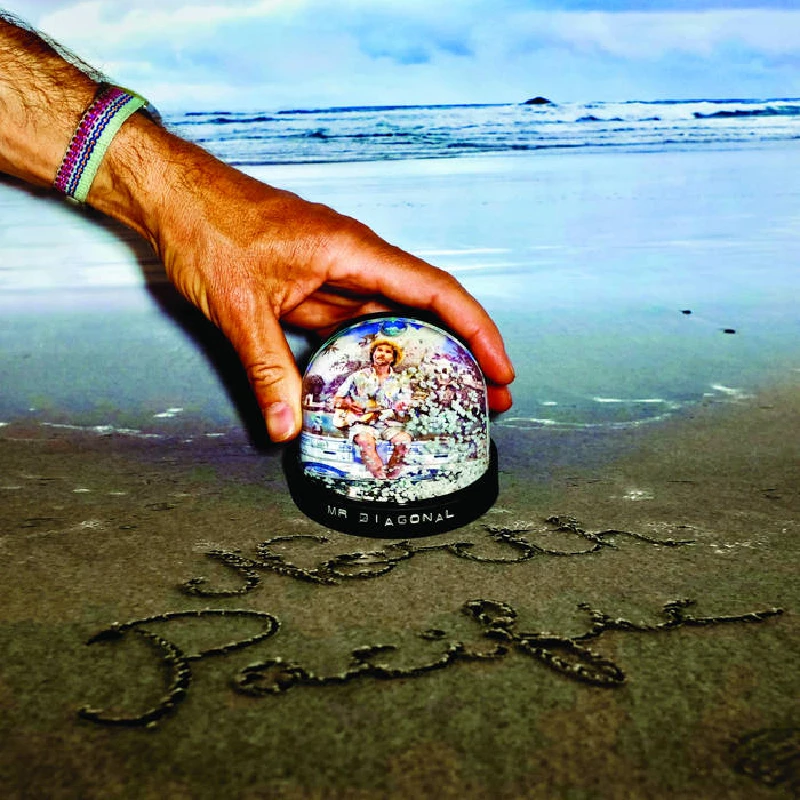 intro
Curious multi-genre album about escapism from Robinson Crusoe one-man show Mr. Diagonal
Mr. Diagonal is Scottish-born multi-instrumentalist and songwriter Dan Barbenel, who now lives in Belgium, and was formerly a member of the Black Light Orchestra. 'North Pacific', his fifth album, is a multilayered, multi-genre (let's call it freak folk cabaret) concept album about physically or mentally running away - or simply dreaming about running away - to a remote, lovely, tropical place. He was assisted by his children on the mysterious cover art. Mr. Diagonal sounds like a ragged beachcomber singing softly to himself as the waves crash nearby or an off-kilter Jimmy Buffett who has finally gone off the rails and started exploring the many non-yacht-rock genres represented here: cabaret, lounge, jazz, rhumba, bossa nova, blues, funk, folk, played on ukulele, brass, strings, piano (and toy piano), and electric guitar (on stand-up track 'Red Lighthouse). There are weird lyrics (including a dialogue with a tuber), strange tunings, and unusual time signatures, leaving the listener quizzical. "North Pacific, now I'm on my way!/This sea is warm, you'll come to no harm, the storm is far away/Now I feel terrific, I know it's here to stay/ Never a storm cloud crosses my brow/America's far away…" The dreamy, hazy, wispy mood of many of the tracks ('Indian Ocean') hint at escapism or self-dissolution. 'Bannerghatta' and 'Serendipity House' could be eavesdropped from a beach resort lounge. He sings in Japanese on one track, 'Hyoryo no Tegami' (a joke, apparently, but I can't find a translation) for his substantial Japanese following. He once worked in Japan as a hotel cocktail lounge piano player on Awishima Island. He reminds me at times of Jonathan Richman, and there's also a Bonzos-like, tongue-in-cheek humor that falls short of truly whimsically light-hearted. For example, here's how Mr. Diagonal himself describes North Pacific: "Subtropical mutation of chanson anglaise, filtered through a diagonal prism to create a fractured, playful pop. With his trusty shipmates Yannick Dupont (Moog, percussion) and Quentin Manfroy (bass, bass flute), and guest string quartet In Praise of Folly we share Mr. Diagonal's maritime adventures: his squalls and sunny spells, his shipwrecks, the highs and lows of desert island life, his attempts at maritime carpentry, his manioc intoxications. Perhaps the first Belgo-Scottish desert island disc, 'North Pacific' is a maritime mirage in full-screen stereo, a summer soundtrack for drifters and dreamers." Mr. Diagonal wants to be far away from Western civilization and everyday tedium, understandably, but it's not clear if he really is drifting in the tropics or simply daydreaming about it ('Maybe I'll Build A Boat'). Life is probably better away from cars and telephones, as Mr. Diagonal suggests, urging everyone to come along ('You'll be OK!'). Is he seeking external or internal travel? Does it matter? The back cover, showing him perched on a washing machine in a laundromat with his ukelele and rum and a tropical paradise poster or mural on the wall behind him, might be a clue.
Track Listing:-
1
Bannerghatta
2
Serendipity House
3
Transition
4
Indian Ocean
5
Red Lighthouse
6
Hyoryo no Tegami
7
21st Century Cats
8
Encore une Bouteille à la Mer
9
What do you do with a Manioc?
10
A Little Island Far Away
11
Maybe I'll build a Boat
12
North Pacific
13
A Thousand Sunsets
Band Links:-
https://mrdiagonal.com/
https://blacklightorchestra.bandcamp.com
Play in YouTube:-
Have a Listen:-
Pennyblackmusic Regular Contributors
---