---
published: 28 / 1 / 2012
---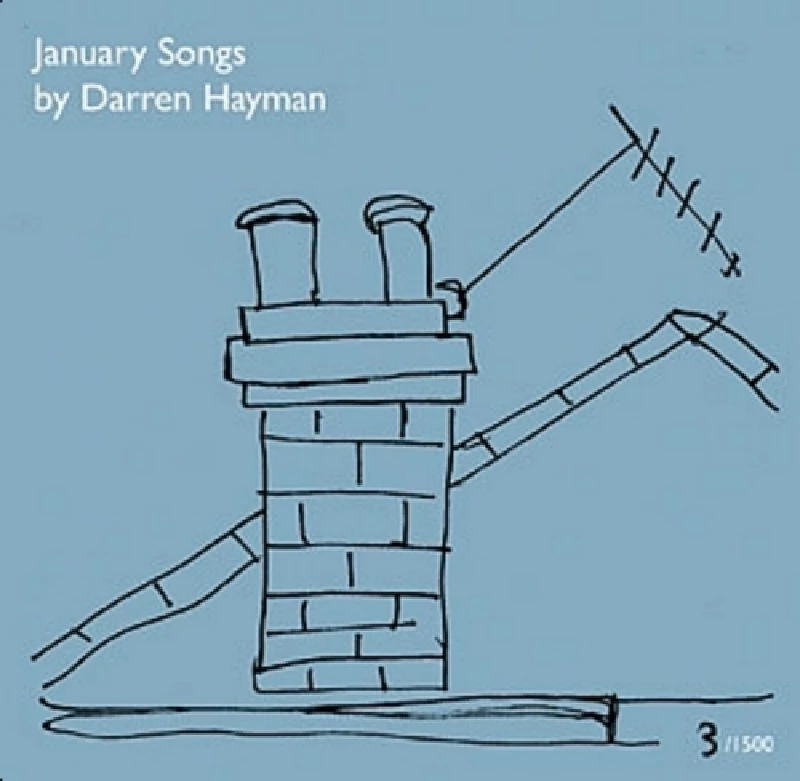 intro
Remarkably creative and consistent double album of songs from Darren Hayman, who set himself the challenge of writing and recording a new song every day over the month of January last year
As anyone who knows me will tell you, I hate January. It's a long, cold, dark month, and it seems like summer will never come. Last January, Darren Hayman decided to set himself a challenge, the challenge being to write and record a new song every day throughout the month. A year later, and the finished album has been released – all thirty-one tracks of it. I admit, I have a soft spot for this type of concept album. I loved the Magnetic Fields 'I' and '69 Love Songs', and Thomas Truax's "song per month" project of last year. 'January Songs', however, appealed to me more than the others, as I saw it as the perfect antidote to the post-Christmas blues. The album opens with 'It was Over', a poppy piano number with lyrical flashes reminiscent of Morrissey. The track is an intriguing piece, juxtaposing the sorrow of a break-up with a jaunty, upbeat backing. Melody-wise, second track 'Bad Technology' is a fantastic bass-driven piece with some excellent vocal harmonies and a superbly executed production. The album changes tack with 'Isle of Eigg', with a heavier, electric backing track and a vocal by ballboy's Gordon McIntyre before moving on to the Leonard Cohen-esque acoustic guitar backed 'Hold Back the Clock'. What I enjoyed most about this album is that the quality of the songwriting does not diminish over the course of the thirty-one songs as one might expect. Clearly, Hayman has a great reservoir of inspiration to draw from. I was also very impressed by the stylistic difference between one song and another – again, Hayman's inventiveness is to be commended. The physical release of the album in keeping with this spirit of invention. The double CD is limited to 1500 copies, each of them featuring unique cover art drawn personally by Hayman. 'January Songs' is an album which has a great deal to offer. The scale of the recording is testament to Hayman's creativity flitting effortlessly between genres. Because of the album's variety, there is something for everyone. The guest artists (Allo Darlin, te Wave Pictures, Terry Edwards, ballboy and others beside) have been superbly selected and add considerably to the quality of the LP as a whole. That said, this is very much Hayman's album and he is the true star of the show. This is an album of modesty, restraint, and exceptional creativity. Everything about it appealed to me, from the concept to the music to the hand-drawn cover art. If this album is a snapshot of what Darren Hayman is capable, then I fully expect to hear a great deal about him in the future.
Track Listing:-
1
It Was Over
2
Bad Technology
3
We're Staying In
4
Isle Of Eigg
5
Hold Back The Clock
6
Nothing At All
7
Esplanade Drive
8
Old Man Hands
9
I Can't Control Myself
10
I Know I Fucked Up
11
You Can't Tell Her Anything
12
My Bedroom
13
My Dirty Widow
14
Who Hung The Monkey?
15
Britain In Bloom
16
Let Me Sleep
17
Arthur The Dog
18
The Return
19
No Different For Girls
20
I Want To Be A Volunteer
21
Shh...
22
Baby, Be Good To Me
23
Bad, Bad, Bad, Bad Girl
24
Ventriloquism
25
Forest Blues
26
Let Out The Sides
27
I Can Keep A Secret
28
I Won The Girl
29
My Miniature Band
30
We're Tired Of Gettin Dicked Around
31
My Dream Train
Band Links:-
https://www.facebook.com/pages/Darren-Hayman/55543614047
http://www.hefnet.com/
Label Links:-
http://cargorecordsdirect.co.uk/collections/belka
live reviews
---
Brudenell, Leeds, 24/6/2011
Helen Tipping enjoys a night of acoustic rock and razor sharp humour from former Hefner front man Darren Hayman at a solo show at the Brudenell in Leeds
Camden Head and Bush Hall, London, 19/10/2010...23/11/2010
Lexington, London, 5/3/2009
Luminaire, London, 30/3/2008
Luminaire, London, 12/11/2007
features
---
Ten Songs That Made Me Love... (2014)
In 'Ten Songs that Made Me Love...', Ben Howarth writes of his favourite songs by singer-songwriter and ex-Hefner front man, Darren Hayman
Pennyblackmusic Regular Contributors
---