---
published: 20 / 8 / 2006
---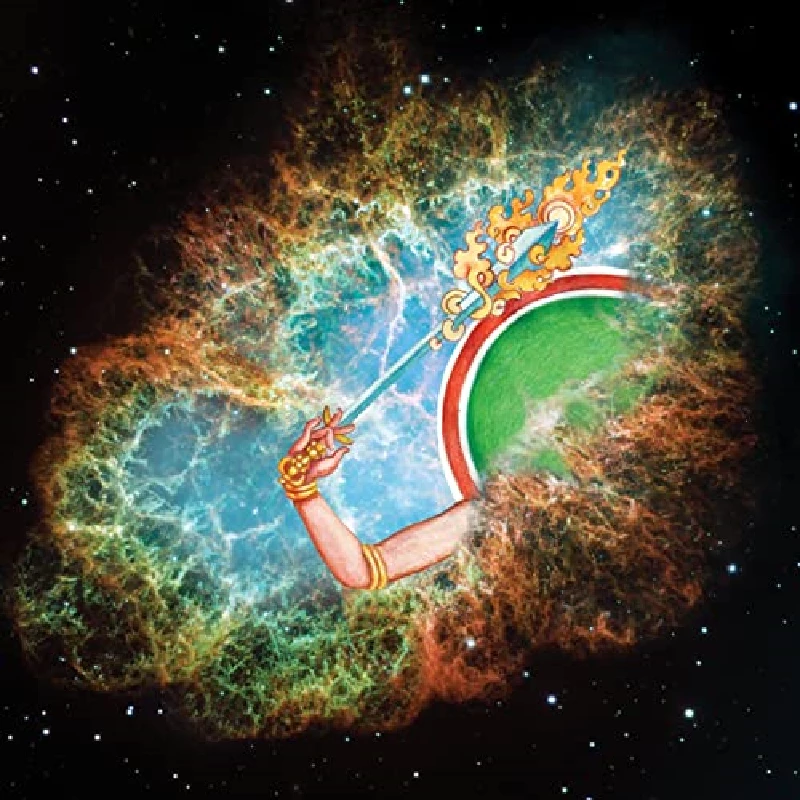 intro
Snappily recorded mini album from hard working American indie folk rockers, Akron/Family, who are signed to Michael Gira's Young God label
Akron/Family have been working hard since the release of their debut album in March last year; relentlessly touring, both as Akron/Family and backing up Young God label-head Michael Gira as the Angels of Light, and grabbing spare moments to do recordings, including last years 'Akron/Family and Angels of Light' split album and this new mini album, 'Meek Warrior'. This latest release was recorded in Chicago over two days, between the band playing gigs in Iowa City, Urbana Illinois and Milwaukee. It was produced by Griffin Rodriguez, who has played and recorded with Need New Body and Icy Demons among others. He also contributes standing bass to track 4 on the EP, the beautiful 'No Space in this Realm', which reminds me of the quasi 'Frontier band' music Damon Albarn and Michael Nyman created for the film 'Ravenous'. Also working on this recording are renowned free jazz drummer Hamid Drake, as well as members of Do Make Say Think and Broken Social Scene. 'Meek Warrior' opens with the tribal drum intro of 'Blessing Force'; what sounds like a nine and a half minute jam reminiscent of those found at Akron/Family gigs. The band break up the hammering drive of the music with group chanting and hand claps, before grinding onward with even more vigour than before. This track is the most similar in style to the rockier songs found on the split Akron Family/Angels of Light record. The following 6 tracks are much more similar to those found on the band's debut, although as their debut was so varied in style, this doesn't really give much away. 'Gone Beyond' is a fantastic, traditional sounding folk song with brilliantly layered vocals and guitars. Title track 'Meek Warrior' at times sounds similar to Animal Collective's 'Sung Tongs', while 'The Rider (Dolphin Song)' is a piece of psychedelic rock in the style of 60s Pink Floyd. The EP closes with the Depression-era style gospel of 'Love and Space', a thoroughly beautiful piece song created entirely from vocal harmonising. The EP is worth buying for this song alone. Akron/Family remain one of the most eclectic and exciting bands around with this mini album, a record which has left me more anxious than ever to see a new full-length album released.
Track Listing:-
1
Blessing Force
2
Gone Beyond
3
Meek Warrior
4
No Space In This Realm
5
The Lightning Bolt Of Compassion
6
The Rider (Dolphin Song)
7
Love And Space
interviews
---
Interview (2011)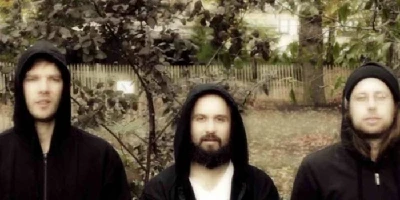 Jamie Rowland speaks to Seth Olinsky from psychedelic folk act Akron/Family, about his group's Japanese-influenced seventh album, 'S/T II: The Cosmic Birth and Journey of Shinju TNT', and the video films that have been created to accompany each of the tracks on the new album.
Interview (2009)
Interview (2007)
Interview (2006)
live reviews
---
ICA, London, 20/5/2009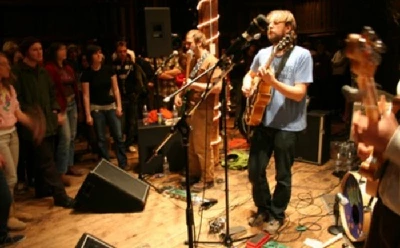 Despite having recently lost founder member Ryan Vanderhoof and now being reduced to a three piece, Sarah Johnson at the London ICA finds New York experimental folk act Akron/Family having lost none of their spontaneity, but also having an increased tightness
Barrymore's, Ottawa, 26/9/2008
Pennyblackmusic Regular Contributors
---