---
Wasted
-

Here We Go Again
published: 11 / 7 / 2004
---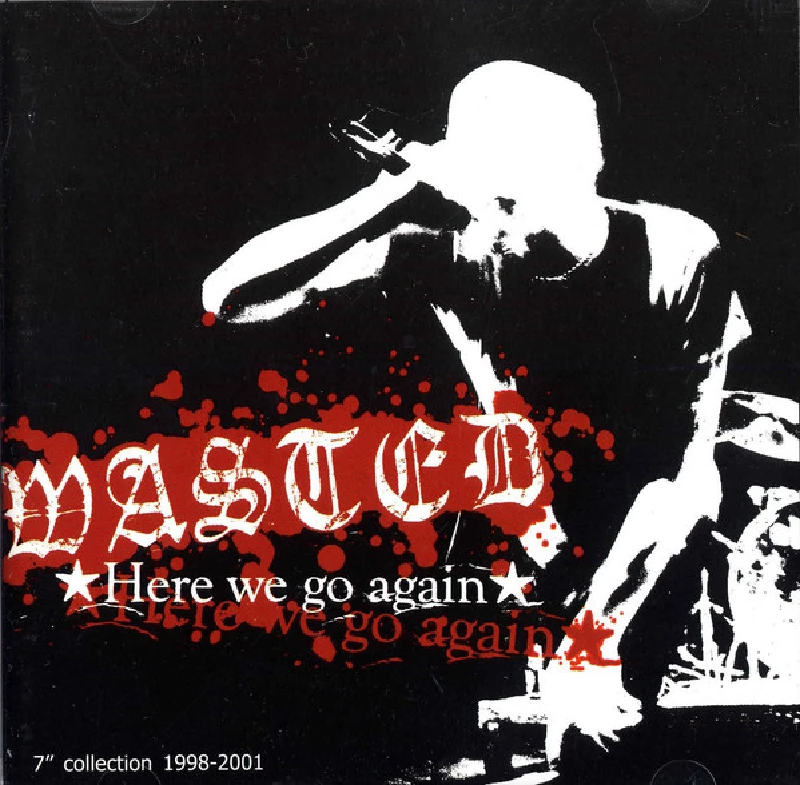 intro
Impressive 29 track compilation, comprising of material recorded between 1998 and 2001, from Finland's finest punk export, Wasted
Finland's finest punk export, Wasted, return with a 29-track compilation of 7" material released between 1998 and 2001. Out on the Boss Tuneage label, 'Here We Go Again' captures the band as they were between the above mentioned dates and reminds us of the set standard for the new album when it finally arrives. Wasted started life in Joensuu in late 1996 and, eight years on, are fast becoming a recognised force in the punk genre. Finland rarely figures when people think of Europe, let alone within the punk scene. Located away from most people's blinkered radar systems, Finland's prime exports include Formula 1 drivers and footballers but away from this you'd be hard pushed to name anyone else of any importance. If you are going to add anyone else to that list… make it Wasted. Playing more old-fashioned punk than we tend to be introduced to nowadays, Wasted use fast-paced guitaring and vocals that rarely change pitch within each song, therefore ensuring punk compliance. Punk tradition is furthered in their lyrics. Speaking often of social problems such as homelessness in 'Shopping Cart', and neglected children in 'Suburban Kids', as well as describing the idiocies of war and idiosyncrasies of our political leaders, 'Here We Go Again' is a testament to good judgement and righteous call for action. Choosing English as their recorded language of choice, Wasted isolate themselves from the Finnish market but are subsequently embraced by the global market, whose trend it is towards a uniform and accessible global language. Even if this isn't their native language it would appear that no intended meaning is lost in the lyrics which remain as important in punk as the music itself. If there can be one track that stands out on 'Here We Go Again',then it is 'Not From Your World', which is exquisite in its music. Its lyrics, however. surpass even this: "Some try to find the truth in a syringe, a glasspipe or a bottle of booze. Some turn to god, religion, flag or the books of the hypocrites' lies. It's an escape, for no matter the cost. Sometimes the cost may be your life. The choice is yours, you're paying the price." When confronted with these thoughts and home truths it is hard not to fall in love with this group of punks. Most tracks open with the ferocious Wasted guitaring and are supported by telling bass playing, especially in 'Braindamage' and 'Shopping Cart'. Listeners are refused the chance to draw breath inbetween songs with each one doing its very best to make its mark on the album. The guitaring is composed, it builds, it often resembles the song subject matter and boy does it rock. The two live tracks included at the end of 'Here We Go Again' suffer from probably having been recorded on someone's Minidisc player but the general live environment is captured better this way and, after 27 pumping tracks, these round off the album without pretence, especially as 'Disconnected' sizzles with grit and raw energy. Wasted are the ultimate representation of traditional modern punks; surpassing much of what has been created in the past decade and running alongside UK band Sick On The Bus for inventiveness and imagination. 'Here We Go Again' is the perfect introduction album: full of quality, dynamic tracks that symbolize punk at its very best.
Track Listing:-
1
Bad Ones
2
Unnecessary
3
Weak Guy
4
Barbed Wire
5
No Reason
6
In God We Trust
7
Braindamage
8
As One
9
Battle Of Life
10
Catastrophe
11
Shopping Cart
12
Twisted Attitude
13
War Heroes
14
Suburban Kids
15
Nuisance For Society
16
Liberation
17
Missing In Action
18
White Trash Disease
19
Fight Back
20
Not From Your World
21
Terrorist (In A Socially Accepted Way)
22
Kick In The Head
23
Decayed
24
F.T.C.
25
One Of Them
26
Open Door
27
Cheated And Misled
28
Barrel Of A Loaded Gun (Live)
29
Disconnected (Live)
Pennyblackmusic Regular Contributors
---