---
Michael Warren
-

Untold Tales Of Ziggy Heroe
published: 1 / 3 / 2022
---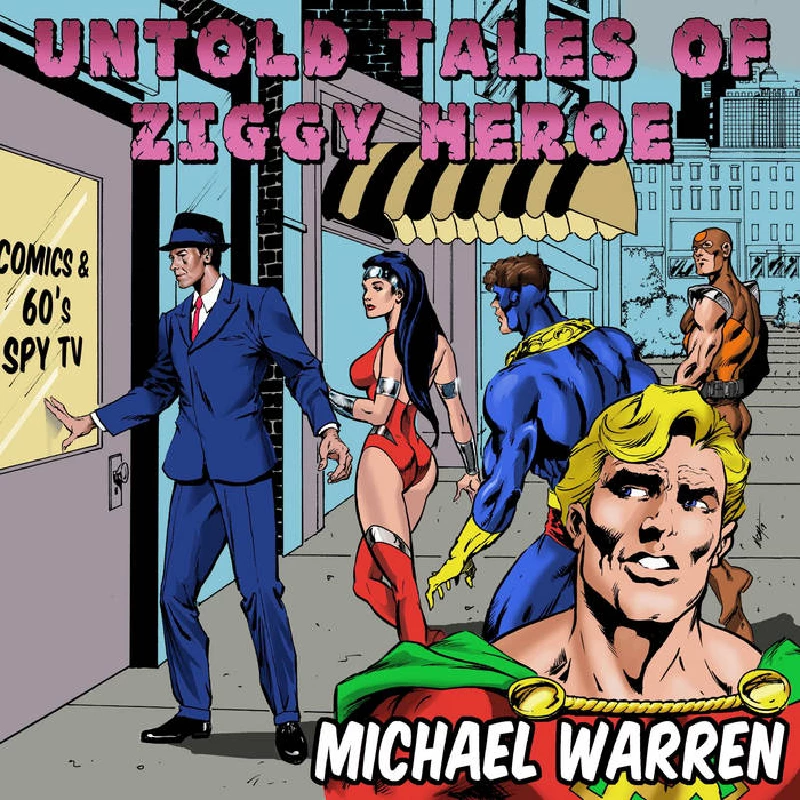 intro
Excellent mixture of covers and originals from Michael Warren who formally performed Bowie covers as Ziggy Heroe in the 1970s and 1980s.
The wonderful Gare du Nord record label surprised us by releasing the 'debut' album from Spring '68 late last year, it was the latest musical offering from the multi-talented Edward Rogers in disguise and an absolute delight displaying a side of Edwards that was new to his fans. Also in the closing months of 2021 the label released 'Untold Tales Of Ziggy Heroe' by Michael Warren. and, while it may well be that with Spring '68 still fresh in our ears we are going to hear similarities anyway there are occasions when, as soon as one of the titles has reached its end, the most natural thing to do is reach for the other. They sound like musical cousins. Yep, 'Untold Tales of Ziggy Heroe' is that good. Like Edward Rogers, Michael Warren is no newcomer to music. Yorkshire based Warren fronted a band who built up a considerable following in the late 70s/early 80s playing to full houses, especially in the Leeds area, with their interpretations of David Bowie songs. A tribute band you might think, but it was never that simple. Warren it appears is a complex character and fronting a tribute band was never going to be his end goal. Listen to the 7" he released under the Ziggy Heroe banner in 1979, 'The Apart Man', an original synth-pop classic, to understand that there was so much more to Warren than knocking out his take on Bowie songs. The striking cover of 'Untold Tales…' will draw many to this album. It looks like a classic Marvel cover from the '60s. A handful of superheroes gravitating towards a shop door emblazoned with the words 'Comics & 60s Spy TV' as a besuited man tries to open said door. It sums up the world of Michael Warren superbly and although not available on vinyl, for once the artwork ( by MC Wyman) is so striking even the CD art is worth the price of the package alone. An absolutely stunning digipak complete with booklet , it will capture many admirers. To the music; the dozen tracks include seven Warren originals alongside covers of a song from Bowie's debut album 'Sell Me A Coat' and Marc Bolan's 'Dreamy Lady'. There are obvious traces of both Bowie and Bolan scattered throughout the dozen songs as well as the work of The Divine Comedy coming to mind on more than a few occasions. There's also something of a theatrical vibe to some of the songs. The inclusion of the John Keating and Richard Quine composition 'Hotel' demonstrates this perfectly, conjuring up images of the hotel band serenading a small audience in the type of hotel that most only glimpse on the silver screen. Warren also gives the Cavanaugh/Stock/Rose written 'The Umbrella Man' his own treatment. Considering this particular song can be dated back some 85 years or so it's to Warren's credit and talent that he still injects new life in to these old songs and will, hopefully, introduce them to a new audience. Along the same lines Warren's take on the Theme from 'The Sand Pebbles', 'And We Were Lovers' updates the numerous versions recorded through the years and stands up well against such admired vocalists like Matt Monroe and Andy Williams. Warren is a crooner with some style for sure. What isn't so sure is Warren's take on Bolan's 'Dreamy Lady'. Maybe it's familiarity with the original, but although the vocal performance is faultless and the backing from his talented bunch of musicians as usual of a high standard the song just doesn't lend itself to this arrangement. The same can't be said, thankfully, for Warren's version of Bowie's 'Sell Me A Coat'. A highlight on Bowie's debut album on the Decca labels hip spin-off Deram this is, unsurprisingly, more suited to the Warren treatment and if it gives more people the inclination to check out Bowie's still underrated early work then it's all good. As for Warren's originals, the album opens with 'Statue and Ghost' and, as mentioned earlier, fans of Neil Hannon's The Divine Comedy will be impressed. Melodic, that instantly recognizable voice, and a host of instruments expertly played providing lush backing that brings out the best in Warren's tales. There's a beautiful, warm vibe to some tracks. 'ABC, ITC, Oh La La' is another captivating tale accompanied by rich backing, Nick Samuel's saxophone playing being a highlight. The fact is that Warren's own songs slot in perfectly with his choice of much older material, you can hardly tell that some of these songs were written eighty years apart. 'Neon Lights' is but just one example of how when Warren slips into late night mode. The listener just shuts the world out and inhabits Warren world for the duration of the song. And if Samuel's saxophone doesn't wash the worries of the day away nothing will. Take it in and float away… .It's a perfect work of art, everything a pop song should be. But if that track doesn't take you to another place try the spoken-word 'Holiday'; a gorgeous melody and Warren's lyrics can't fail to transport you to a happier place. 'Untold Tales Of Ziggy Heroe' then, a collection of songs that initially impresses due to some creative and inspired takes on classic songs, especially the Bowie one, but those originals quickly take over as the favourites. Hope for more in this style from Mr. Warren in the not too distant future.
Track Listing:-
1
Statue and Ghost (Estatua e Fantasma)
2
ABC, ITC, Oh La La
3
Sell Me A Coat
4
The Amazer!
5
Neon Lights
6
Hotel
7
Holiday
8
The Umbrella Man
9
And We Were Lovers
10
Norman Way Enters The London Victory Club
11
Dreamy Lady
12
Things and Ideas
Play in YouTube:-
Have a Listen:-
Pennyblackmusic Regular Contributors
---