---
Various

-

I Love To See You Strut – More '60s Mod, RNB, Brit Soul and Freakbeat Nuggets,
published: 1 / 3 / 2022
---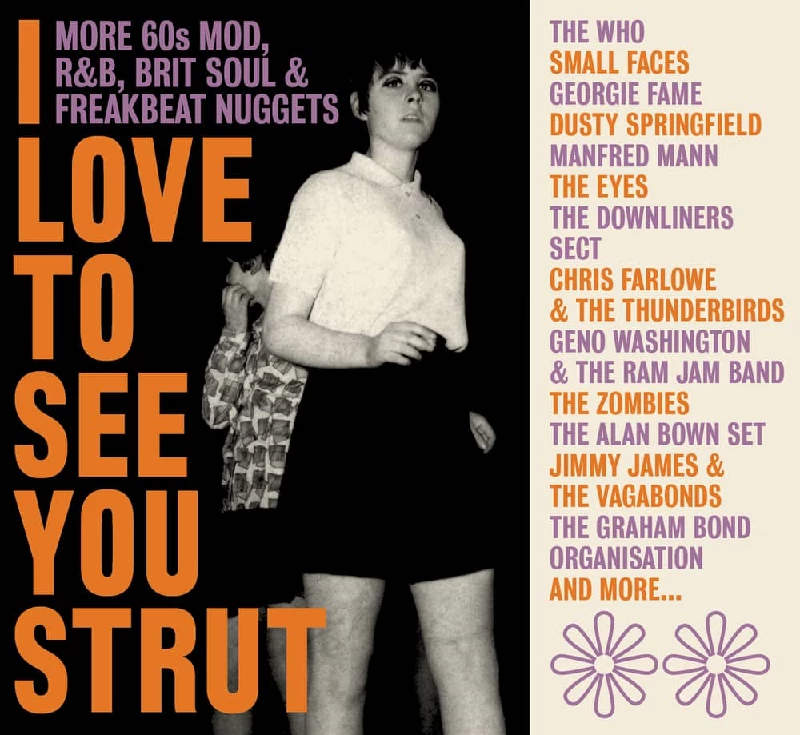 intro
Rollercoaster ride of pop melodies and blues rock on long-awaited follow-up to the esteemed RPM mod/freakscene compilations
More than ten years ago, the Cherry Red imprint RPM released the now-classic compilation 'Looking Back', which compiled eighty tracks of 60s British mod, and it was soon followed by two more box sets, 'Keep Lookin' and 'Night Comes Down'. Now, new imprint Strawberry is taking over the 60s mod/psych/freakbeat reissue plan, and kicks off with this three CD box set, where each disc focuses on different sides to the UK 60s mod scene. The first disc looks to the clubs, the second one on mod legends (like The Kinks, The Small Faces and The Who), while the third disc takes a closer look at the heavier mod sounds, including the more psychedelic acts (like John's Children and The Action). As usual with these compilations, we are treated to both well-known and obscure acts, and in the case of the former, the songs picked for inclusion are often leaning towards the rare tracks, like B-sides or early singles. For example, the Small Faces are represented by an early version of 'Come On Children' (re-recorded for their self-titled debut album in 1966) that was only released on the French EP version of their debut single 'Whatcha Gonna Do About It' in 1965. And the David Bowie song, 'Good Morning Girl', was the B-side to his second single released after taking the Bowie name, 'Do Anything You Say' (1966). So, don't come here looking for the biggest hits, even though I doubt that you were in the first place. Browsing these three discs is a somewhat rollercoaster-like experience. There are lots of great pop songs and amazing melodies, but every now and then it's interrupted by the 'RnB' part of the contents, and I have never really got to grips with blues rock, to be honest. But these tracks are quite few and far between, so I can't complain, really. Keeping with tradition, the production of this box set is immaculate, with very informative sleeve notes and lots of photos. There are a great amount of golden nuggets to be found here, and if you don't want to spend thousands of pounds on the original releases, this is an amazing way to get your hands on all these rare tracks. Sure, it's on CD, but what's wrong with that? Trust me, the CD format will have its revival in the near future, and then compilations like these might cost you a fortune as well!
Track Listing:-
1
Dusty Springfield – Live It Up
2
Georgie Fame and The Blue Flames – Last Night
3
Jimmy James And The Vagabonds – Ain't Love Good, Ain't Love Proud
4
Geno Washington – (I Gotta) Hold On To My Love
5
Herbie Goins And The Nightimers – Coming Home To You
6
Carl Douglas – Something For Nothing
7
The Chants – Baby I Don't Need Your Love
8
VIPs – Straight Down To The Bottom
9
Chris Farlowe – Voodoo
10
Manfred Mann – What You Gonna Do?
11
Graham Bond Organisation – Harmonica (from Gonks Go Beat)
12
Zoot Money's Big Roll Band – The Cat
13
Dr K's Blues Band – Messin' With The Kid
14
Bo Street Runners – Tell Me What You're Gonna Do
15
The Moody Blues – I'll Go Crazy (Canadian mono version)
16
The 'Takers (The Undertakers) – Think
17
The All Night Workers – Tell Daddy
18
Wynder K Frog – Turn On Your Lovelight
19
Johnny And John – Bumper To Bumper
20
Phillip Goodhand Tait – What More Do You Want
21
The Trendbender Band – Unchain My Heart (previously unreleased)
22
The Fingers – Something You Got (previously unreleased)
23
Laris McLennon – Turn Me Loose
24
Ronnie Jones – I'm So Clean
25
Jimmy Royal And The Hawks – I'm Leaving You
26
David John And The Mood – I Love To See You Strut
27
The Athenians – I'm A Lover Not A Fighter
28
The SW4 – No Matter What You Do (previously unreleased)
29
Mickey Finn And The Blue Men – I Still Want You
30
The Who – Run, Run, Run (mono version)
31
Small Faces – Come On Children (French EP version)
32
The Pretty Things – Come See Me
33
The Kinks – I Need You
34
The Downliners Sect – All Night Worker
35
The Artwoods – I Feel Good
36
The Zombies – Is This The Dream
37
Tony Colton – You're Wrong There Baby
38
The Animals – See See Rider
39
The Untamed – I'm Going Out Tonight
40
David Bowie – Good Morning Girl
41
The Riot Squad – Working Man
42
The Scots Of St James – Tic Toc
43
The Eyes – You're Too Much
44
The Herd – This Boy's Always Been True
45
The Koobas – Face
46
The Alan Bown Set – I Really Really Care
47
The Yardbirds – He's Always There (Alternate version)
48
The Misunderstood – Find The Hidden Door (IBC Acetate)
49
The Voice – The Train To Disaster
50
The Drag Set – Day And Night + 35 Others
Label Links:-
http://www.cherryred.co.uk/
https://www.facebook.com/CherryRedRecords
https://twitter.com/cherryredgroup
https://www.youtube.com/CherryRedRecords
Play in YouTube:-
Pennyblackmusic Regular Contributors
---