---
Joe Bonamassa
-

Now Serving: Royal Tea: Live from the Ryman
published: 9 / 6 / 2021
---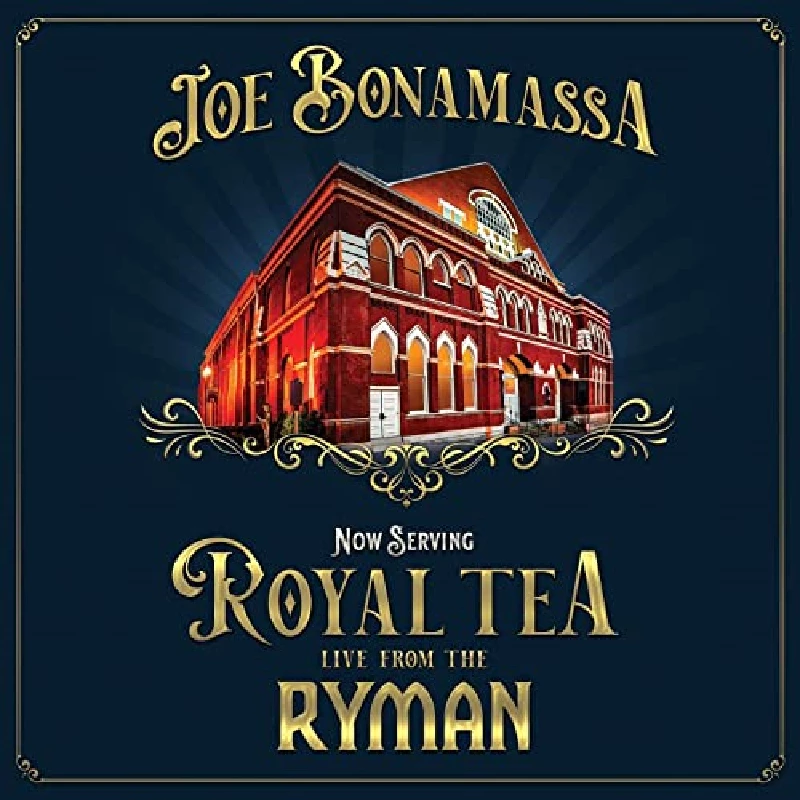 intro
American guitarist Joe Bonamassa, refusing to rest on his laurels despite the Covid-19 pandemic, reunites with his vast number of fans on a new DVD of livestream filmed in Nashville.
Although the Covid-19 pandemic led to a shutdown of live performance last year, it didn't keep Joe Bonamassa from engaging with and entertaining his world-wide fans. By pulling most of his crew together for a "one-night-only" live stream direct from Nashville's Ryman Auditorium, he and his acolytes successfully reconnected. The legendary venue, famous for its "Opry" history, means a lot to the award-winning electric guitarist, as his band has played their multiple times over this last decade, and many country and rock stars have considered the burnished brick building their second home. "I love this place as it is a national treasure and selfishly close to my house," Joe exclaimed on a press release. He added: "As this show was being filmed live, almost 100,000 eyes were on us in various forms around the world in front of TVs and computers alike." Of course, performing in front of cardboard cutouts couldn't replace the excitement of a live crowd, or lead to standing ovations, but the players concentrated heavily on the task-at-hand and created their own onstage excitement. The featured songs which were drawn from 'A New Day Now' and his latest album. 'Now Serving: Royal Tea Live From The Ryman' is available as a CD, DVD, Blu-Ray and Double LP. Bonamassa incorporated another national treasure into the mix: the production was recorded and mixed at the iconic Abbey Road Studio in London. The evening began with a narrative by American actor Jeff Daniels, who called the event, "a tribute to the English blues." Drummer Anton Fig, who had broken his ankle, was replaced by talented Greg Morrow. Rob McNelly served as a dynamic rhythm and second guitarist. The two backing singers, Australian Jade Mac Rae and Dannielle De Andrea kept the back beat moving with their endless energy and choreographed gestures. Bassist Michael Rhodes was irreplaceable. His lines helped build tension in all the right places. Blues harpist Jimmy Hall volleyed back and forth as a dynamic lead instrumentalist as well as rhythm maker, and no concert would be complete without the enthuse and straight-ahead riffery of organist/keyboardist Reese Wynans. 'When One Door Opens' was an excellent starting point. Co-written by Bonamassa, producer Kevin Shirley and Pete Brown, this song makes excellent use of the entire ensemble, with its expanding range of dynamics. Title song, 'Royal Tea' (Bonamassa, James House, Shirley) was about a "high-class girl" with "low-class ways,"; Bonamassa's rich vocals clued us in to the subject's shortcomings. Bonamassa, Shirley, Brown and Mike McCully co-wrote the effusive 'Lookout Man!,' which was a virtual show stopper, with generous use of the whammy bar, and a low-humming bass line. Bonamassa engaged with the bassist and conducted a call and response with the blues harp. Throughout the show, Bonamassa's vocal risks dearly paid off. With the utmost confidence, he shimmied from falsetto to a deep grumble when the story commanded it. In fact, his delivery has never sounded better. Also, his pumped-up attitude came through the lyrics loud and clear. It was also obvious that each song was hand-picked by virtue of either a soaring melody, infectious rhythm or a well-constructed tale. Bernie Marsden and Bonamassa teamed up to write 'Why Does It Take So Long to Say Goodbye?' and 'A Conversation with Alice.' The backup singers did a great job supplying nuance and Wynans played a dynamite melodic solo. The cleverness of 'I Didn't Think She Would Do It' (Bonamassa, Marsden, Pete Brown) far exceeds its catchy title. There's a strong element of surprise that rings through the entire song. Seemingly Hendrix--inspired, with its unorthodox harmonies, the background even featured psychedelia. The ethereal 'Beyond the Silence,' written exclusively by Bonamassa, suggested an impermeable soulfulness. Smoke rose from the risers as he sang of "the storm rages." 'Lonely Boy' written by Bonamassa, Dave Stewart and Jools Holland also touched on heightened emotions. Wynan's old-timey solo was an addictive addition, as was the blues-harp. The concert touched down on other eras. 'Cradle Rock' is an old-standard made famous by Rory Gallagher, but as expected Bonamassa gave it his own spin. When ticking off the astute lyrics, such as, "If I was the atom then you'd split me into three," Bonamassa completely kept up the pace. 'Walk In My Shadows' by Andy Fraser, Paul Kosoff, Simon Kirke and Paul Rodgers was another ballad that pulled at the conscious and wielded great humanity. "When you walk in my shadow, I'm going to give you what's in store" was the payoff. 'A New Day Yesterday/Starship Trooper – Wurm' was derived from a blend of songs made famous by Ian Anderson and members of Yes: Anderson, Howe and Squire. Bonamassa is a master of medley. The transitions were unpredictable, yet seamless. The set began quietly with hushed vocals and ritualized "oohs" and "ahs." The players were all dressed in black, with Bonamassa wearing the glitteriest outfit. Each song featured a grand solo, with Bonamassa, as expected, contributing heavily, or with McNelly pulling out the slide. The film crew made sure to focus in on Bonamassa's expert shapes, bended phrasing and lightning-fast runs, which reflected his years of dedicated study. Interspersed among these clips were shots of around-the-world concerts: Beacon Theatre, New York, LA's Greek Theatre, Vienna Opera House, Sydney Opera House, Australia, Shepherds Bush in the UK., etc. Wynans was second-in-command in terms of charisma. His bright fills and extended solos added amazing colour. Of course, having played with Bonamassa for so long, it's no surprise that the men almost read each other's innovative minds.
Track Listing:-
1
When One Door Opens
2
Royal Tea
3
High Class Girl
4
Lookout Man!
5
Why Does It Take So Long To Say Goodbye
6
A Conversation With Alice
7
I Didn't Think She Would Do It
8
Beyond The Silence
9
Lonely Boy
10
Cradle Rock
11
Walk In My Shadow
12
A New Day Yesterday / Starship Trooper - Wurm
Band Links:-
https://www.facebook.com/JoeBonamassa
http://jbonamassa.com/
https://twitter.com/JBonamassa
https://instagram.com/joebonamassa/
https://plus.google.com/102366655585860589479/posts
https://www.pinterest.com/joebonamassa/
Play in YouTube:-
Have a Listen:-
live reviews
---
Austin City Limits Livestream, 1/4/2021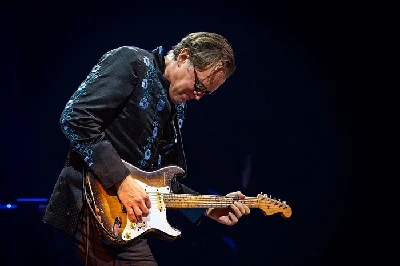 For fans of guitarist and singer-songwriter Joe Bonamassa, Lisa Torem discovers that the Austin City Limits livestream is an exciting way to celebrate the old and the new in the comfort of one's home.
Pennyblackmusic Regular Contributors
---