---
published: 9 / 6 / 2021
---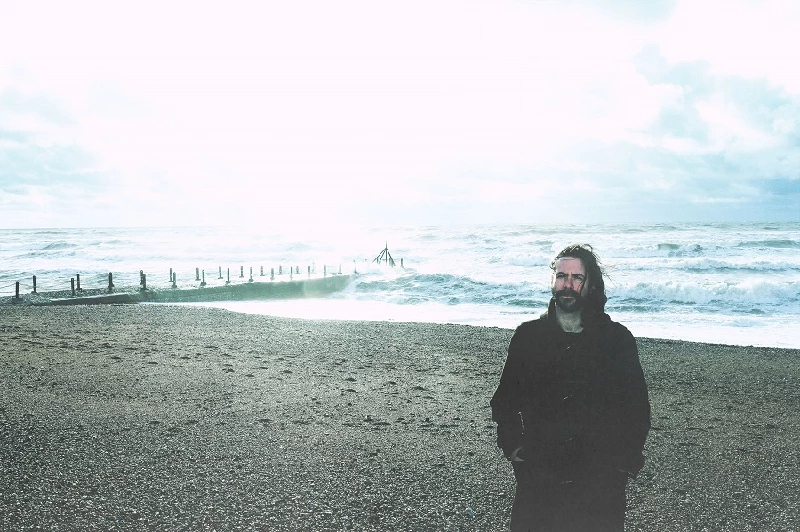 As MG Boulter's latest album 'Clifftown' is receiving well-deserved praise and recognition, Pennyblackmusic took the opportunity to find out more about the inspiration behind the music. Our discussion took in psychogeography, local history and the special place Southend-on-Sea holds in Boulter's own past and present. As a singer-songwriter he has brought a very personal approach to his interpretation of Southend's ups and downs through his music. As someone fascinated by the past he has also found fresh ways to share the history of this Thames Estuary area with his Clifftown podcasts. PB: Thank you for this opportunity to find out more about your recent album, 'Clifftown'. It's a very personal response to your hometown, Southend-on-Sea, based in a mix of reality and imagination. Were you expecting it to resonate so strongly for others? MGB: I wasn't expecting the response I have had and it's been great to hear how people have identified with the themes of the record. The album is very much about suburbia and the British seaside and I was keen to put on record the experience I've had in those places - they've been a huge part of my life. I think people have responded to those aspects the most because they don't crop up too much in song but it's something we've all experienced and most of us live in suburbia. I wanted to be as authentic to the place (and to me) as I could. It's been really rewarding to see people engage with the concept and themes as much as the music itself. I liked the album title 'Clifftown' because it conjured up this fictional almost gothic place - a town on a cliff - but also it's the name of the Georgian/Victorian area of Southend so it's a nice double reference. PB: How would you define your music? You've been linked with Americana as a genre and I have also heard your music described as 'chamber folk'. MGB: I never really think of my music as sitting in one genre or another and the way you are labelled is often based on the prevailing musical trends of the time. Ten years ago I was described as Americana but this changed to folk as the trends changed. I can see myself in both camps but I like to use instrumentation that doesn't always fit with either of those genres - clarinet, vibraphones, synthesisers. I'm most comfortable with 'singer-songwriter' because that is essentially what I see myself as. I write songs, I play guitar and in the studio I can make those songs whatever I want them to be. That said, I will always be proud to be referred to as "The Waterboys on trucker pills" [as 'Q' magazine once described Boulter's previous band]. PB: In 2016 you were one of eight musicians chosen for the Estuary Songwriting Project] to create a show's worth of material about the Thames Estuary. Did that experience have an impact on the development of 'Clifftown' as a project and concept? MGB: That was such an enjoyable project. It was set up by the Leigh Folk Festival and the eight of us worked on about 20 songs over a humid summer week in 2016 at Chalkwell Hall, a sprawling house in the grounds of Chalkwell Park near where I live. The main focus of that project was to write songs about the River Thames and its surrounding environment. I have been writing songs about Southend and the area for many years. 'Clifftown' is a culmination of that. I was chosen for the Estuary Songwriting Project, I think, because of my previous form in writing about the area. The Estuary Songwriting Project very much focussed on the estuarine and nature aspects of Southend, while 'Clifftown' is more about the faded neon and the human experiences of the town. PB: Can you tell us more about the part [producer] Andy Bell has played in your music? MGB: Andy is a good friend of mine. I first met him at Sheffield train station when I went up to play a session for Neil McSweeney's 'Cargo' album in 2013. Neil is a great Sheffield singer-songwriter and Andy was his producer. We got on really well and when Andy heard my debut album "The Water or the Wave" he said something along the lines of "I'll make you a record next time you want to do one". Well, I needed no second invitation. We began recording 'With Wolves the Lamb Will Lie in 2014, which was a watershed moment for me in that I felt I had made my first 'proper' record. That album was picked as one of the top folk albums of 2016 by 'The Daily Telegraph' – clearly I'd been moved on from Americana by then - which set the agenda for our working relationship. He subsequently produced my 2018 EP 'Blood Moon', as well as 'Clifftown'. I like working with Andy because he always puts 100 per cent into the recording. He pays attention to everything that's happening. He'll challenge me to reassess a song: speed it up, change the key or remove a verse, but he'll also let things flow when they are sounding good. I always see record producing as similar to being a sports coach. You have to get the best out of your athlete/musician without burning them out. Andy is a good coach in that respect. PB: Your website, with its podcasts and guided tours of the area, is a wonderful record of local history. In 'Clifftown' you have created an imaginary place peopled with seemingly real characters. How did your background as a historian influence the album? MGB: I am obsessed with archives, heritage and folklore. I have a Master's degree in medieval history and it's never really left me. There's something fascinating for me in uncovering hidden histories. Southend and the surrounding area is strange because although the town is relatively new, the land is old. There's Bronze and Iron Age sites here and the Romans were very active in this corner of the country, as were the first Saxons, so beneath the surface of the road networks, amusement arcades, and endless post-war housing you find Roman salt mines, graves of massacred Vikings and 18th-century oyster wars with the men of Kent. As I get older I see the town change, not necessarily to my liking, so psychogeography and landscape history is important for me in keeping a thread through it all: the human's desire to take control of the chaos! The Clifftown Podcast which is a companion project to the album, sees me explore the history of Southend through interviews with a whole host of local voices from cockle fishermen to escapologists. I have very much fallen down a rabbit hole with it and I have genuinely uncovered some amazing stories - there's a great story about Harry Houdini's links to Southend coming up in the June episode. PB: As a storyteller, have you ever been tempted to tell your stories in a different form, as a film, or in print? MGB: Warren Zevon once said of his friendship with novelist Carl Hiassen: "every songwriter wants to be a novelist and every novelist wants to be a songwriter". I always liked that quote because it rings true for me. I would love to write a book but I've never had the patience. I am currently stepping up to the edge and toying with the idea of writing a book based around the podcast series - a psychogeography of Southend, I suppose. I have opened up the computer numerous times to start it but I end up with a blank page and a lot of time spent looking out the window. Films or visuals have never captured my imagination in the same way as words and music - I'm not sure where I would start in those mediums. PB: How much of the album was planned before or during lockdown in March 2020? Do you think 'Clifftown' has a future, post-pandemic? MGB: Seaside towns have had a challenging time over the last few decades. They are competing with cheap foreign holidays, reduced attractions due to everything being replaced by housing and also the change in what people like doing. Is the seaside holiday now old fashioned? There's an interesting arts scene down here but it lacks financial investment or impetus. Venues and shared spaces are closing down, probably even more so after the pandemic. All places go through cycles and I am sure in time the high street will rejuvenate and there will be different reasons for people to come and visit or live here. In terms of the album in relation to the pandemic, I actually recorded it in 2019 in a time where there was no mention of Covid. Where I think the album resonates with our shared recent experiences is that seaside towns, Southend included, have an aura of absence about them. The summers are hectic here with lots of day-trippers but in the winter it's dead. There's always a feeling that no-one is here to stay, they're just passing through onto the real life happening elsewhere. I read a novel recently where seaside towns were referred to as 'suicide towns', not in the obvious sense of the word but because the seaside is where you reject the busy self, the progressive self. You accept the repetition of tide and time, the endless sea and the calmer days of routine. That sounds like the forced slowing down of the country caused by the pandemic - everyone was living in a seaside town for those lockdown months, I feel. PB: What's next? Will you get a chance to tour the album? Are you working on new songs and what story will they tell? MGB: I am always writing songs and there is certainly enough for a new record. Watch this space on that one. I have just been commissioned to co-write a new play called 'Tales from the Thames' for the Queen's Theatre in Hornchurch so I am busy writing songs for that. I'm on tour from summer 2021, fingers crossed, and I am hoping to bring a fuller "Clifftown" tour to venues in the spring of 2022. Of course, the podcast is running along in the background and I am currently busy collecting information about the 'cunning men' of Hadleigh and Canewdon and the various witch trials that occurred around Southend in the sixteenth and seventeenth centuries. PB: I identify as a northerner, but I once had the option to move to the Southend area, with a friend who was moving back to where they felt at home. I didn't take it, but I have had breakfast in one of the cafes in the arches under the cliff, and I've been to the folk club at the Ship in Leigh on Sea. I've also lived in a tourist area that suffered from a seasonal economy and a lack of opportunities for the youngsters. There's plenty to relate to in your songs. Thank you for taking the time to share some of your thoughts in this interview. MGB: It's been great to answer your questions, you've done your research here which I am really grateful for. Southend is a strange place, it keeps a lot of people but also people gravitate towards it. No matter where I go in the country or the world, there's always someone who has some connection to the area. The arches are still there and during the lockdown I would get a coffee from there when out walking with a friend. If you haven't already you must check out James Canton. He is a nature writer at the University of Essex and writes a lot about psychogeography. I am also very much into landscape history, which is slightly more history based. You should check out W G Hoskins' 'Making of the English Landscape' [. I'm really pleased you're enjoying the podcasts too. I'm enjoying making them but don't always know if they're landing right with people. PB: Thank you.
Article Links:-
https://hudsonrecords.co.uk/product/m-g-boulter-clifftown
https://smarturl.it/theclifftownpodcast
https://www.estuaryfestival.com/event/detail/the-estuary-songwriting-p
https://jamescanton.co.uk/
https://smarturl.it/theclifftownpodcast],
Band Links:-
http://www.mgboulter.co.uk/
https://www.facebook.com/MGBoulter/
https://twitter.com/mgboulter?lang=en
Play in YouTube:-
Have a Listen:-
Picture Gallery:-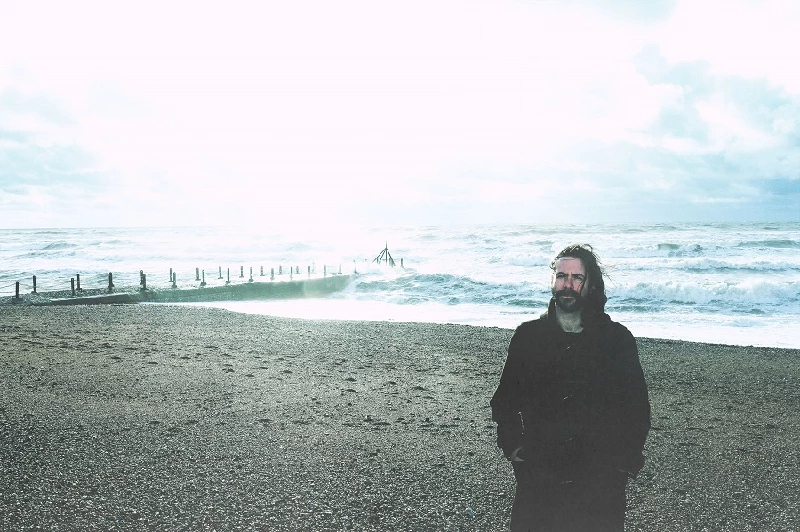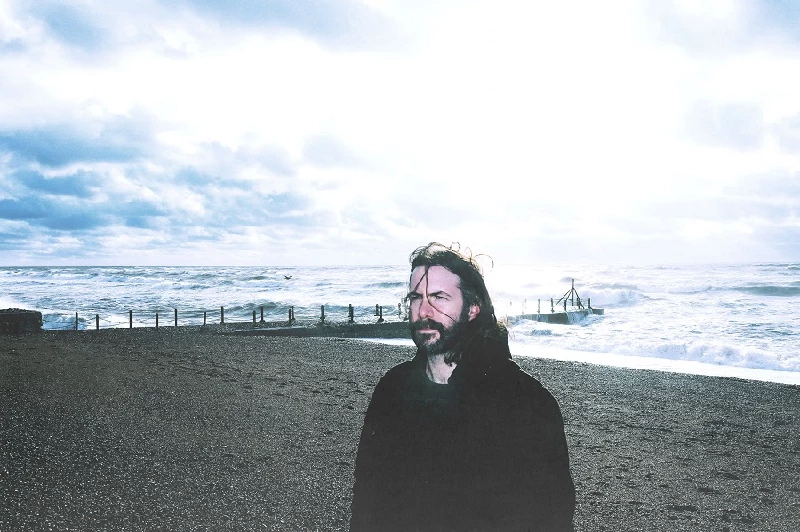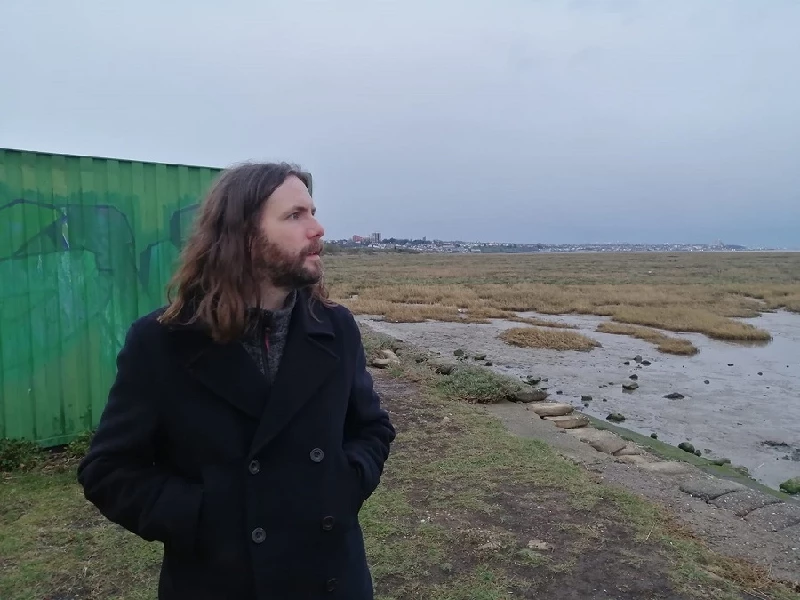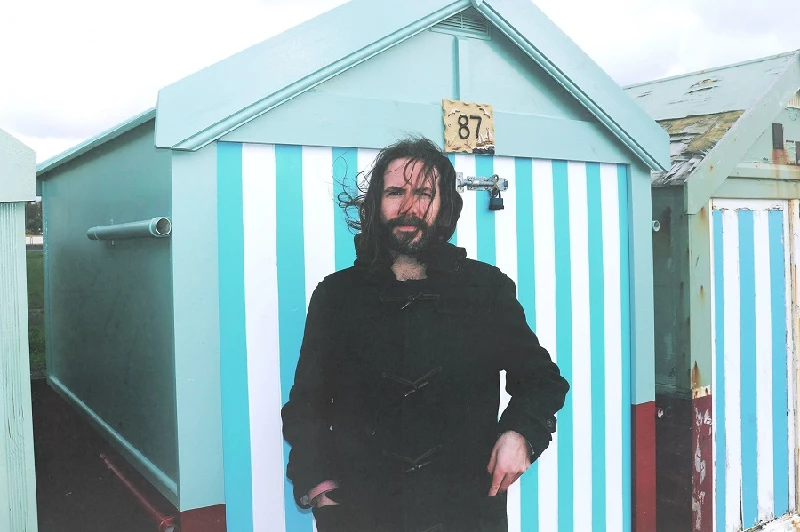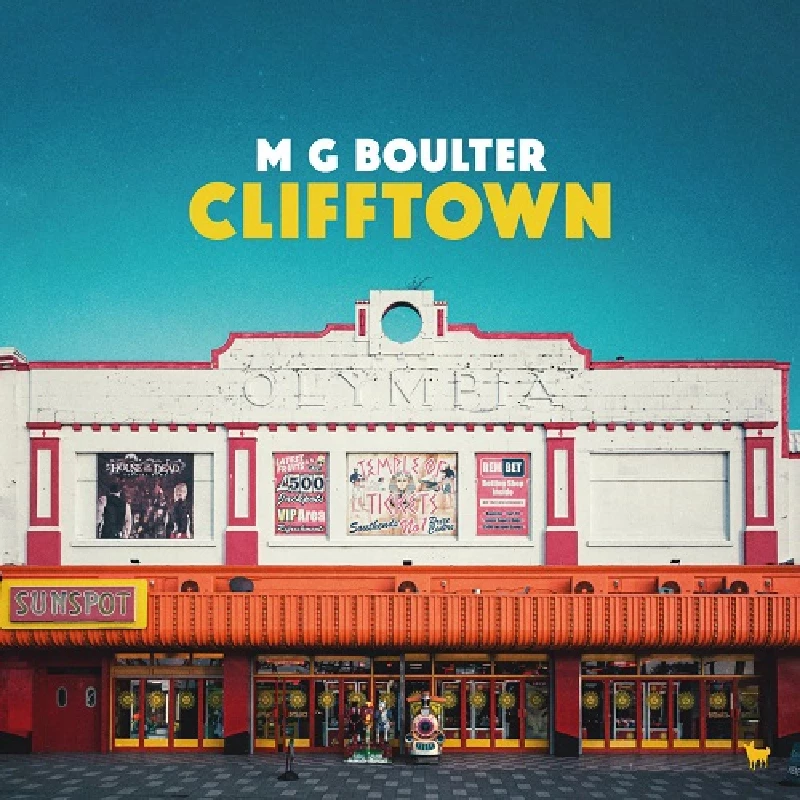 intro
Nicky Crewe talks to singer-songwriter MG Boulter about his acclaimed new album 'Clifftown' upon which he examines his hometown of Southend-on-Sea.
reviews
---
Clifftown (2021)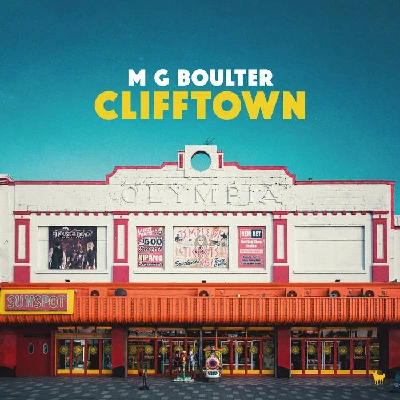 Highly personal and evocative new album from M G Boulter which tells of his relationship with his home town of Southend on Sea
Pennyblackmusic Regular Contributors
---