---
published: 7 / 4 / 2021
---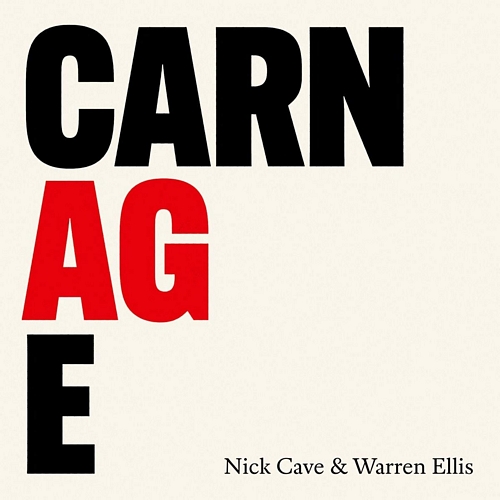 Label:
Goliath Entertainment
Format: CD
Intense and versatile collaboration between Nick Cave and his fellow Bad Seeds member Warren Ellis
Following on from Nick Cave's live piano album 'Idiot Prayer', the second quarantine record by Cave has just been released. 'Carnage' was recorded with multi-instrumentalist and fellow Bad Seeds member Warren Ellis, the first collection they have made as a duo, although previously collaborating on film scores. In his Red Hands Files blog Cave said the album emerged from his "taking stock of life" when the pandemic stopped his band The Bad Seeds from touring. The result is "a brutal but very beautiful record embedded in a communal catastrophe." Cave said he spent the early part of lockdown "reading, compulsively writing and just sitting on my balcony thinking about things"; the new album "just fell out of the sky. It was a gift." Ellis adds, "making 'Carnage' was an accelerated process of intense creativity…the eight songs were there in one form or another within the first two and a half days." Intensity underpins 'Carnage', taking the audience on a kaleidoscopic journey with travel, symbolic and literal, a thematic thread throughout. The album has a cinematic scope, the music eclectic, set against images, backdrops and visceral emotions, from the jarring, sombre opener 'Hand of God' with its Old Testament references (Cave has said: "My life is dominated by the notion of God, whether it is his presence of his absence") to the comedic lines of 'White Elephant': "I am a Botticelli Venus with a penis/Riding an enormous scalloped fan." Highlights of the eight-track collection, alternating between sorrow and hope, all songs credited to Cave and Ellis, include: 'White Elephant' with its angry, aggressive lyrics and race equality movement context; the escapist meditation of 'Albuquerque': "We won't get to Albuquerque/Anytime this year/We won't get to anywhere, darling/Unless you take me there, darling"; 'Shattered Ground' with its epiphany-like moment: "There's a madness in her and a madness in me/And together it forms a kind of sanity"; and the closer, the ballad 'Balcony Man', encapsulating an unprecedented time– "Where everything is ordinary until it is not"- Cave, singing with a choir, sounding a final positive note: "This morning is amazing and so are you…./You are languid and lovely and lazy/And what doesn't kill you just makes you crazier", signalling a quiet, but powerful resilience. Contemplative, edged by vulnerability, 'Carnage' marks a striking collaboration.
Track Listing:-
1
Hand of God
2
Old Time
3
Carnage
4
White Elephant
5
Albuquerque
6
Lavender Fields
7
Shattered Ground
8
Balcony Man
Band Links:-
http://nickcave.com/
https://www.facebook.com/nickcaveofficial
https://twitter.com/nickcave
http://en.wikipedia.org/wiki/Nick_Cave
Play in YouTube:-
Have a Listen:-
Pennyblackmusic Regular Contributors
---