---
published: 6 / 10 / 2020
---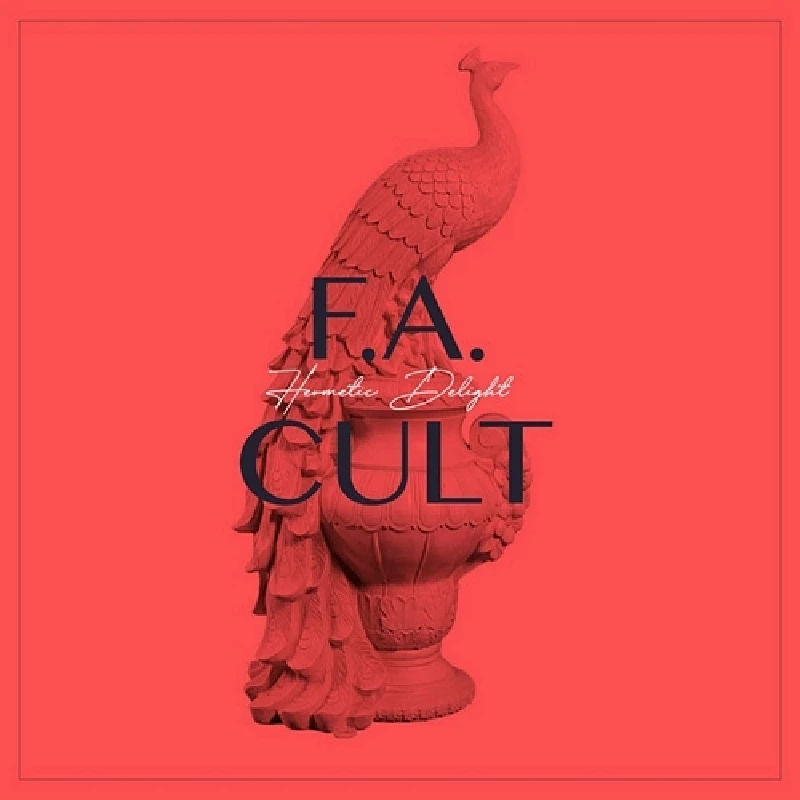 intro
Debut album from French band Hermetic Delight who try to merge rock and pop, and at their best produce deep pleasure
Hermetic Delight have existed for a decade, with three EPs released before this debut. What adds extra curiosity value is the fact that Anna Calvi is a friend of the band, who helped to shape the album through her comments and support. The music of 'F.A. Cult' swerves between pop and rock, often within the same song. 'Glassdancers', with its breathy vocal and stabs of keyboard, is initially a lost piece of 80s pop, but is taken to another place at the end by a strident guitar solo. Meanwhile 'Rockstarian' (sung in Turkish by trilingual vocalist Zeynep Kaya), is introduced by some fast, almost punky strumming and drumming that recalls My Bloody Valentine, but gradually becomes overlaid with a sweetening synth. (The video, by the way, is an outstanding candidate for the Most Bizarre of 2020 category.) As their name suggests, as a French band Hermetic Delight have an interesting relationship with the English language. It's demonstrated again in the title 'These Quantic Feelings', though they are seemingly unaware that the British in fact constantly muse upon the emotional impact of the rational integral function of two or more variables. The song itself is something of a power ballad, guitarist Atef Aouadhi contributing a crafted melodic line to accompany Kaya's Kate Bush vocal drama. The language shifts again in the Gallic pop of 'Le Parfum de la Nuit', over a stop start rhythm and string synth. Aouadhi, who is an impressively versatile player, here employs a twangy guitar tone. Overall, it's a somewhat bland and competent number, albeit slightly subverted by some hints of dub effects. 'Holy Sister' is another tuneful pop ballad, raised above the merely pleasant by Kaya's expressive singing on the chorus and Nicolas Kientzler's warm, nimble bass. As if deciding to up the ante after seducing with more easily assimilated pop, the last four tracks are where Hermetic Delight, and producer Charles Rowell, really hit upon something outstanding. 'A Void' begins with an agitated guitar, thumping kick drum and alarm effect; after that, the sound becomes even denser, with a swarm of keyboards, unremitting drums and Kaya's reverbed vocals, the whole adding up to something with the feel and neurotic energy of Alan Vega. Even more mesmerising is 'Unravel'. A misleadingly gentle Cocteaus-like guitar is soon replaced by a far fiercer tone, coupled with compelling bass and drums. These elements would arguably make it the album's most intense song anyway, but there is no argument once Kaya's operatic singing joins in. Although as music it's completely different from Pink Floyd's 'Great Gig in the Sky', it's on a par for surprise and emotional power. After this, 'Common Love Square' is at first something of a relief, the music largely reduced to stark bass and drums on the verses, though the guitar ramps up strongly in between. The addition of screeching sheets of sound demonstrate again how rock and pop elements intermingle on this record, and at times even bleed into noise: by the coda, Aouadhi is engaged in some Kevin Shields-style shredding, Kaya's multitracked, Elizabeth Fraser-like vocals, babbling ecstatically of "teenage boys, teenage girls", take closer 'How High Is Your High?' to a rapturous peak. Asking also "How deep is your dream?", it's maybe chiefly addressed to those same teenagers, but its musicality is uplifting for any age. Aouadhi has previously described Hermetic Delight's music as "chiaroscuro, soft and violent, always intense". If a few of these songs are more passable pop than anything else, there are also some that far better support his view, and which will be a real pleasure to return to. In any event, it can only be a good thing that the secret of Hermetic Delight has at last emerged.
Track Listing:-
1
Glassdancers
2
Rockstarları
3
Rockstarları (Continued)
4
These Quantic Feelings
5
Le parfum de la nuit
6
Holy Sister (2020 Version)
7
A Void
8
Unravel
9
Common Love Square
10
How High Is Your High?
Pennyblackmusic Regular Contributors
---