---
published: 24 / 12 / 2018
---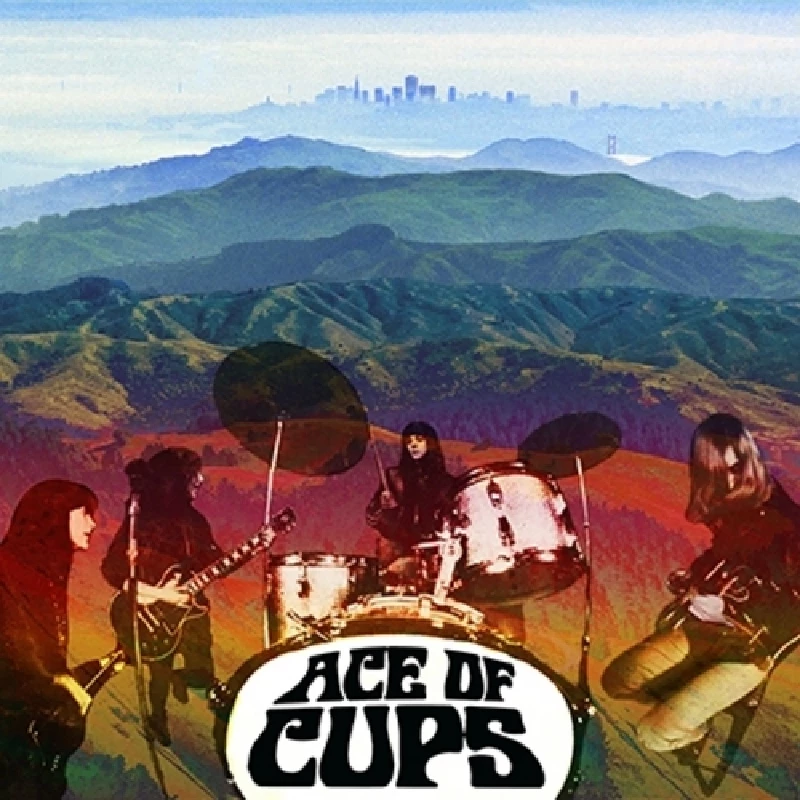 intro
Inspirational and exciting double CD from the Ace of Cups. A group of San Francisco-based women musicians, who have finally had the chance to bring out their debut album fifty years after they met
This is a remarkable story and it has been a joy to listen to this double album. My first question was,"Why haven't I heard them before?" and my second question was " What does their name signify?" I'll answer the second question first. The Ace of Cups in the tarot pack shows five streams of water flowing from a cup. The key themes are abundance, creativity, intense relationship, satisfaction and success. Other interpretations are available, but that seems to sum up the story of this amazing band of women, who got together in the San Francisco Bay area over fifty years ago, supported the Band, the Grateful Dead and Jimi Hendrix, played free concerts and benefits and San Francisco ballrooms and found their place in the creative counter culture of the time. One of them, Denise Kaufman, was even on Ken Kesey's bus! Highly regarded by fellow musicians, they nevertheless found it difficult to get a recording contract. They formed in 1967 and by 1972 life had intervened. Four of the members had children by then and the music industry wasn't set up to support their careers as women musicians. The marketing men didn't know what to do with them. Scandalous! It's been a long time coming, but success and satisfaction are definitely on the cards. To answer the first question, I hadn't heard them before because I was a long way from San Francisco and no one I know has ever had a bootleg tape of their music. In spite of their changing circumstances, they kept in touch and kept their musical lives going. In 2011 they were asked to play at Wavy Gravy's 75th birthday party, where they met High Moon Records' founder George Baer Wallace. There was talk of releasing some of their archive recordings, but when they played live he offered them the chance to record their first studio album. This double CD is a mix of back catalogue and new material. There are twenty-six tracks on it, with plans to release another sixteen tracks next year. Friends from the past wanted to get involved and there are some wonderful collaborations, showcasing the range and quality of their music. Jorma Kaukonen, Jack Casady, Pete Sears, David Grissman and Charlie Musselwhite are among the musicians and there are lead vocals by Taj Mahal, Bob Weir, Buffy Saint Marie and Peter Coyote. The music ranges from rock to blues, from folk to accapella, with a psychedelic twist. There's sampling that recalls Spirit's 'Future Games'. There are flashes of Electric Flag on 'Stones'. There's a spark of Country Joe and The Fish on 'We Can't Go Back Again'. The Taj Mahal collaborations, 'Daydreamin' and 'Life in Your Hands' are wonderful. Sitars feature on the 'Living in the Country' medley. Buffy Sainte Marie's 'Pepper in the Pot' has a New Orleans feel. There's a great version of Bill Wither's 'Grandma's Hands' which has an added resonance because perhaps some of them are. Bob Weir and Pete Coyote do a great job on their respective songs, 'The Well' and 'As the Rain'. There's even a Transatlantic sessions/Celtic feel to some of the music. I mention these associations to give some idea of the range of their music. They had friends and fans among these famous bands of the time too. They are definitely of their time but their music is timeless. They are a great rock band, but two of my favourite tracks have a very different mood. 'Macushla/Thelina' is a welcome to a newborn and the final track is the uplifting 'Music' with its lovely sentiments and harmonies. Back in 1967 being an all woman band was revolutionary. In 2018 it's their age that is. Four of the original members, Mary Gannon, Mary Ellen Simpson, Diane Vitalich and Denise Kaufman, are back together, recording and writing and they are all in their seventies. It's so inspirational to finally listen to their music and hear their story. There is talk of them touring too and that is something I would love to see.
Track Listing:-
1
Introduction: There's a Record Being Made
2
Feel Good
3
Pretty Boy
4
Fantasy 1&4
5
Circles
6
We Can't Go Back Again
7
The Well (feat. Bob Weir)
8
Taste of One
9
Mama's Love
10
Simplicity
11
Feel It in the Air
12
Interlude: Transistor
13
Stones
14
Interlude: Baby from the Forest of Knolls
15
Life in Your Hands (feat. Taj Mahal)
16
Macushla/Thelina
17
As the Rain (feat. Peter Coyote)
18
Daydreamin' (feat. Taj Mahal)
19
On the Road
20
Pepper in the Pot (feat. Buffy Sainte-Marie)
21
Interlude: Breath
22
Indian Summer
23
Grandma's Hands
24
Medley
25
Outroduction: It's Always Safe...
26
Music
Pennyblackmusic Regular Contributors
---