---
Robb Johnson
-

Ordinary Giants: A Life And Times 1918-2018
published: 24 / 12 / 2018
---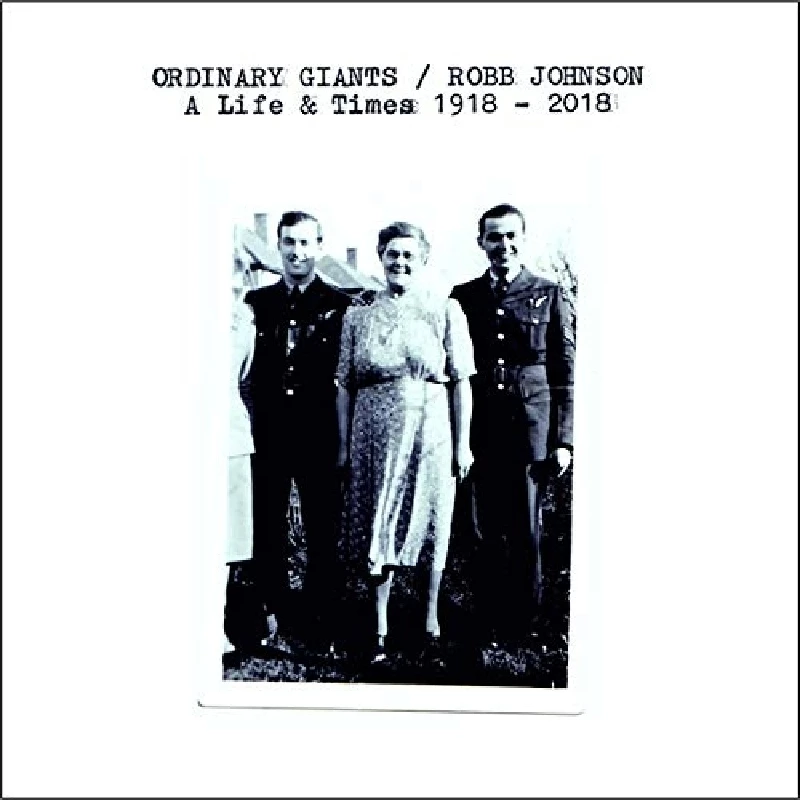 Label: IRR
Format: CD Box
intro
Remarkable three CD album from British singer-songwriter Robb Johnson, which based on the life of his father Ron, acts as a social and political history of the twentieth century
This is very much a collection of songs that act as an aural social and political history of the twentieth century. The triple CD release is based on the life and times of Robb Johnson's father Ron, and takes in the hundred years from 1918 to the present, an era that saw a multiple of upheavals in the fabric of UK society. Johnson is ably assisted by the likes of from well-known names like Tom Robinson, Claire Martin, Boff Whalley, Roy Bailey, TUC General Secretary Frances O'Grady, MP Dennis Skinner, FBU activist Steve White, Joe Solo, Tracey Curtis, and Alan Clayson. Robb's parents are sung by Phil Odgers (from The Men They Couldn't Hang) and Miranda Sykes, currently the bass player with Show of Hands. It is a gigantic piece of work, with 54 tracks/songs that take up all your attention for a good three hours, and rightly so. This is important stuff, and delivers an alternative narrative to these historical events, which is a refreshing change to the usual offerings of the main stream media. So we have the post Great War 'Land Fit For Heroes' which ironically talks of new houses for those who pack up their dead mates and keep quiet. 'Slow Progress in 1929' highlights the juxtaposition of the liberal elites' embracement of Modernism,compared to the daily challenges of working class life, especially when your husband has done the work, but not been paid. The second CD covers the years 1940 to 1969, and again the social and political commentary continues. 'A Very Nice Man in Uniform' hits the mark with laser precision. You can imagine it being performed in a music hall, taking pot-shots against the Duke Of Windsor, who is fighting for democracy whilst playing golf there. But Lofty ends up in the deep blue sea, having been sent to the Bahamas to keep the 'U Boats from our Bananas'; we end up with a bitter taste in our mouths. The third CD starts off with the beautiful 'Semi Detached', which compares the new suburban life, the technological revolutions, yet the title of the song acts as a metaphor of how communities are beginning to fragment- "everyone moved away..." A precursor to Maggie's statement on society. 'Desk Job' starts off with a myriad of conversations, and deals with Ron Johnson's retirement in 1982 with milestones of the welfare state and the importance of education. The odyssey ends with 'Ordinary Giants' which is a validation of the working class, the ordinary folk that through turbulent times put their collective shoulder to the wheel and got us through... My advice is to seek this work out and realise at first hand its power and humble majesty. We are faced with many contemporary challenges, but our spirit can be bolstered by acknowledging that extraordinary feats can be performed by ordinary people. Robb Johnson realises that the wheel is turning and we can learn much from our collective history. Keep the door open, were coming through.
Track Listing:-
1
Giants
2
A Land Fit for Heroes
3
The Mysteries of Fulham
4
Pretty Maids in Tin Cans
5
Slow Progress 1929
6
The Hang of the Door
7
Here Comes Mr Gandhi
8
Did You Go to Eton? 1934
9
Holding Hands with Hitler
10
Where You Go Depends on Where You Come From
11
Lou 1936
12
Have You Heard the News? 1936
13
The Gentlemen of the Chorus
14
One More War
15
Welcome Him Home
16
Kitty and Me
17
September's Song
18
Just Don't Volunteer
19
November's Song
20
Winter Statistics
21
A Very Nice Man in a Uniform
22
Home by the Stars
23
The Girl with the Golden Hair
24
J Johnnie
25
My Boy Won't Come Back
26
Attlee for PM for me
27
Lou 1948
28
The Parachute
29
Nobby's Class
30
We'll be Lucky
31
Craven Vale Hall
32
Dancing Round the Sun
33
Lou 1958
34
Bad Germans
35
There's Always Ovaltine
36
All You Need is Love (and Comprehensive Schools)
37
Semi - Detached Suburban
38
Goalkeepers
39
Did You Go to Eton? 1976
40
A Cold Wind Coming
41
Desk Job
42
Have You Seen the News? 1984
43
Lou 1988
44
Brown and Black in the Union Jack
45
At the End of the Day
46
Who Buggered Bognor?
47
Slow Progress 2009
48
All You Need is Tweed
49
A Land Fit for Privilege 2010
50
The Clock Beyond Repair + 4
Pennyblackmusic Regular Contributors
---