---
Joan Baez
-

Whistle Down the Wind
published: 1 / 3 / 2018
---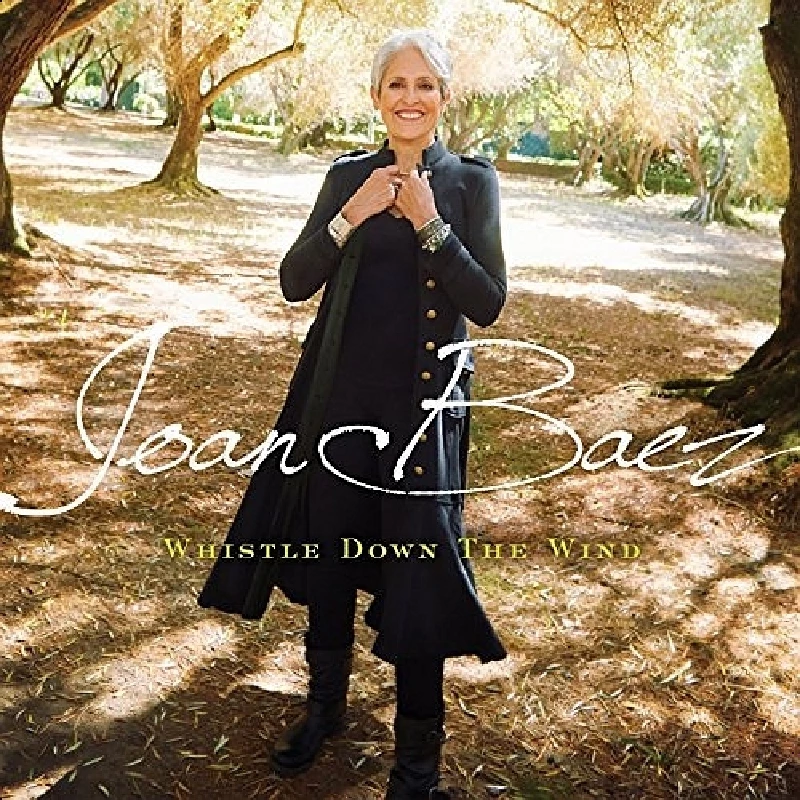 intro
Evocative and political new album from legendary folk artist and singer Joan Baez
Joan Baez is a legend in so many ways. Now in her seventies, she is planning an extended tour which will bring her to these shores in March for a series of concerts. In describing this as her last formal extended tour, perhaps she's thinking of slowing down her schedules. She may also be concentrating on her work as a painter. She certainly isn't resting on her considerable laurels, as this album proves. As a champion of civil rights, an activist and political commentator through her commitment and her music, she has had a huge influence on more than one generation. She popularised traditional folk music in her early career, highlghting the transatlantic links in the folk revival that reverberate to this day in contemporary music. She supported her own contemporaries back in the 1960s by recording their songs and inviting them to join her on stage, most famously Bob Dylan. She has been part of my musical life for as long as I can remember. I grew up listening to her clear and soaring voice, thanks to my father who was a fan. Hers will always be the definitive version of certain folk and Dylan songs for me. That seems like a lifetime ago, and here we are in 2018. For this new album she has chosen a selection of songs from some of her favourite composers. They represent the generations who have been influenced and inspired by her. There's a mix of the contemporary and the traditional in their approach to writing. They all write from the heart, courageous in their approach. They all share a sense of what the past brings to the present and the future, whether in musical influences or world events. The youthful purity of her voice has been replaced by an intriguing depth and maturity, as has happened with Joni Mitchell's voice. Her choice of two songs written by Tom Waits and Kathleen Brennan are particularly suited to her mature range, the title track 'Whistle Down the Wind' and 'Last Leaf'. There are two songs by Josh Ritter, 'Be of Good Heart' and the amazing 'Silver Blade'. What a perfect choice with its echoes of her version of the traditional 'Silver Dagger' back in the 60s. Ritter takes the tale to its chilling conclusion in the best tradition of a murder ballad as the wronged young woman takes her revenge on the man who has abused her. In Baez's version of Mary Chapin Carpenter's 'The Things That We Are Made Of' you can hear the influences and inspiration passing from one woman to the other. Joe Henry's 'Civil War' takes on new meanings in today's polarised and divided society. Tim Eriksen's 'I Wish the Wars Were All Over' speaks to every generation though it's written like a traditional song. He's an ethnomusicologist as well as a musician. It's a heartfelt wish that sadly will never be granted. I found listening to these songs a very emotional experience, for all sorts of reasons. I have to say there are three songs that have moved me to tears. The first is Anonhi's 'Another World'. Anonhi is another family favourite, with connections across our generations. Anonhi is an environmental activist as well as a wonderful musician and performer. Listening to this haunting song I couldn't help but be reminded of Joan Baez's version of the traditional story about a seal man, 'Silkie'. Will the wildlife we are familiar with become no more than a memory of enchantment, myth and folklore for future generations? The next is Zoe Mulford's 'The President Sang Amazing Grace'. What an overwhelming tribute to the man and his response to the circumstances. The tragedy that took place in Charleston in July 2016 is relatively recent, but this is a song that will endure. It reminds me of 'Hollow Point', Chris Wood's response to the shooting of Jean Charles de Menezes in July 2005, in the aftermath of the London bombings. Finally Eliza Gilkyson's 'The Great Correction' sounds as if it could have been recorded at any time in Baez's career, and has such relevance today, "to suffer at the hands of the American Dream." Joan Baez continues to share hope and awareness through her chosen music, illuminating the world we share through her singing. There's no doubt ththat her influence and inspiration is as powerful today as it has ever been.
Track Listing:-
1
Whistle Down the Wind
2
Be of Good Heart
3
Another World
4
Civil War
5
The Things That We Are Made Of
6
The President Sang Amazing Grace
7
Last Leaf
8
Silver Blade
9
The Great Correction
10
I Wish the Wars Were All Over
Band Links:-
https://en-gb.facebook.com/OfficialJoanBaez/
http://www.joanbaez.com/
https://twitter.com/joancbaez
https://www.instagram.com/joancbaez/
Label Links:-
http://www.proper-records.co.uk/
https://www.facebook.com/ProperRecords
https://twitter.com/ProperRecords
https://www.youtube.com/user/propertv
http://www.properdistribution.com/
http://instagram.com/properblog
live reviews
---
Bridgewater Hall, Manchester, 26/2/2019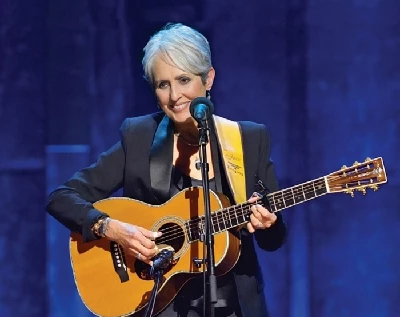 As Joan Baez completes the final dates of her 'Fare Thee Well' world tour, Nicky Crewe at the Bridgewater Hall in Manchester is reminded of just how relevant and inspiring her music is, and, with her career spanning six decades and changing times, finds she still has a powerful message to share.
Pennyblackmusic Regular Contributors
---