---
published: 1 / 3 / 2018
---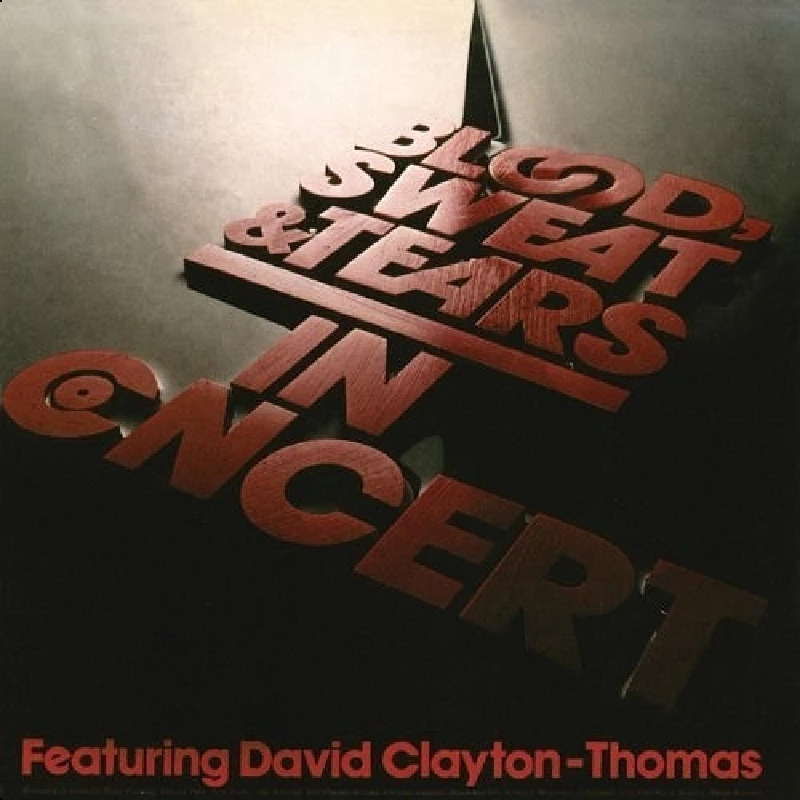 intro
Appealing live recording from Blood Sweat and Tears from 1975 that captures the jazz rock pioneers in fine form.
Originally formed in 1967 in New York City, Blood, Sweat & Tears, originators of jazz rock, brought brass and the horn section into the rock equation. This formation of the band on this 'In Concert' set from 1975 features the rousing vocals of lead singer David Clayton-Thomas, a Canadian singer born in Surrey, England. The iconic track 'Spinning Wheel', which opens the set, begins with Blood, Sweat & Tears signature pulsating horn section. Clayton-Thomas' vocal is raw, confident and powerful. "What goes up must come down/Ride a painted pony/Let the spinning wheel turn." The lyric is heartfelt, with nuggets of wisdom including "Show you the colours that are real" and "Drop your troubles by the riverside." A resonant tenor sax solos. This is evocative jazz rock, first rate and original. 'I Love You More Than You'll Ever Know' showcases the band venturing into the blues, Clayton-Thomas singing about "God knows where the paycheck went," and "I'm just trying to be somebody you can love, trust and understand." The 'And When I Die' lyric wisely states "All I ask of living is to have no chains on me." It makes sense. 'Hi-De-Ho That Old Sweet Roll" states "Gonna get me a piece of the sky" - a fine lyric acknowledging dreams and being in the zone. With 'Unit Seven', the band acknowledges jazz great Cannonball Adderley. It is a rich, resonant pure jazz instrumental with surging, soloing horns, tasteful drum fills and a dancing keyboard line. A commentary on our planet, 'Mean Ole World' rings truer today than ever- with a troubling lyric, propelled by a rocking, rollicking beat. 'Ride Captain Ride' is a personal favourite moment here, with more surging horns; an empowered version. "73 men sailed out from the San Francisco Bay," the song begins, into the insightful lyric "Be aware of the world others might have missed." The 'In Concert' set closer is a high point. 'You've Made Me So Very Happy' is an epiphany, a strong vocal, a classic tune. "You touched my very soul/Loving you is where it's at/You're even in my dreams/I can hear you calling me." It is an expression of greatest love, honouring the singer's cherished muse- a powerful rendition and a fine ending to a great live Blood, Sweat & Tears concert recording.
Track Listing:-
1
Spinning Wheel
2
I Love You More Than You'll Ever Know
3
Lucretia MacEvil
4
And When I Die
5
One Room Country Shack
6
And When I Die (Reprise)
7
(I Can Recall) Spain
8
Hi-De-Ho "That Old Sweet Roll"
9
Unit Seven
10
Life
11
Mean Ole World
12
Ride Captain Ride
13
You've Made Me so Very Happy
Band Links:-
https://en-gb.facebook.com/BloodSweatAndTearsBand/
http://bloodsweatandtears.com/
https://twitter.com/BSandTband
https://www.youtube.com/channel/UCSYbBzSdbd6U4XlijhImzcA/featured
Label Links:-
http://www.floatingworldrecords.co.uk/
https://www.facebook.com/floating.worldrecords
https://twitter.com/floatingwrecord
Pennyblackmusic Regular Contributors
---