---
Karen
-

Interview
published: 17 / 3 / 2017
---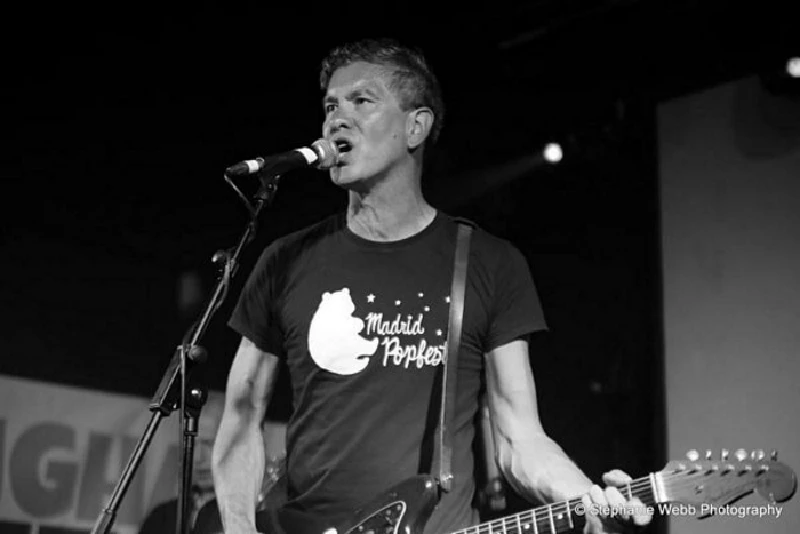 intro
Dixie Emill talks to ex-Brilliant Corners and Experimental Pop Band front man Davey Woodward about his new band Karen and their appearance at our next Bands Night at Gullivers in Manchester
Davey Woodward just has to write and perform songs. It's in his blood and has been since he first formed the short-lived Hybrids in the late 1970's. Since then he has been best known as the singer/songwriter/guitarist of Eighties indie-pop sensations The Brilliant Corners, who made a triumphant one year return to play 10 gigs back in 2013/2014 in support of the excellent Cherry Red compilation 'Heart On Your Sleeve'. Woodward also fronted cult group The Experimental Pop Band for over 15 years and, despite releasing some of his very best songs, they never quite achieved the success they deserved. After The Brilliant Corners re-union tour finished, Woodward formed Karen alongside former Brilliant Corners guitarist Phil Elvins, former Beatnik filmstar Tom Adams on drums and former Heads bassist Hugo Morgan. A kind of veteran Bristol supergroup but very much now. Karen will make their Manchester debut at Gullivers on Saturday 18th February and prior to then Davey agreed to fill in the back story. PB: The arrival of Karen as your new band was announced not long after the final of the hugely enjoyable Brilliant Corners re-union gigs. I presume there was never any possibility of a new Brilliant Corners record on the back of the gigs but how did the formation of Karen come about? DW: The Brills gigs were fantastic but I could not go forward whilst going backwards. It was a year to pause, have fun, take stock. There was never any thoughts to make 'new' recordings. Karen came about as a result of Phil hearing some solo songs I recorded, and me giving them to Fat Paul who runs Environmental Studies and works for Invada Records and about a million other things. They thought I should record the songs properly with a band. When Hugo and Tom got involved, I wrote an album's worth of songs and we became a band. PB: Karen's music has been described as dream-pop, but there seems to be two sides to the band's sound - the quieter down beat numbers such as 'Ocean', 'Invisible Friend' and 'Cloud Men' and then the louder, more garage-pop tracks like 'Lover', 'Estuary' and 'Too Late'. You certainly like to keep things fresh and interesting and as such your gigs have been something of a treat. What are your and the rest of the band's main influences? I can certainly detect a nod towards Ray Davies on 'Lover'. DW: I want to be able to play quiet, emotional songs but also harder stuff too. It's really difficult to do a live set combining both and get it to come across right. Thus far, I think every gig we have played has been very different. Anyway, I can barely play songs exactly the same. There's always an urge to throw in a different stroke here or there - much to the annoyance of Hugo and Tom! There are thousands of nods to all sorts of writers and musicians I like, I should do a mix tape. Ray Davies is up there with Bowie, Dylan and Reed. PB: 'Estuary', like 'The Girls with the Back-Combed Hair', from your previous group's superb final album 'Vertigo', seems to be autobiographical? DW: One's own experiences come up from time to time, references, memories, dreams. It's not strictly autobiographical; I've always written about places I know or have been to, or something I've seen or heard that gets stuck in my mind then ends up in a song. Sometimes the more obscure lyrics actually say more about me than the story type ones and lots of times there's no me in the song at all. I think every songwriter does that. PB: You're playing in Manchester as a two-piece in February alongside The Chesterfields and Charlie Big Time. Will the debut LP be any nearer completion by then? DW: Yes, me and Tom are playing. Should be interesting! Hugo double booked with his mum's 70th birthday! The album, well, how long do we have here? Let's keep it short and not get into all the drama. The album was recorded and ready to come out tail end of last year, and now it's not coming out. I will be back in the studio to record an album that I hope will come out this year! PB: You have consistently written great songs for over thirty years now. How does the song-writing process work for you – do you come up with the lyrics and work a tune to fit? What input do the rest of the band have? DW: It just happens when it happens. Sometimes you get on a roll, bunches of chords, words here and there, really quickly. Most songs I write happen very quickly. I'm not one to labour on things, other times, half written songs get finished later. Sometimes it's words, stories that end up in songs. The electronic soundtrack stuff I write takes the longest. Some are five years old and still not finished and have no lyrics at all! I play the song, show the chords, sing the words and they add their parts. PB: Finally, the obvious question - Why the name Karen? DW: I had a list of 25 great band names that I had, put it through that 'great bands name' app that comes free on the new iPhone 9 or something, and it chose Karen. PB: Thank you.
Band Links:-
https://www.facebook.com/KarenBand001/
https://www.facebook.com/daveywoodward
Play in YouTube:-
Picture Gallery:-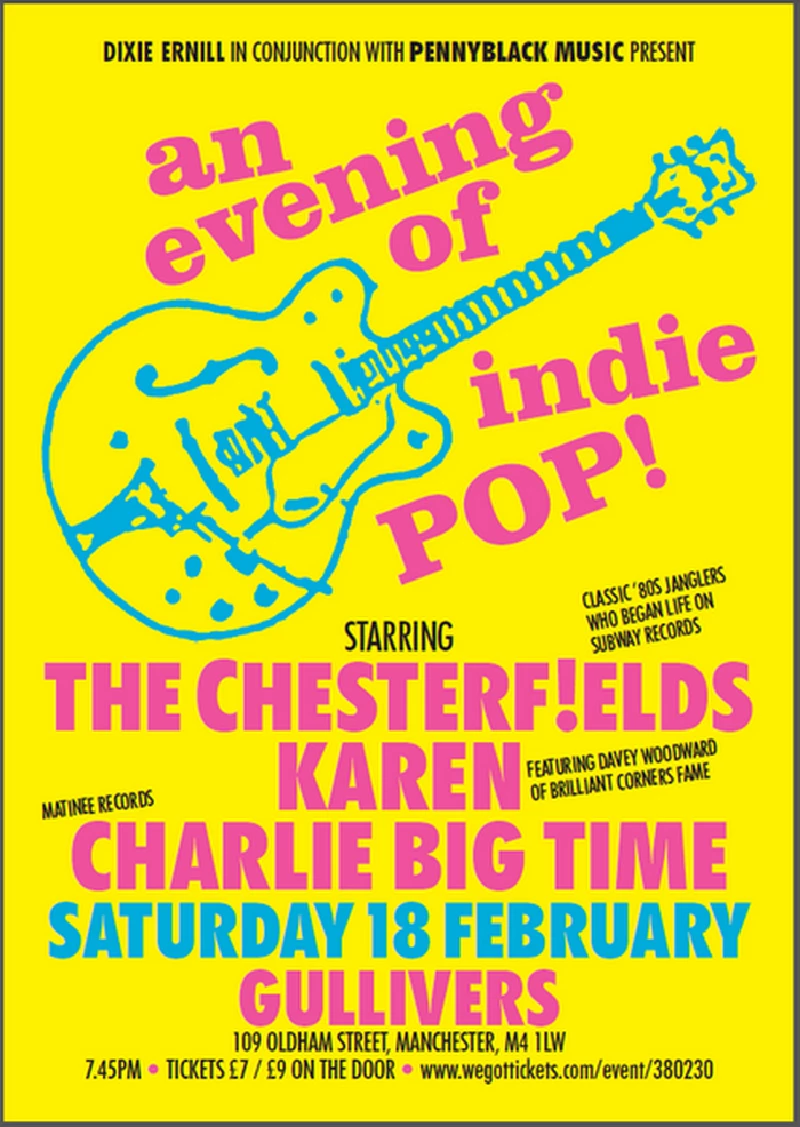 live reviews
---
Exchange, Bristol, 23/1/2016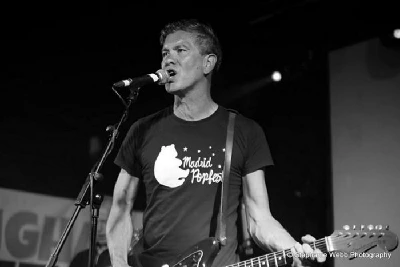 Former Brilliant Corners and the Experimental Pop Band front man Davey Woodward's songwriting abilities remain undiminished as he re-emerges on the live circuit fronting'super-group' Karen at The Exchange in Bristol
photography
---
Photoscapes (2017)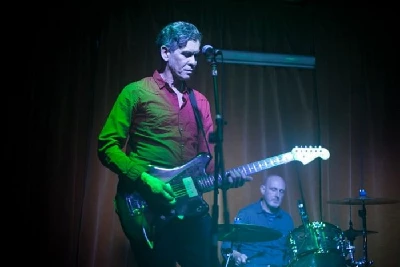 Marie Hazelwood photographs Karen, the new band of Brilliant Corners and Experimental Pop Band front man Davey Woodward, at our recent Pennyblackmusic Bands Night at Gullivers in Manchester
related articles
---
Davey Woodward: Interview (2020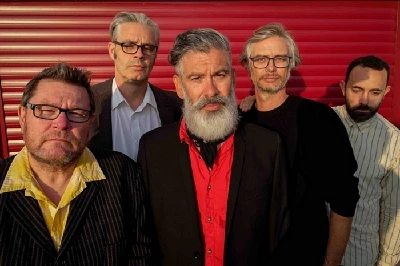 The Brilliant Corners and the Experimental Pop Band's Davey Woodward talks to Dixie Ernill about 'Love and Optimism', his second album under the moniker of Davey Woodward and The Winter Orphans.
Pennyblackmusic Regular Contributors
---