---
Allen Toussaint
-

Live 1989 Chicago Blues Festival
published: 17 / 10 / 2016
---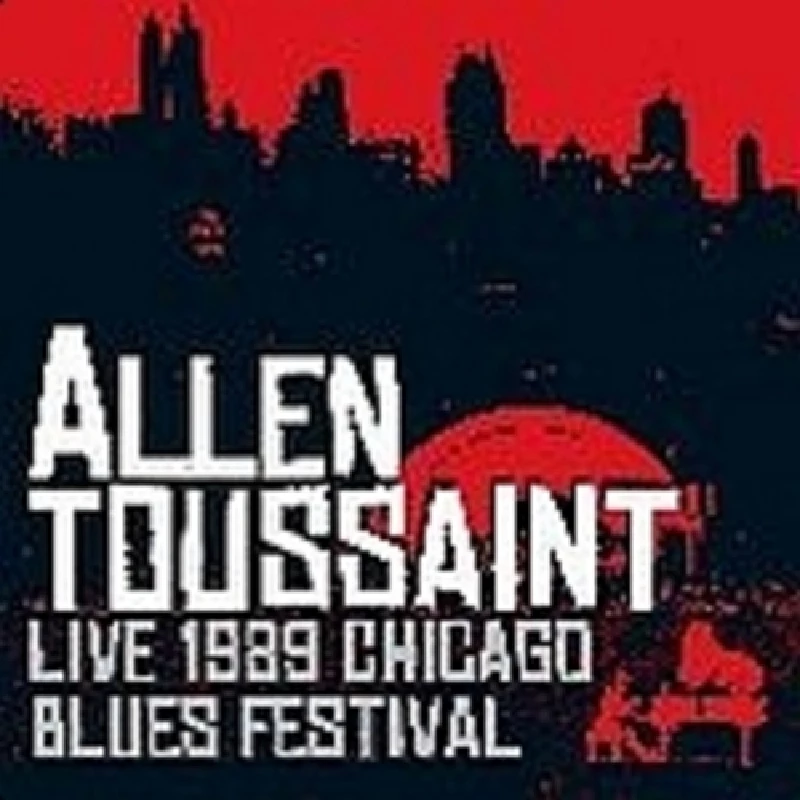 intro
Exuberant live album recorded in 1989 from late New Orleans jazz and blues artist Allen Toussaint
Back in the mid 1970s, when I had a collection of LPs, one of my favourites was the 1976 double album of the New Orleans Jazz and Heritage Festival featuring Allen Toussaint, Lee Dorsey, Ernie K Doe, Robert Parker, Irma Thomas, Earl King, Lightnin' Hopkins and Professor Longhair. Wonderful performances and an amazing collection of artists and songs. At the same time I was listening to Aaron Neville and the Meters, Bobby Charles, Clarence 'Frogman' Henry and Dr John, the Night Tripper. So when the chance came up to review a live recording of Allen Toussaint in 1989, I had to grab it. He's a bit older and a bit funkier in this recording, racing through a repertoire of favourite songs, with an enthusiastic and engaged audience. It's his first time at this particular festival. The band are fantastic and it's a performance that is full of energy, life and soul. For those of you familiar with Allen Toussaint, you won't need to be persuaded to give this a listen. If you haven't come across him, he's a New Orleans singer, songwriter and producer who came up through the New Orleans jazz and blues scene of the 1950s. He wrote some of the best songs of the Sixties and Seventies, songs covered by artists as diverse as the Yardbirds and the Rolling Stones, Lee Dorsey and Glen Campbell. He died on tour in November 2015 at the age of seventy-seven. He had continued to play and work with contemporary musicians, and notably collaborated with Elvis Costello to raise funds after Hurricane Katrina in 2005. On this album we are treated to great versions of old favourites 'Shoorah, Shoorah' and' Brickyard Blues'. The amazing Scottish soul singer Frankie Miller gets a mention. Like Otis Redding's widow, Toussaint also compares his voice to Otis. There's a French Cajun song, 'Laisser Le Bon Temps Rouler'. They certainly do. He works the audience with his version of Huey Smith's 'Rockin Pneumonia', gives us a version of 'Southern Nights', a seventies hit for Glen Campbell, and includes a new song, 'Who's Minding The Store', not resting on his laurels. It's an exuberant celebration of the man and his music. Great memories. Good times.
Track Listing:-
1
Fun Time
2
Shoorah Shoorah
3
A Certain Girl
4
All These Things
5
Who s Minding the Store
6
Brickyard Blues
7
Rockin Pneumonia
8
Laissez Bontempts Roller
9
With You in Mind
10
Southern Lights
11
Fun Time.
Band Links:-
https://www.facebook.com/AllenToussaint/
Label Links:-
http://www.floatingworldrecords.co.uk/
https://www.facebook.com/floating.worldrecords
https://twitter.com/floatingwrecord
Pennyblackmusic Regular Contributors
---