---
Hamell on Trial
-

The Happiest Man in the World
published: 1 / 7 / 2014
---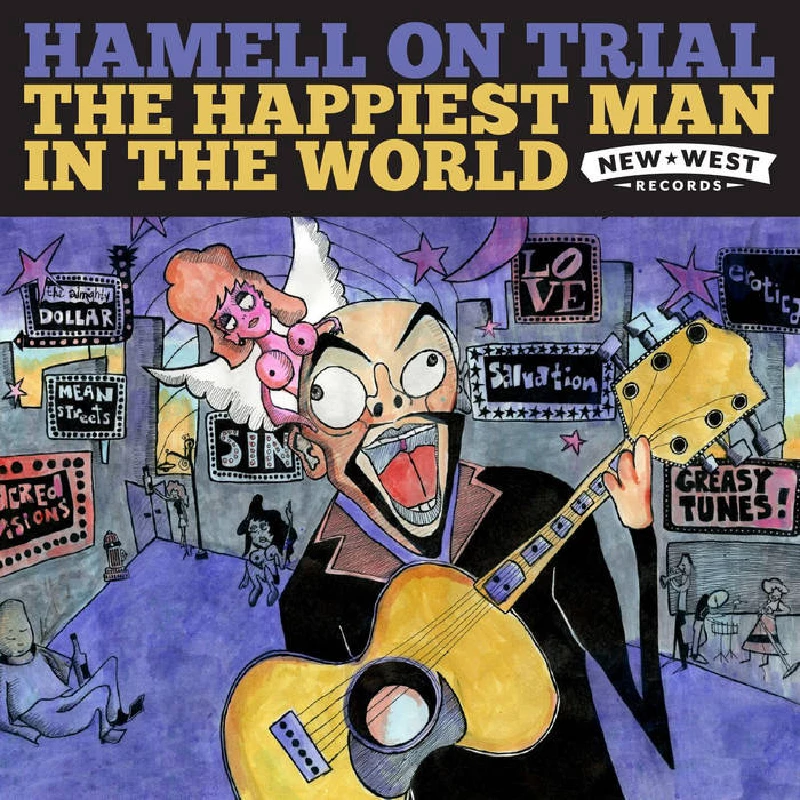 intro
Witty and abrasively satirical ninth album from New York-based singer-songwriter and stand-up comedian, Hamell on Trial
This is Ed Hamell's ninth studio album. Hamell on Trial may be a one-man show, but he is much more than a singer-songwriter. Tou get way more bang for your buck with Hamell, as he is a one-man punk tornado,stand-up comedian and a fantastic wordsmith who even does his own cover art! 'Artist in America' is a spoken word masterpiece set against a one string intro froim Hamell on his battered 1937 Gibson. Hamell name checks a few classic songs and then takes the listener on a frantic road trip, as he explains through irony and wicked satire the rock and roll business in the good ol' USA. 'The Happiest Man in the World' is next up, and, penned after the break up of his long term marriage, is full of his barbed wit. Ed continues with another of his extraordinary tales with 'Bobby and the Russians' (drugs and automatic weapons a plenty). This time he backed with a beat box and some violin. 'Global Tattoo' is a bluesy rap, backed in part by a few thumps on the trusty old Gibson scratch plate and busked in style. 'Together' sees him team up with Moldy Peaches member and long-term friend Kimya Dawson in a pleasant little ditty, while 'Ain't That Love' is another impressive ballad which shows off his incredible guitar picking and ear for a good melody . The record also features collaborations, not only from fellow musicians but from his son on the hilarious 'Mom's Hot'. Other stand-out tracks include 'Jennifer's Stripping Again' and closer 'Blessed', featuring his old Righteous Babe label boss and anti-folk partner Ani DiFranco.
Track Listing:-
1
Artist In America
2
Happiest Man In the World
3
Bobby and the Russians
4
Global Tattoo
5
Together
6
Ain't That Love?
7
Lappa Oo Mau Mau
8
Richard's Got a Job
9
Whores
10
Gods At Odds
11
Jennifer's Strippin' Again
12
Mom's Hot
13
Blessed
Band Links:-
https://twitter.com/hamellontrial
https://philippepetitamusicaltravel-agent.bandcamp.com/album/philippe-
https://www.facebook.com/hamellontrial
https://hamellontrial.bandcamp.com/
Label Links:-
http://newwestrecords.com/
https://www.facebook.com/newwestrecords
https://plus.google.com/+NewWestRecords/posts
https://twitter.com/newwestrecords
http://newwestrecords.tumblr.com/
https://www.youtube.com/user/NewWestRecords
reviews
---
The Terrorism Of Everyday Life: Live From Edinburgh (2008)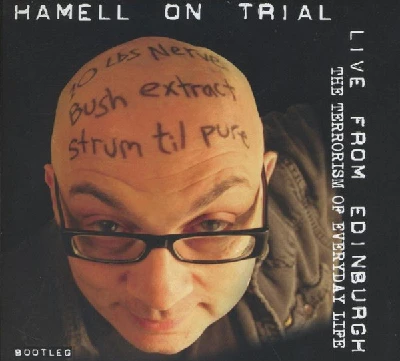 Lo-fi, but abrasive live album recorded at last year's Edinburgh Fringe Festival from New York-based singer-songwriter and social satirist, Hamell on Trial, which twisting common interpretations of reality into new and exciting shapes reveals to its listener the modern world in a new light
Pennyblackmusic Regular Contributors
---